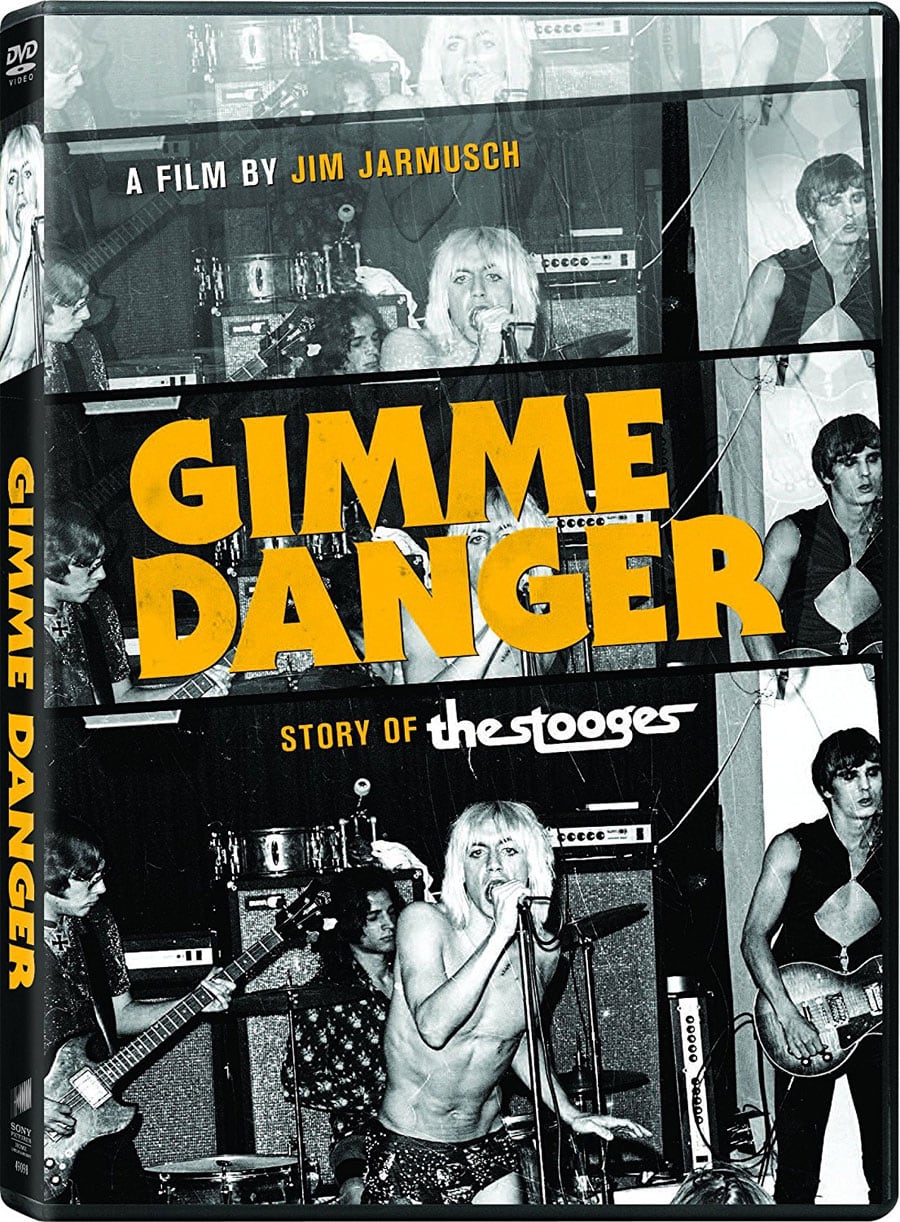 Starring: Iggy Pop, Ron Asheton, Scott Asheton, James Williamson, Steve Mackay, Mike Watt, Kathy Ashton, Danny Fields
Written By: Jim Jarmusch
Directed By: Jim Jarmusch
Studio: Sony Pictures Home Entertainment
Buy On Amazon.com
If you're a fan of Iggy & The Stooges, well you're in for a treat since Jim Jarmusch has directed an excellent look into one of his favorite bands.

Gimme Danger tells the tale of the Stooges and frontman Iggy Pop, Dave Alexander (bass), and brothers Ron (guitar) and Scott Asheton (drums). They only had a few albums, and just a few years into it, the band wasn't too good because of drugs, etc. The documentary is told through interviews with Iggy and others, as well as Jim Jarmusch displaying text over images and videos.
I'm not a huge fan of The Stooges but I like a few songs. Some of their stuff is too psychedelic or jammy for my tastes. Guess you have to be on LSD to like some of it. I don't think I got into the band until I heard "I Wanna Be Your Dog" during Lock, Stock and 2 Smoking Barrels. I love that song now and a few others but other than that, I don't really know much about the Stooges. I knew they were heavily influential to punk bands from the 70s and 80s but just never got into them until later in my life.
Gimme Danger is a good documentary if you're a fan of the band but also if you don't know too much about them. I love music docs to begin with so I'll usually check them out if I like the director, know some songs by the band/artist or it just sounds like something decent to watch. Jarmusch pretty much fanboys over the band in the opening minute so you know this was done out of love. I never knew how heavily into drugs the band was, but I guess I naively thought maybe they weren't that bad with it. Things got so bad after they broke, Iggy ended up going back to live with his parents in their trailer.
The documentary is interesting in that Jim shows the end of the band before the beginning. After that, they go back to how Iggy started out with the Iguanas and then they formed the (Psychedelic) Stooges; then they just became the Stooges from there. This is definitely a movie about Iggy for the most part, and deservingly so. The frontman is funny in front of the camera. I particularly laughed when I saw the photo from the Iguanas when he was playing drums. He had the drum riser so high, it looked so ridiculously high that you needed a ladder to get up there. From earlier on, he went against the grain.
Surprisingly, there's not a whole lot of concert footage but there's more photographs than video. I would have love to have shot those shows back in the day. Actually, shooting Iggy is still on my bucket list for musicians to photograph. The concentration of the documentary is mostly about the Stooges and not much after that. I thought Jim might have went into Iggy's solo career as well but it was just mentioned here and there. The sort of Stooges reunion or whatever you want to call it that happened, is briefly talked about. You see some footage from Coachella and then Rock and Roll Hall of Fame speech and performance. I loved seeing the old TV footage where the announcer was giving a play by play on what Iggy was doing. Was a bit bizarre. "Iggy just went into the crowd;" "We still haven't seen Iggy Pop" or something along those lines.
The Stooges influenced so many bands, but were they the first punk band? Hmm I don't know, that's definitely up for debate. Regardless of what genre they are, they are definitely an interesting rock band that got the documentary they deserved, thanks to Jim Jarmusch.
Features:
None
Audio
English Dolby Digital 5.1
Video
Widescreen 1.78:1 Color
Bottom Line: For Stooges, Iggy Pop and just basic music doc lovers
Running Time: 108 mins
Rating: NR
Extras Rating:
Overall Rating: