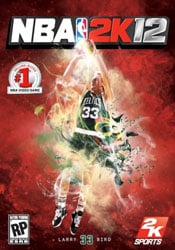 Company: 2K Sports
Platform: Xbox 360, Playstation 3, Playstation 2, Wii (reviewed on Xbox 360)
Genre: Sports
Rating: Everyone
Buy on Amazon
Currently, the NBA season is on hiatus. Players want more money. Owners want more money. Fans just want more basketball. With the real sport in limbo, and EA's god-awful game missing this year, the 2K franchise is all that gamers and basketball fans have. Do you know what? That's all we need.

With Michael Jordan's return to the digital video game world in last years' aptly titled NBA 2K11, a new dimension was added to the 2K series. You could play as Michael Jordan in some of his most memorable games and career highlights. There was an air of history that was injected into a sport that has seemed to have severely lost its direction over the past decade or so. NBA 2K12 expanded upon that idea with one of the greatest features that I have ever encountered in a sports game…NBA's Greatest Mode; a mode that allows you to choose from 15 NBA legends from every era of the NBA and play against their biggest rivals in one-shot games. What absolutely blows my mind about these games is the overall presentation of the match ups. Play as "The Logo" Jerry West and the game plays out in a film-grain Technicolor mode complete with generic graphics and minus the three-point line, which didn't exist until decades later. Play as Larry Bird and you'll be playing in an amazing recreation of the Boston Garden in a game that is totally 80's.
You would figure that after adding such an amazing feature to the NBA 2K series, the developers would phone in the rest of the game. Absolutely not! There are game modes a-plenty including My Player mode, which allows you to create your own player and advance them throughout their careers leading to possible induction into the Hall of Fame, Creating a Legend mode, which is similar to My Player mode but allows you to choose a current player and do the same with them, as well as single game play, season mode, dynasty mode, The Association: Online and single play online versus.
With all of these features to choose from, an important aspect to review would obviously be "how does the game play"? To be honest, for any newcomer playing the 2K franchise for the first time or for any casual gamer, the controls can be a bit overwhelming. Some of the older NBA 2K games had more of an arcade feel to them with simple button controls and one button shots/dunks. 2K12 retains some of that arcade feel but the overall control scheme and game play in general is to mimic that of real life basketball. But don't fret; you won't need to memorize pick plays and three-second buzzer beater plays. The basics are quite easy to learn and for those willing to put the time in to learn some of the more advanced tricks and techniques (there are quite a few training modes and tutorials to help you along the way) it is definitely worth your effort.
If someone were to ask me to sum up NBA 2K12 in one word, I would say "presentation". 2K12 is not just another yearly cookie-cutter sports game. It is quite literally a cinematic experience. Whether your playing a retro game in black and white with socks up to your knees and shorts that are shorter than Daisy Duke's or if you're playing your created character in the full color HD glory of the modern game, the realism and attention to detail is flat-out breathtaking. The opening sequence to the game sonically induced to the backdrop of Kurtis Blow's "Basketball" gave me goose bumps. The realism in the movement and playing style of characters like Magic Johnson and Patrick Ewing gave me flashes of nostalgia, having grown up in quite arguably the NBA's greatest era. 2K games must have kidnapped all of these players and forced them to play basketball for weeks while they motion-captured their every moves. It's nothing short of amazing.
Whether you're a diehard basketball fan looking to get your hoops fix or you're just looking for a casual basketball sim, NBA 2K12 is a video game that cannot be missed. I can honestly say that not only is it one of if not the best basketball games of all time but arguably one of the best sports games of all time…and I've played NFL Blitz! For real though. Go get it. Now!
Bottom Line: It's not just a game, it's an event! Once you get over the slight learning curve NBA 2K12 is all kinds of awesomeness.
Favorite Aspects: NBA's Greatest Mode and My Player Mode. Playing the retro games. Kareem Abdul-Jabbar's sky hook!
Overall Rating: