Date: October 2nd, 2014
Opening Bands: Survay Says!, Allister, Zebrahead
MxPx came to town on Thursday night with NJ ska band Survay Says, Allister and Zebrahead and played Gramercy Theatre. I guess people were in the mood for some pop punk because the place was packed!

I thought the show was going to start at 7 but it ended up being at 8; which kind of sucked since there was 4 bands playing on a "school" night. The first band of the evening was Survay Says and I've already seen these guys twice this year. They always put on a fun show and Thursday night was no different. If you haven't heard of these guys, I'm sure you will at some point because they have been a touring machine for the last few years. They played songs like "I Aim to Misbehave," "This is Why We Can't Have Nice Things," and "Ode to My Willpower (Or Lack Thereof)."
Allister was up next and apparently they have been together for 18 years but I really can't remember listening to them at all. There were maybe 2 songs (I think "Somewhere in Fullerton" was one of them) that I sort of recognized but for the most part, the songs from Allister were foreign to me. I was joking with my photographer friends that I thought their name was the clothing store (Hollister). This was the first time playing NYC in 8 years they said. They ended up being really good and I enjoyed their set despite not really knowing anything by them. This show was sort of weird for me because I knew all of the bands but never really listened to them besides MxPx and Survay Says. So it was a show of discovery for me basically.
Zebrahead is another band I knew of but never really listened to. I never got into their style of pop punk (well the rapcore stuff) but it sounds good live though. They started with "Rescue Me" and then went into "Hell Yeah!" I don't know if they usually have a bar on stage but it was very Me First and the Gimme Gimmes-ish. At one point during the set, they picked two people out of the crowd to drink on stage. I think a lot of people at the show were there for Zebrahead, or so it seemed. Or maybe they were there for all the bands since all of them were good. The band finished their entertaining set with "Drinking Song" and then "Anthem."
MxPx didn't take the stage until 10:40. I stayed as long as I could until I had to bust out since I had to wake up early for work. Tom and Yuri weren't there since they retired from touring, so it was Mike and a few other guys. I don't know the last time I saw MxPx live but it had to be back in early 2000s (maybe 2005?) on Warped Tour. MxPx started off the set with "Tomorrow's Another Day" and then went into "My Life's Story."
During "Andrea," Mike brought out fellow podcaster Fish from "Gone Fishkin" to play bass. I always like when bands do that; Green Day and Dan Potthast of Mu330 do that a lot. They did two awesome covers as well: Green Day's "Longview" and Bryan Adams' "Summer of 69." MxPx has a couple of cover albums so it's not a surprised they did some covers. Towards the end of the set, they broke out "Chick Magnet" of course and that was obviously a fan favorite. I had to unfortunately leave after that, due to the train schedule (why have a train at 11:37pm and then the next one is 40 minutes after that, PATH?!). I'm bummed about that because I later found out they played "Doing Time" and "Punk Rawk Show" at the end. I would have liked to have heard "Teenage Politics" as well but overall, was a good pop punk show!
Here are some of the photo highlights from the show. Be sure to visit my photography website for all the photos.
Survay Says
Allister
Zebrahead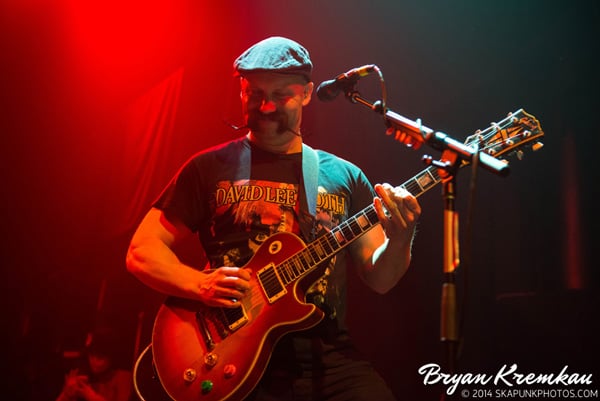 MxPx