Reel Big Fish / Goldfinger @ Best Buy Theater, NYC
Live Reviews | Nov 17th, 2013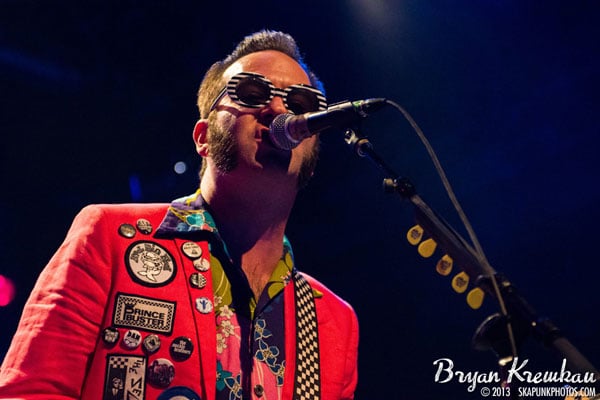 Date: November 12th 2013
Opening Bands: Beebs and Her Money Makers, Beautiful Bodies
Goldfinger and Reel Big Fish have been touring together for probably 20 years now, and it never gets old! Their latest tour stopped at Best Buy Theater in Times Square, where they played last year (or so).

I wanted to arrive at the venue early because I wanted to check out the opening bands. Beebs and Her Money Makers opened the show and they were a lot of fun! They had colorful outfits and checkered pants; plus they had a giant robot and confetti shooters. What's not to like!? I didn't know any of their music but will look into their stuff soon because their set was entertaining.
There wasn't that many people at this show than their past shows. 1 or 2 years ago, the stadium seating was filled as well and this time the curtain was closed for the seatings. That's one of the biggest reasons why I like Best Buy Theater! I think since there was other punk/ska shows in town that night, there wasn't as many people but people started to fill in when it was for time Goldfinger.
The rock band Beautiful Bodies were second and I thought they were okay. They were fun to watch, particular the female singer who liked to dance around the stage and tease the security guards. She would wrap around her mic cord around their necks and sing to them. Don't feel too sorry about the guards, they were enjoying every minute of it.
She was singing along the photo pit at one point and climbed up to sing to the crowd. She was getting picked up by a fan, who couldn't help himself grab her ass to pick her up. I'm surprised she didn't get pissed off by that. She then went into the crowd to sing which kind of sucked for me since I couldn't get any shots of her. Their stage presence reminded me of AFI because they all buzzed around the stage and wouldn't sit still.
Goldfinger played third and played for about an hour. Just like last time, Joe Manganiello from True Blood / Magic Mike came out to introduce the band since he was a former roadie of theirs. The guy is just massive in person and he certainly makes me look like a hobbit if I stood next to him. Goldfinger was in fine form and they included a special guest on bass for this tour, Mike Herrera of MxPx. It certainly fit in very well with the band and it's been awhile since I saw him playing in a band live. Last time could have been the Warped Tour in the early 00s?
Goldfinger played songs like "Spokesman," "Counting The Days," "Get Up" and "Here in the Bedroom." They covered The Cure's "Just Like Heaven," Op Ivy's "Knowledge" and of course Nena's "99 Red Balloons." A Goldfinger concert wouldn't be complete without Darren having a twinkie eaten out of his sweaty ass. He asked the crowd if they wanted to see him drink beer out of someone's shoe or the twinkie thing. The twinkie won easily, for whatever reason. It's really funny to watch but so disgusting. I'm still wondering why someone would do that, especially after Darren has been drumming for 45 minutes already. Gross!
Reel Big Fish ended the night like they usually do and have a new band member now. Billy Kottage of Pilfers/Big D/other bands has taken over trombone duties from Dan, who left the band earlier this Fall. Billy is the to-go trombone player in the ska world these days so he fit in really nicely. RBF opened up with "Everything Sucks," followed by "Everyone Else Is An Asshole." Aaron is the only original member of the band and he's pretty much the identity of the band but the rest of the guys fit in with the Reel Big Fish nuttiness. Sax player Matt and Trumpet player Johnny Christmas are goofy and always provide me with some fun photos. Everybody jumps and runs around the stage, and Aaron always does his rock poses. He was doing a bunch of Elvis curled lips this show for some reason.
I believe they played a Forces of Evil song, which makes sense since Aaron, Johnny and Derek were in that band. Beebs from Beebs and Her Money Makers came out to sing a song, and then later on Coolie Ranx came out to sing "Thank You For Not Moshing." It's always fun seeing Coolie singing with the band. After that, the singer from Beautiful Bodies came out to sing a song and Aaron joked saying that the show filled with special guests. The biggest guest was former trumpet player and original member Scott who came out towards the end. I left early since I'm an old fart but saw a lot of people talking about it. I wish RBF played on the weekend so I could stay for the whole show.
The Don't Stop Skankin tour is still going on and the second leg will be happening overseas, Australia, and on the West Coast of the US soon so get your tickets kids!
Here's some photos from the show. Be sure to visit SkaPunkPhotos.com for all the photos!