Mighty Mighty Blogtones
Articles | May 7th, 2008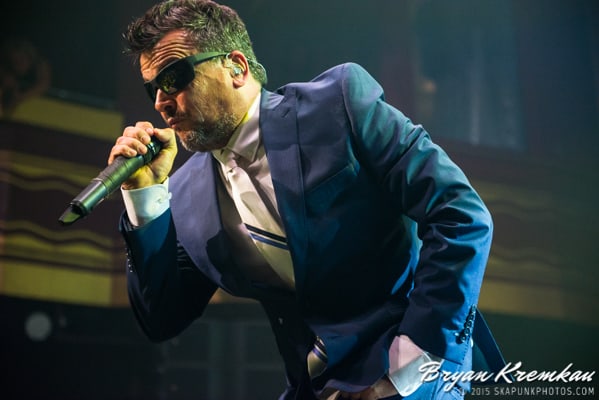 At the end of 2003, when The Mighty Mighty Bosstones announced their hiatus, my little plaid world crumbled to pieces. I just couldn't understand it. "Pay Attention" certainly didn't get the recognition it deserved, but "Jack Knife to a Swan" was a really solid album. I was sure if they went out and played a little bit more, the rest of the world would don their creepers and dance. I will always remember one of the best shows I've ever been to as The Bosstones at Bowery Ballroom back in 2000, and one of the high points of my rock and roll life as meeting Dicky Barrett a year prior at The Roseland and having him sign my ticket. Ah, to be young again.

Fast forward to December '07 as the Bosstones forego the hiatus and get set to play their 10th installment of the Hometown Throwdown and I'm nowhere to be found. Nope, I'm on tour with friends of mine, and I miss the entire, wondrous event. I never thought I'd get over that, until Bamboozle rolled around. Finally, I'd see The Bosstones once again.
Making the arduous trek to Giants Stadium on Sunday at first seemed more of a hassle than it was worth. Fifteen dollars for parking? You've got to be kidding me. They didn't even give me a parking pass, at least something to show for my hard-earned money; they just took my money and allowed me to drive away. I arrived early since there were a few other bands I wanted to see, but The Bosstones were certainly my main squeeze of the day. Looking at the crowd I felt old and way out of touch and then it happened. A friend of mine (to remain nameless) had a dayglow pink bracelet around her wrist. As she was about to leave, I asked her where that bracelet got her, she quickly slipped it off her wrist and on to mine saying that she wasn't sure, but probably back stage or something. It was that "or something" that quickly made life worth living.
Ten minutes before the Bosstones went on, they were standing right behind the stage, reuniting with other bands and giving bro hugs. And there I was, about ten feet away from all of that glorious plaid. It seems that this bracelet didn't only get be backstage, but physically on the stage. So, as the band played their set, and sweated in front of a huge crowd, I stood on the sidelines of the stage, between the guitar rack and the speakers. It's quite possible that this was the high point of my life, as Someday I Suppose brought tears to my eyes.
The performance was flawless. There was no time for in-between-song-banter; after all, they only had a 45 minute set. It was like they had never left, all sporting suits and looking rad in plaid. They played fan favorites like "Hope I Never Lose My Wallet", "The Rascal King", "1-2-8" and of course, the ultimate crowd-pleaser, "The Impression That I Get". Even though they left out my favorites, "Pictures to Prove It" and "Toxic Toast", I wouldn't have traded their set for the world. The crowd was going nuts, and was captivated by the crowded horn section, the magnetic Dicky Barrett, and of course, the dancing guy.
They left the stage with the crowd calling for more and chanting "Mighty Mighty" and "Bosstones", but to no avail; the band did not return for an encore. Hopefully, Barrett's exiting words, spoken to the ska-thirsty Jersey crowd, will hold true, "we'll see you again real soon". I'll keep my fingers crossed.