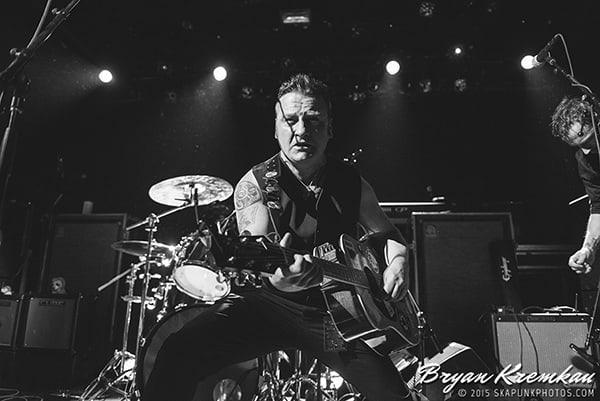 Are Lucky Charms magically delicious?
Beano: I have no idea what they are!!!
Chris & Dugs: ye fuckin sure great after and before sex they put lead in your pencil if you know what i mean just like an irish viagra
Could you give me a brief history about Blood or Whiskey? Sorry, I know bands hate this question sometimes…
Beano: The bands been going about 11 years or so,It's previously released 2 lps "Blood or Whiskey", "No time to explain" and we've a third " Ca$hed out on Culture" out March 14th on Punkcore records.We've toured all over , & plan to do a lot more!!
Chris & Dugs: we re going ten years now 3 albums and loads more in us
Your new album "Cash Out On Culture" is coming out in March on Punkcore Records. Were you happy with the way it turned out?
Beano: Yeah the lp turned out pretty great. I'm fairly happy with the sound.I would've liked a bit more time on it, but you can't have everything.What counts is that the songs are strong.
Chris & Dugs: ye happy enough you ll never be fully happy but under it all very pleased and cant wait to get out and promote it
"Cash out on Culture" is an interesting title and it seems like you guys aren't happy with other Celtic/Irish-sounding bands out there? Care to comment?
Beano: It's not that We're "not happy". I don't care that much, but maybe just enough for it to eat slowly away at me! The title "Ca$hed out on Culture" is just a comment on the fact that certain bands are cashing in on a culture that they've no connection to in order to fill their pockets with money.I deserve that money much more than they do! nah, it's more a comment about fake nationalism within punk, which I personally think is a scene that should , I think obviously, should be kept nationalist free.What the fuck does that have to do with punk rock? Answers on a postcard…..They're cashing in so We're cashing out.
Chris & Dugs: its not a dig at any one else it just seems that everyone is cashin in on there irishness like the way we try to get tourists in to our country and sell them the dream of ireland that does ent exist eg like John Wayne in the quite man.
Do you think there are too many bands that cover Spanish Lady, Raggle Taggle Gypsy, and Rocky Road to Dublin?
Beano: Not enough in my opinion, it's better than them murdering my favourite punk songs!
Chris & Dugs: dont care less,but therse is better songs out there they could try.
The band has experienced some Ups and Downs in the past, are you surprised the band is still going strong?
Beano: Yeah the band has experienced a lot of ups & downs, & I'm sure there's a lot more to come but I'm not surprised We're still going, We're fuckin fighting here!We can't/won't give up!!
Chris & Dugs: ya its had its fare share of problems and i only hope that its the end of them put you cant dwell on them to much or it will only fuck you up and that is not me been a hard ass about it shit happens you have to deal with it and move on because things can only get better and we want to see this band through right to the end
Out of all the bands/musicians that you have played with, who has the best live show?
Beano: For dynamics & slickness ,Dropkick Murphys for the music, DISCHARGE!!!!
Chris & Dugs: for me and its atough one to answer it was the bosstones in amsterdam they were on fire that night every note and every song was fucking kicking and the crowd went ape shit but strummer in dublin a few years back runs a close secound god rest him then the dropkicks but on a good show and the fingers i could be hear all night talking about bands been great live because ive seen alot of great bands play live thats my opion dugs.i d go along with that its a hard Q to answer the bosstones rancid etc chris
What's a scarier Leprechaun movie: Darby O'Gill And The Little People or Leprechaun?
Beano: I've never seen leprechaun, but ya gotta admire Darby – I've met a lot of fuckers like him!
Chris & Dugs: darbys a rascal but the lep is a nasty bastard and he gets to chase jennifer aniston around so my vote goes to the lep.dugs.I'll give darby my vote the little rogue chris
How come the only Irish restaurant is McDonalds?
Beano: You tell me! I don't eat in the shithole anyway!
Chris & Dugs: because its a resturant for clowns and were the smartest clowns around but serious the best irish resturant around is my mas kitchen mays diner
Who's Hotter: Dolores of the Cranberries or Cait O' Riordan of the Pogues?
Beano: Cait is definatly, I'm not just saying that 'cos she's a mate of mine ( shameless namedrop), shes' on fire anyway, but espcially next to that little cunt outta the dangleberris.
Chris & Dugs: Cait for sure she is a real lady Dolores O'Riordain I never met and don't want to i hear she is a real diva and for what.
Sooner or later, I want to plan a trip to Ireland. What are some cities, and places to visit? Any cool venues to check out?
Beano: Whatever city you go to, just ask for the shittiest part of town & that's where the decent people like us are, that's all ya need!
Chris & Dugs: Dublin, Galway, Cork, as cities as pubs the foggy dew in dublin if your into punk,ska, or metal, and senic counties the west of Ireland is always good for a laugh and a pint of beer.
Does the sun ever come out?
Beano: Yes, it comes out of my arse.
What's your blood type? Will you donate? I'm a little low…
Beano: Haven't a clue…red!! Sorry I've spilt too much over the years, I need it.
Chris & Dugs: type A which is mine, dugs, and your more than welcome if you want a pint but a pint of what i dont know its usually full of alchol .
A lot of bands are releasing their shows on DVD now. Do you think Blood or Whiskey will ever release a live DVD?
Beano: Funnily enough, We're putting one together at the moment but it won't be out for a year or two.The next gig We're filming for a segment is in the Knitting Factory , New York, March 13th!
What was the last DVD you bought? CD?
Beano: The last dvd I bought was Tiki Nightmare – The new-ish live one by The Damned, as for cd, it was " North Rebel Radio" by English band Holy Racket.
Chris & Dugs: dugs last cd was strawberries by the damned and dvd hot blondes on fire by private,chris dvd the who live .
I'm gonna list a bunch of bands and you can only use one word to describe them, GO!:
The Pogues:
Beano: English
Chris & Dugs: legends
Blink 182:
Beano: American
Chris & Dugs: alright
Menudo:
Beano: Who?
Chris & Dugs: dont know them
The Levellers:
Beano: Crusties
Chris & Dugs: brillant
Dropkick Murphys:
Beano: Mates
Chris & Dugs: killer
Phish:
Beano: Who?
Enimem:
Beano: rich
Great Big Sea:
Beano: who?
Wham:
Beano: bam
Sex Pistols:
Beano: first!
The Zack Attack:
Beano: who?
The Smiths:
Beano: miserable
Chris & Dugs: sad
The Specials:
Beano: Gods
Clannad:
Beano: hippies
The Clash:
Beano: It can't be done in one word, I'll write a book one day……
Besides doing this interview, What's one thing you're ashamed of?
Beano: I'd more ashamed than I already am if I told ya!
Chris & Dugs: ashamed of alot especially when im drunk i love everybody but cant look them in the eye the next day
I like to ask every band I interview this question: What's your opinion on file-sharing? Do you think it's okay for fans to download your music for free?
Beano: Yeah people can take it as far as I'm concerned.Fuck metallica & the likes ( punk attitude??? my bollix).
Chris & Dugs: you wont stop it their will always be bootleggers it would be nice if they bought it but i wont complain as long as they like it dugs
If you could be any Lord of the Rings character, who would it be and why?
Beano: Sam, because I'd have a bit of weight on my bones!
Are you guys going to be touring in the U.S and other countries in support of your new album? Anything else to comment on or plug?
Beano: yeah we'll be on the east coast just for a few gigs in March ( check our website www.bloodorwhiskey.ie) , a full Euro tour in May / June, a full U.S. tour in July & in October hopefully Oz, & Japan by the end of the year.Thanx foor the interest. Don't belive the imitators! Belive in Blood or Whiskey!
Chris & Dugs: small tour in march with the murphys and our own shows, big u.s tour in july, europe in may and talk of japan australia, and new zealand before christmas,and thanks for the intrest hope to see you all at shows when they come to your town, and come have a beer with us we love talking to people at our shows keep the faith Dugs and Chris.