The Dropkick Murphys @ Irving Plaza, NYC
Live Reviews | Mar 10th, 2015
Date: March 9th, 2015
Opening Bands: The Mahones, Blood or Whiskey, Bryan McPherson
The Dropkick Murphys annual St Paddys tour is in full swing now and I decided to catch DKM, my friends in the Mahones and others at Irving Plaza on Day 2 of 3 of their Irving Plaza shows. It was a great evening of Celtic and punk rock music!

Bryan McPherson opened up the show with a few songs until his guitar string broke. After being absent for a few minutes he came back to finish the set. I liked his folk punk sound and will be checking out some of his music in the future.
Up next were Blood or Whiskey from Ireland. I've been a fan of them for over a decade but this was the first time seeing Blood or Whiskey live. I love their first two albums the most so I was glad to hear them play some of those songs like "Your Majesty," and "Always Remember." I think they played one or two more older songs but having a tough remember which ones they were. Their newer albums got represented as well and I was enjoying all of it. I'm really happy Dropkick Murphys decided to bring these guys over here because I'm not sure I would have had the chance to see them. I hope they ask Greenland Whalefishers next year!
The Mahones were up next and it's always a treat seeing them live. They are one of the nicest bands I've met. Finny, Katie and the rest of the guys always look like they are having a blast on stage. I always like to request songs to Finny but they are the more non-punk songs which isn't necessarily fitting for a Dropkick show. I wanted to hear "Someone Saved Me" off their newest album. They played songs like "Paint the Town Red," "Celtic Pride" and "The Hunger and The Fight."
Towards the middle of the set, they brought up a couple to have their first dance after just getting married earlier in the day…by Reverend Katie Kaboom. The band played "A Little Bit Of Love" and I was happy to hear them play that one. The Mahones finished their set with "Queen and Tequila" and "Drunken Lazy Bastard." and I wished they played longer. Hopefully I'll be able to see them again this year, depending on when their next show is.
The Dropkick Murphys kicked things off with "The Boys Are Back" and it's one of my favorite songs from their newer stuff. After that, they played "Captain Kelly's Kitchen" and "Worker's Song."
Middle of the set, they brought out a dart board and had fans throw darts at it. Whatever number the darts landed on, they would play the songs on the list. The first ended up being Gang Green's "Alcohol," followed by "Eurotrash." After that, Ken broke the easel and held the dartboard up. It landed on The Misfits' "Halloween," which was a funny choice since it's nowhere near that time of year. In any event, I loved that they did this and made the set more unpredictable in the song choices. Every night would be something different for fans.
Other songs that stood out from the list included "Never Alone," "Rose Tattoo," "Heroes from our Past," "The State of Massachusetts," "Road of the Righteous," and "Boys on the Docks." The last song of the set was "I'm Shipping Up To Boston," joined by Bryan McPherson, The Mahones and Blood or Whiskey. I decided to leave to make a train so I didn't stay for the encore, but they did end up playing 5 more songs! I'm sure you can find that on youtube if you're curious.
For whatever reason, I liked their set a lot more this time around. Maybe they switched things up and played a variety of songs since they were playing NYC three nights in a row. The entire lineup for this show was great though! Can't wait to see the lineup for next year!
I'll have all my photos on SkaPunkPhotos.com this week but in the meantime, check out my favorites:
Bryan McPherson
Blood or Whiskey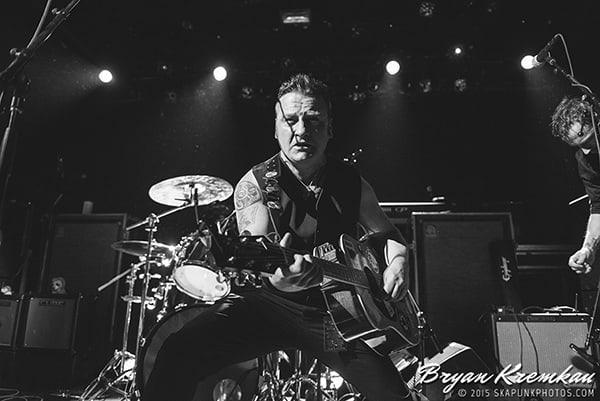 The Mahones
Dropkick Murphys