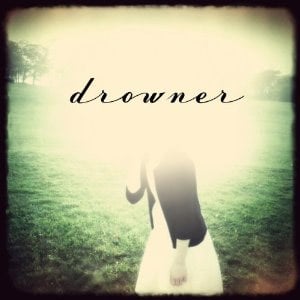 Record Label: Saint Marie Records
Genre: Shoegaze/Dreampop
Band Link: drownerband.com
Buy on Amazon.com
Drowner is aptly named. The album, but particularly the first four tracks, sounds like a song arc – first, a feeling of being swept into a maelstrom: powerful, ominous, swirling indie rock clashing with an echo chamber of shoegazing female vocals. Then the tracks flow into an afterlife of tension, release, introspection, and grace. The multilayered, reverbing vocals sound like a flock of angels commenting from above on a drowning victim's last moments.

That's only my impression and possibly based on recently rereading The Odyssey. But there is something epic about this music. The guitar chords are expansive, often minor key, and the rhythm is steady but understated like a fading pulse. But it's the fuzzy, dreamy vocals that take the oceanic music and make it otherworldly. It's like bathing in an eternity of cosmic radiation.
If I sound overdramatic, blame the album. Not that it will roll eyes; this is overdramatic in the way of orchestral music or opera. Drowner sounds like Panda Riot covering early Cure and managed by Handel.
The album ends with two remixes that frankly cheapen the originals. If you prefer MP3 albums, download just the first 8 tracks – well worth the few bucks.
Bottom Line: Shoegaze on a symphonic, grand scale.
Notable Tracks: Point Dume, Never Go Away, Wildflowers
Overall Rating: