Hear Kitty Kitty – "Tails From the Alley"
Album Reviews | Jul 7th, 2011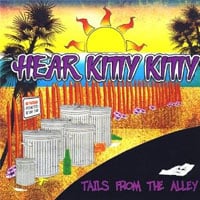 Record Label: EFM Records
Genre: Hard Rock/Punk
Buy on Amazon.com
Upon first listen of "Tails From the Alley" my head was spinning. I was smacked in the face with furious punk rock, sing-a-long melodies and some metal chops. It was like I was listening to a mix of Nashville Pussy, the Donnas and Betty Blowtorch all at once…and that was just one song!

L.A. based and female fronted Hear Kitty Kitty showcase punk/metal influenced rock sound that is a breath of fresh air in the rock scene. You could picture this band coming of age in Seattle circa 1990. I would by no means label them grunge but what was grunge other than metal, punk and rock coming together as one uniform sound.
Hear Kitty Kitty have that eclectic mix and a variety of far reaching influences going on. Top that off with songs about personal hardship and growth as well as loves gone by as well as striking vocals and you get a solid, poignant album that will have you hitting the repeat button.
Bottom Line: A solid romp through a variety of punk/metal influenced rock songs.
Notable Tracks: Everything, Find My Own, Til the Moon Turns Blue
Overall Rating: