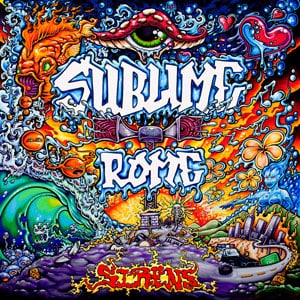 Record Label: BMG
Genre: Reggae Rock/Hip Hop
Buy On Amazon
"Sirens" is the follow up to 2011's "Yours Truly" and with every new release, the band seems to lose a member shortly afterwards.

I believe that I was in the minority with the initial release of "Yours Truly" I wanted to give this new incarnation of "Sublime" a chance. Rome was a huge Sublime fan and the other two thirds of the band were the surviving members of Sublime. I felt that "Yours Truly" was quite good. It had a fun, off-kilter vibe that didn't feel like the band was just playing Sublime cover songs with different lyrics.
Fast forward to 2015 and the release of "Sirens", drummer Bud Gaugh hasn't been a part of the band since shortly after the release of "Yours Truly" stating that it just didn't feel right playing those songs under the Sublime moniker. So now, a band that was made up of original Sublime members was down to just bassist Eric Wilson remaining along with Rome and Josh Freese, who drums on every album ever.
Now I don't know if it was Bud's influence or just the direction that the band decided to go in for "Sirens", but this time things just don't sound right. With Sublime, every song was an adventure. You would get a lyrical sample of something from some obscure movie mixed in with some ska, reggae and hip hop as well as parts of a cover song…all within the span of three minutes. On "Sirens" you'll be lucky to get any of that over the span of an entire album. In fact, the entire first half of the album is forgettable in a "reggae rock band trying to get songs played on the radio" kind of way. The first six songs sound exactly the same. You could easily take snippets of those songs and mix them together and no one would know the difference.
The last half of the album is where things get a little better with some hard rock, punk, metal and ska strewn throughout. Shoved to the end of the album, the forced sounds of these songs make it feel like the band wanted to hide these tracks away but thought that they would give them Sublime cred.
I never would have thought that I would label a "Sublime" album as boring, but I guess that this isn't a Sublime album. The original/real version of Sublime would always liven up the house party. "Sirens" would be the lullaby that shut down the party and tucked everyone into bed. There just isn't the energy and sense of excitement that was found on a Sublime album or even on "Yours Truly". I've heard this album hundreds of times before with bands like Pepper, the Dirty Heads, the Expendables or dozens of other similar sounding reggae rock cash-in bands. It's not Sublime…it's just Rome, and that's really no fun.
Bottom Line: Sublime With Rome has moved away from what most fans would consider the "Sublime" sound and have moved into the reggae rock sound that has been popping up in the mainstream music world for some time now. "Sirens" is mostly a dud with no real personality of its own.
Notable Tracks: House Party, Skankin, Gasoline
Overall Rating: