The Offenders – "Lucky Enough To Live"
Album Reviews | Jan 21st, 2013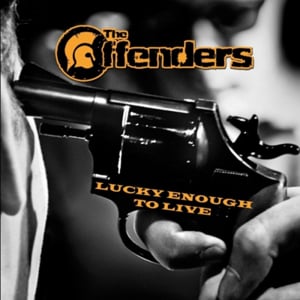 Record Label: Destiny Records
Genre: Ska Punk
Buy On Amazon.com
Why does it seem that there are so many greater ska punk/two tone influenced bands in Europe than there are in the States nowadays? The Offenders hail from Italy and are based in Berlin. Their sound is a mix of classic two tone ska, ska punk and rocksteady. I had to do some research because they sounded very much like the early Millencolin ska punk stuff and I needed to make sure that Millencolin didn't finally change their minds and go back to their roots.

"Lucky Enough To Live" is the bands fourth full length and it is chock full of ska from every era with plenty of punk sprinkled in. There's not much on the album that hasn't been done before, but the songwriting is superb and almost all of the songs are catchy, memorable and skankable. Songs like "Leaders Fall Down" and "I Am Not Giving Up" have positive uplifting messages about fighting on and making changes while songs such as "Sun Made Rock and Roll" and "Never Trust A Smart Guy" mix things up with songs about the Sun Records era of rock and roll that spawned Elvis Presley, Roy Orbison and Carl Perkins as well as just being goofy and having a sense of humor. There is also a cover of the George Michael "classic" song "Careless Whisper". You have to have a sense of humor to cover that song…i.e. the Supervillains.
It's obvious that the Offenders have been around for some time. Their songs are multilayered and their influences run deep while being able to change things up from punk to rocksteady to rock and ska. Their sound is varied yet the Offenders are able to transition seamlessly from one style to the other with ease. I think that diversity is what makes "Lucky Enough To Live" so interesting and varied upon multiple listens.
"Lucky Enough To Live" should have been on my favorites list for 2012, but I didn't discover them until this past week. It's a shame because I have definitely been missing out on yet another awesome European ska band. Fans of the Porkers and early Millencolin will surely see some similarities in the Offenders, but they are good enough and diverse enough to stand out on their own.
Bottom Line:Euro ska punk that is good from start to finish. The Offenders are definitely influenced by every era of ska music.
Notable Tracks:Bootboys Smash the Dancehall, Lucky Enough To Live, Sounds From Underground, Antisocial Beat, I Am Not Giving Up
Overall Rating: