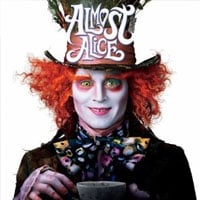 Record Label: Buena Vista Records
Genre: Soundtrack
Buy on Amazon.com
I guess Disney thought it would be a good idea to make an album of a bunch of "hit" artists that have nothing to do with the actual Alice in Wonderland movie. I never got that part of the movie biz, if the song isn't in the movie it shouldn't be included on a soundtrack. There should just be a Danny Elfman release with that shitty Avril Lavigne song at the end.

The artists that are included on this soundtrack are: Avril, All-American Rejects, Owl City, Shinedown, Metro Station, 3Oh!3, Tokio Hotel, Robert Smith of the Cure, Franz Ferdinand, Motion City Soundtrack, and Mark Hoppus and Pete Wentz. Honestly, they couldn't have picked a worst group of artists. But what do you expect from a Disney movie? Nothing but wimp radio friendly music, and yes that includes Robert Smith's song "Very Good Advice." I like The Cure but I couldn't stand this song from Smith. About the only song I liked was from Franz Ferdinand, which was a track called "The Lobster Quadrille." All the rest is awful electro-pop rock bands that sing with no balls. This soundtrack is meant for teenage girls and teenagers who like to cut themselves. I felt like cutting myself after listening to this atrocious music.
Bottom Line: Simply awful!
Notable Tracks: Franz Ferdinand – "The Lobster Quadrille"
Overall Rating: