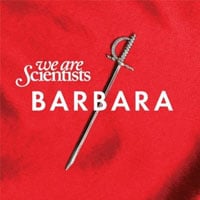 Record Label: Masterswan Records
Genre: Indie Rock
Band Link: www.wearescientists.com
Buy on Amazon.com
We Are Scientists is a name that I've seen pop up many times and seen them playing the area. I don't recall ever hearing their stuff besides the catchy tune "After Hours" from Nick & Norah's Infinite Playlist. I could be wrong though; their music sounds very familiar. Even though I didn't really know much about the band, I definitely like their music now.

Barbara is the band's fourth studio release, and features their newest drummer Andy Barrow, formerly with Razorlight. As soon as their first track "Rules Don't Stop" came on, I knew I was going to like this album. Then right after those tracks, even catchier indie rock tunes came on like "We Don't Bite" and "Nice Guys." What I like about We Are Scientists is their guitar playing and how the songs are dance-able. The singing from Keith Murray is really good and the other guys compliment his singing & playing nicely. The first half of the album is stronger than the second but it's still a strong album from the band.
There are 10 tracks in all, and I don't have any real complaints with the album. Some might call this hipster music but whatever you want to call it, it's catchy and fun. We Are Scientists' Barbara album made me a fan. If you dig bands like Helio Sequence, The Rifles and Bloc Party, give We Are Scientists a listen if you haven't already.
Bottom Line: Catchy indie rock album!
Notable Tracks: Rules Don't Stop, We Don't Bite, Nice Guys, Break It Up
Overall Rating: