Blade Runner 2049 (Blu-Ray + DVD + Digital HD)
Blu-Ray Reviews | Jan 17th, 2018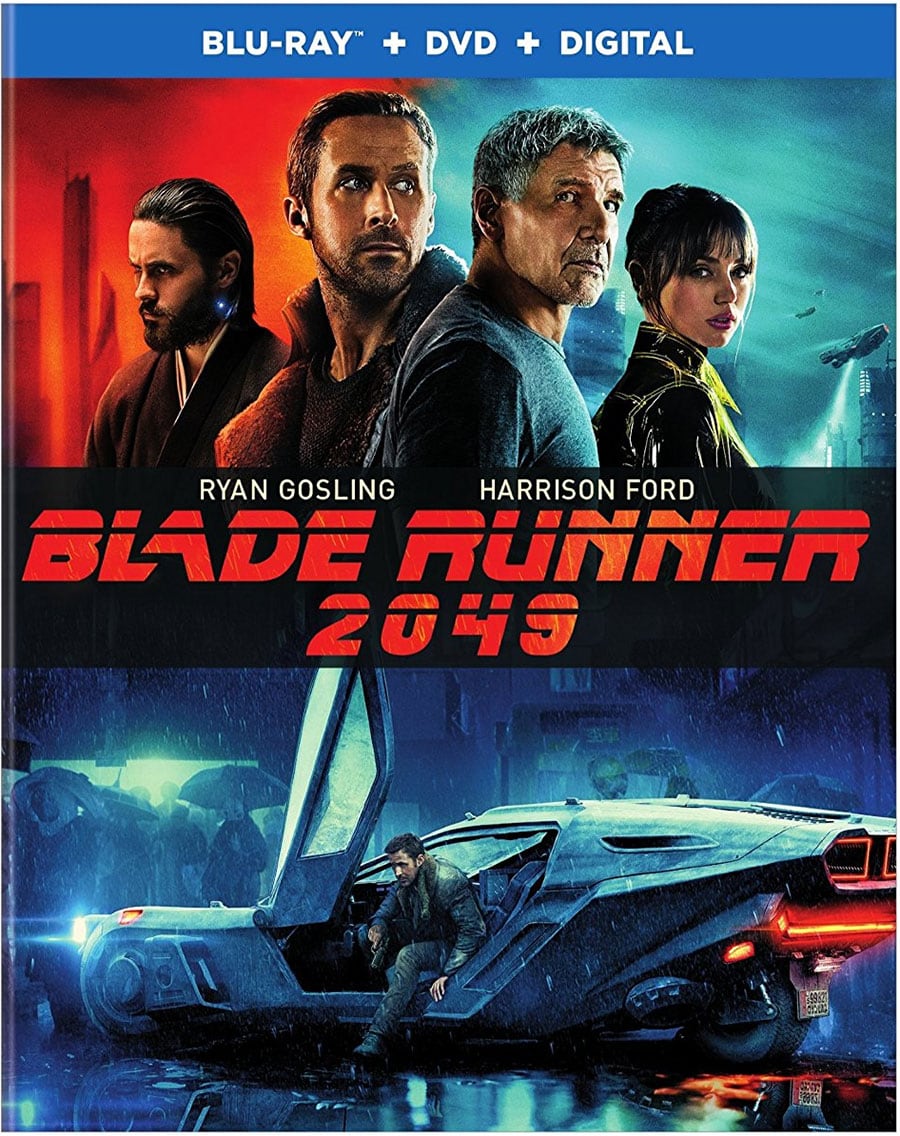 Starring: Ryan Gosling, Harrison Ford, Ana de Armas, Jared Leto, Sylvia Hoeks, Robin Wright, Mackenzie Davis, Carla Juri, Lennie James, Dave Bautista
Written By: Hampton Fancher, Michael Green
Directed By: Denis Villeneuve
Studio: Warner Bros
Buy On Amazon.com
Blade Runner 2049 is the long awaited sequel to the 1982 movie starring Harrison Ford and directed by Ridley Scott. I wasn't a fan of the original movie but I ended up liking the sequel a lot more. With that said, this could have been 45 minutes shorter.

The movie takes place 30 years after the original movie. There's a new blade runner, an LAPD officer called K (Ryan Gosling), an officer who hunts down and "retires" rogue replicants. K uncovers a long secret that could change society and goes on a hunt to track down ex-blade runner Rick Deckard (Harrison Ford), who has been missing for decades.
Like I said above, I wasn't really a fan of Blade Runner (final cut) and I only just saw it a few months ago. I just never had a desire to see it, since my kind of sci-fi was things like Star Wars. The movie was a bit slow and a bit outdated looking. Back then, I'm sure it looked cool though. It also looked grim and dark, so could be why I never wanted to rush out and see it. Harrison Ford's character isn't exactly likable in it, doesn't he get a little forceful with the Rachael character or is it just me? I can see why sci-fi like it but it wasn't for me. With the sequel, I ended up liking it a lot more. The movie is beautifully shot by Denis Villeneuve, I liked Ryan Gosling character and the story was easier to follow. Once Harrison Ford shows up, things get better.
With that said, the movie is just way too long for it is. It's slow and takes awhile to get going. Denis could have easily cut out 30-45 minutes of footage and made a separate edition for the hardcore Blade Runner fans. Honestly, Harrison Ford doesn't show up until the last hour of the movie. Everything before that, could have been condensed tremendously. But even with that complaint, this is still a great movie and it was so beautifully shot by Denis and cinematographer Roger Deakins. If they get any awards this season, it will be for the cinematography. I like that it feels like the original movie, but at the same time expands on the story, the characters, the look and the score.
Ryan Gosling does a good job with the character and I liked him for the most part. Harrison Ford's role is definitely diminished and not in as much as the poster and trailer make you believe he is. Once he pops up though, he's definitely the cranky Harrison Ford we all know and love. In a way, he feels like the damsel in distress and a bit of role reversal. Robin Wright continues to play strong characters and looking forward to seeing more of Ana de Armas because she was beautiful. Jared Leto continues to play weird and out-there characters and it was cool to see Lennie James and Dave Bautista in this even though their roles were pretty much cameos.
The Blu-Ray contains a few decent featurettes, some prologue shorts, and everything you need to know about Blade Runner with Blade Runner 101. It was interesting to see the designing the world of Blade Runner featurette. They used a lot of practically effects to get things done, but also mixed CGI in there as well. The balance is very hard to complete but this film does it flawlessly. The casting featurette was pretty good and had some interviews, and the prologues were cool to see. You get to see how things came to be for some of the characters like Jared Leto's character Niander Wallace, Dave Bautista's Sapper Morton and then how the blackout happened.
Blade Runner 2049 is a beautifully shot sci-fi movie that will make fans of the original really happy. For the casual movie-goer, and maybe anybody, this is a long movie that really and it didn't need to be. About 30-45 minutes could have been cut out of it and it would have felt so slow-paced in the beginning. Not sure why people didn't see this in theaters but that could have been the biggest turn off. Perhaps if this long version appeared only on the Blu-Ray, the movie would have fared better at the box office? Either way, the movie is worth seeing just for the cinematography alone.
Features:
Designing the World of Blade Runner 2049
To Be Human: Casting Blade Runner 2049
Prologues
Blade Runner 101
Video:
Widescreen 2.39:1 Color
Audio:
English Dolby Digital 5.1
English DTS-HD MA 5.1
Subtitles:
English SDH, French, Spanish
Bottom Line: I liked it better than the original but way too long
Running Time: 164 mins
Rating: PG-13
Extras Rating:
Overall Rating: