Westworld Season Two: The Door (Blu-Ray + Digital)
Blu-Ray Reviews | Dec 13th, 2018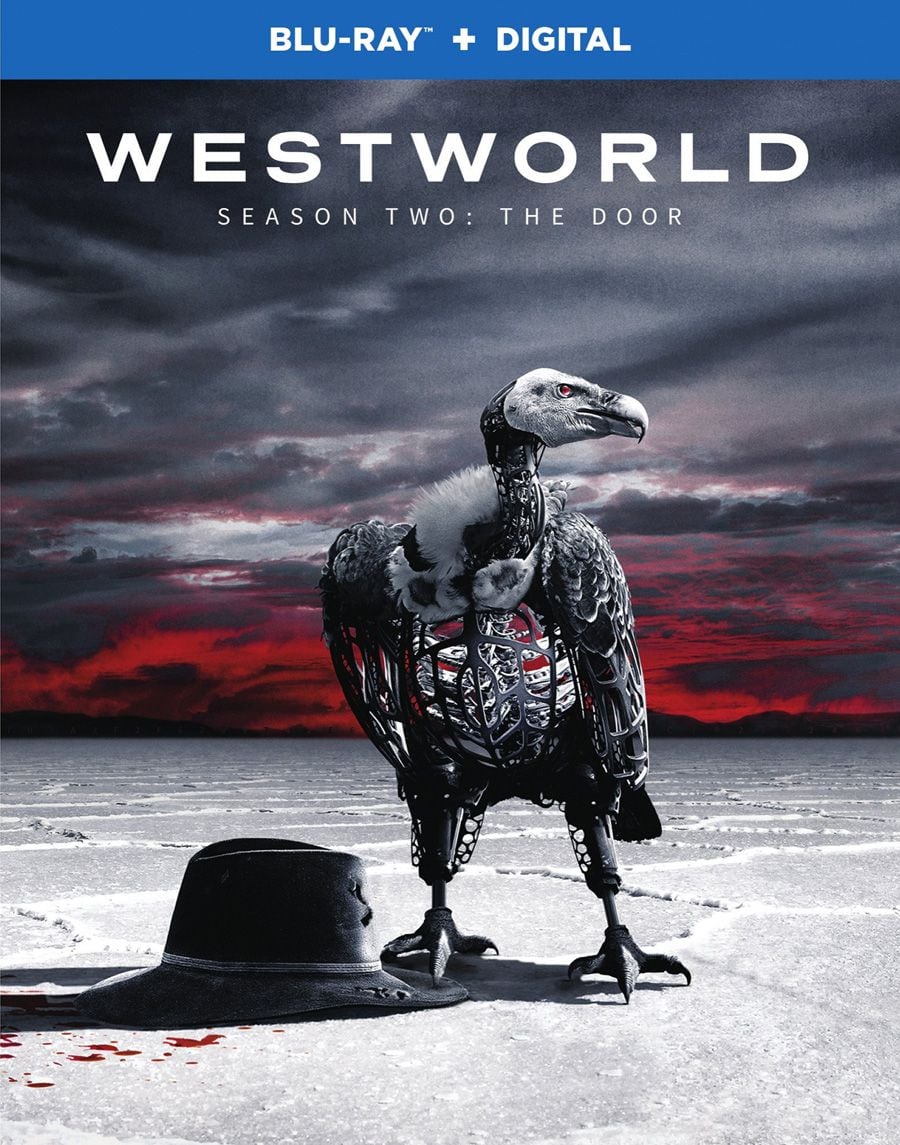 Starring: Evan Rachel Wood, Thandie Newton, Ed Harris, Jeffrey Wright, James Marsden, Tessa Thompson, Luke Hemsworth, Simon Quarterman, Talulah Riley, Rodrigo Santoro, Gustaf Skarsgård, Angela Sarafyan, Katja Herbers, Shannon Woodward, Anthony Hopkins, Zahn McClarnon
Created By: Jonathan Nolan and Lisa Joy
Studio: HBO / Warner Bros.
Buy On Amazon.com
The second season of Westworld continues where it left off, confusing the hell out of the audiences. Answering questions and then adding another 50 that go unanswered. All done in a very compelling way, with interesting storytelling and stunning visuals. This season will make or break you as a fan of the show but I think if you stick around for the long run, you'll be happy.

Season 2 starts with off where Season 1: with chaos. Delos employees are fleeing for their lives as the hosts rise up and murder everybody, lead by Dolores (Evan Rachel Wood) and a reluctant Teddy (James Marsden). Bernard (Jeffrey Wright) and Charlotte (Tessa Thompson) meet up and try to get some help. Maeve (Thandie Newton) decides to stay and has another mission she wants to do, on top of her finding her daughter. Man in Black/William (Ed Harris) further descents into madness as he's still constantly being provoked by Robert (Anthony Hopkins) beyond the grave. Characters discover new worlds, discover their new selves, discover that they are actually a robot and the viewers are beyond confused.
I really liked most of this season but I was definitely a bit frustrated with it. Some episodes had multiple timelines happening and it confused the hell out of me. I'm definitely not in alone in that. I felt like they were adding all these complex storylines to the show just for the sake of it. They really overdid some parts of it and other parts they got right. When they would focus on certain part for an episode were the stronger episodes like Maeve in Shogun World, William and Katja Herber's character, and Ghost Nation. The Ghost Nation episode was my favorite episode of the season, just because it's something totally different than the show has done. Plus, whenever it involves Native American actors and such a strong as Zahn McClarnon then I'm a happy camper. It was just an incredible episode but I could see some think it's the worst episode of the season.
Major theme for the season is data collecting, which is really relevant. I guess when Jonathan and Lisa were writing it, it wasn't a big issue but by the time the season was released, it was. Watching things unfolding on Westworld, it definitely feels like society is getting to something like that. Whether or not the robots rising up every happens, I just mean other things that go on the show. Going to some theme part, pretend to be someone else and get the chance to shoot a person. I'm surprised the rich haven't done that yet.
Acting for the show was excellent of course, with Thandie Newton being bad-ass in multiple languages this year. Maeve is definitely of my favorite characters of the show. Evan Rachel Wood played the "villain" in a way this season and did it well. Jeffrey Wright continues to be another character I love on the show, despite his confusing storyline this year. Ed Harris Ed Harris, so I liked he's still on the show but seems like something is up with William, right? It was a blast to watch Peter Mullen play Delos and he played him from all types of ranges. Went from an arrogant rich businessman, hard-nosed Father to unaware robot wanking and dancing in a room by himself, who then tears his face off when he realizes he's been long dead. That whole storyline was really interesting. So there's definitely parts of the show I love but it was bloody hard to follow at times. Here's some tweets from me watching the show live each week this year, which will give you an example of my clueless-ness:
#Westworld #WestworldSeason2 pic.twitter.com/qWmbC1fEY3

— Bryan Kremkau (@bryankremkau) April 30, 2018
Hey #Westworld pic.twitter.com/JoLplDeC5K

— Bryan Kremkau (@bryankremkau) June 4, 2018
That #Westworld episode was excellent, and deserves an Emmy. I can see people not liking it though.

— Bryan Kremkau (@bryankremkau) June 11, 2018
Can't wait for Episode 10 of #Westworld tonight, or the episode I call "When Everything Starts Making Sense…Finally"

— Bryan Kremkau (@bryankremkau) June 24, 2018
and followed that up with…
Um…what? #Westworld pic.twitter.com/iJdmHhPfPu

— Bryan Kremkau (@bryankremkau) June 25, 2018
The extras for Westworld were pretty good. There's a featurette on Delos and Peter Mullen, which explores his characters and answers some things that might have been confusing. But don't go expecting everything answered. There's a featurette called These Violent Delights Have Violent Ends, which I actually forget what that was about. Reason why I forgot because I loved the Bring Yourself Back Online: Reflections of Season 2 so much. It's hosted by actors Leonardo Nam (Felix) and Ptolemy Slocum (Sylvester) and they interview & shoot the shit with the other cast members. There's 3 sections of that, and equals about 45 minutes of cast interviews. Good stuff! Plus there's lots of little featurettes on special effects or certain things like that white faceless drone host. Definitely a lot to check out in the special features section.
This season was a lot more confusing and hard to follow at times, but in the end, it was still one of my favorite shows of the year. I wasn't particularly happy or satisfied with the ending, but maybe because it just felt I didn't know what was happening still or it felt incomplete. I like Season 1 better but this season offered up something different and interesting each week. Bring on Season 3 and ditch the multiple timelines, everyone's a damn robot plot devices please!
Features:
The Truth Behind Delos
These Violent Delights Have Violent Ends
Bring Yourself Back Online: Reflections of Season 2 • Of Love and Shogun • Journeys and Technology
Creating Westworld's Reality-A Special Featurette with Each Episode
Video:
Blu-ray Episodes: 1080p High Definition 16×9 1.78:1
Audio:
DTS-HD Master Audio English 5.1
English SDH, French and Spanish Subtitles
Bottom Line: Beyond confusing but when you pick out pieces that you liked this season, it was still a fun season to watch!
Running Time: 636 mins
Rating: NR
Extras Rating:
Overall Rating: