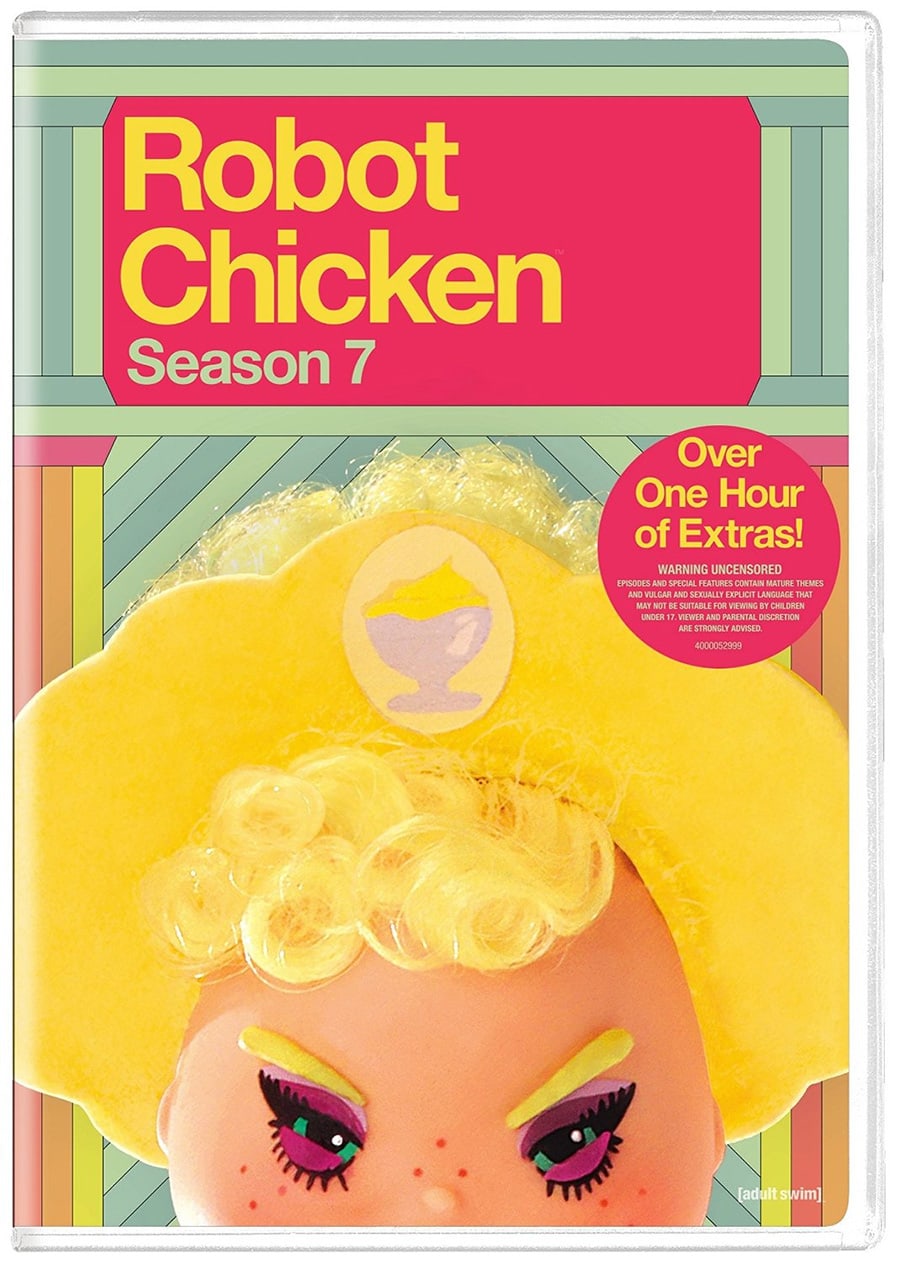 Voices By: Seth Green, and various other actors
Created By: Seth Green, Matthew Senreich
Studio: Warner Home Video
Buy On Amazon.com
That wacky Robot Chicken is back with another season and specials. If you're a fan of the show and got two and half hours to kill, you can binge watch this DVD pretty quickly.

For those that don't know, Robot Chicken airs on Adult Swim/Cartoon Network late at night. It's vulgar, stop-motion animation with clay or action figures and it can be hilarious…but depends on the sketch. The show is only 11 minutes or less, so lots of sketches can range from 3 seconds long to 3 minutes. Sometimes a sketch doesn't need to be more than just one punchline long. It's a pop culture filled show and I Iove seeing random references to the 70s and 80s, when I was a child. There's plenty of references to movies and TV from today as well. The first episode of the season has a drunken centaur visiting kids from Narnia, which the results you'd expect from Robot Chicken.
I haven't seen Robot Chicken since, probably the last time I reviewed one of previous seasons DVDs. It's gotten a lot raunchier it seems and I'm fine with that. The only thing I don't like is the voice acting tend to scream their lines. Or some of the voices that Seth Green does or someone else (one girl voice) is just downright obnoxious. After awhile, the show gives me a headache. But other than that, the show is hit or miss from the sketches. Sometime they are really funny and other times they just fall flat.
There's 20 episodes spread out on 2 discs, but unlike some other releases this is only available on DVD. I don't know why companies release just DVD when the episodes themselves are aired in HD. But I suppose you're not watching Robot Chicken for high quality. The one bonus of these episodes on DVD is that they are uncensored, so lots of cursing, and toy penises flopping about. There's commentary on all the episodes, some featurettes, cut sketches and a bonus Christmas special. The Christmas special was pretty funny so glad they included it.
I still think the very first season of Robot Chicken is the best but this season had it's moments as well.
Features
Commentary on all Twenty Episodes
Bonus Christmas Special with Commentary
Featurettes
Cut Sketches
Audio/Video
Video
Widescreen 1.78:1 Color (Anamorphic)
Audio
English Dolby Digital 5.1
Bottom Line: Not as good as previous seasons
Running Time: 220 mins
Rating: NR
Extras Rating:
Overall Rating: