The Girls Next Door: Season 4
DVD Reviews | Mar 24th, 2009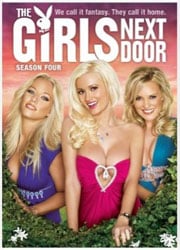 Starring: Hugh Hefner, Bridget Marquardt, Holly Madison, Kendra Wilkinson
Studio: 20th Century Fox
Buy On Amazon.com
Hef and his 3 girlfriends are back with another season of the popular reality show, the Girls Next Door. I've been a fan of the show for awhile now, so I was looking forward to seeing this season on DVD. If you're a guy, you'll love the DVD since it's uncensored!

The 4th season of the Girls Next Door starts with an Independence Day episode. So that means fireworks, games, and water slides. But Bridget is anxiously awaiting the arrival of her brother, who was serving in Iraq. The next episode has Holly meddling with more of Hef's mansion, this time with Hef's gym. I can see why she wanted to change it up though. While that is happening, Kendra's Mom wants to get plastic surgery. I guess if your daughter is Kendra, the stress would mess up my face too. Hey, she said it on the show! Other episodes of the season include a trip to Holly's hometown in Alaska, Hef and the girls go to Monte Carlo International Film Festival, Holly brings in 4 Playboy centerfold candidates for a test shoot, the girls visit Jamaica for a wedding, Hef and the girls appear in the movie House Bunny, and lots more! The last episode of the DVD set is about Bridget producing a horror movie…a really bad one might I add.
This season is just like any other but it's very entertaining. I love that the DVDs are uncensored; not just because of the sporadic nudity but for the cursing as well. I hate having bleeps in there because you can't always tell what they are saying. Even though I saw most of these episodes, I was really looking forward to seeing the DVD. The episodes are just entertaining, and fun to put on when there isn't anything else on TV. I find it funny that a lot of women like this show, including my girlfriend. So when she wants to watch it, I can't complain. It does get a little tiresome hearing the "Valley-girl" talk after awhile.
My favorite episodes of the season were when the girls went to different locations, or somewhere else besides the mansion. Those episodes always seem the most interesting to me. I also liked when the girls gave Hef some unique birthday presents. It was their naughty parts, but in chocolate form. The man is very lucky, what can I say? Like with other seasons, celebrities make appearances on the show like a nude Pamela Anderson (what the hell happened to her?), Anna Faris, Prince Albert of Monaco, Chad Michael Murray, Paris Hilton and others. There won't be an episode without seeing a celeb make an appearance at the Mansion. But the reason why you're watching this is because of your fascination with the Playboy Mansion and Hef's three girlfriends. Each season, you learn more and more about the girls. Bridget has her own radio show on Sirius now, Kendra is still really invested with sports, and Holly keeps blabbing about marriage. Well I guess we know the downfall of that relationship huh?
It's funny watching this season and the season after that, and realizing that the girls won't last as Hef's girlfriends. They all break up and go their separate ways at the end of Season 5. But we can at least enjoy the remaining episodes of Holly, Bridget and Kendra. Kendra will have her own show on E!, Bridget has her own show on the Travel channel now and Holly is dating hack magician Criss Angel. Hef has already moved on and picked out some twins and other chicks. I wonder if the new girls will be featured on the show? I guess we'll find out in Season 6. In the meantime, be sure to get the latest season on DVD that has an hour of deleted scenes, commentary and uncensored video and audio! Hooray for nudity!
Features:
Audio Commentary With Holly, Bridget, And Kendra On All Episodes
Optional Uncensored Audio
Episode Promos
Over An Hour Of Deleted Scenes
Video:
Standard 1.33:1 Color
Audio:
ENGLISH: Dolby Digital Stereo [CC]
Subtitles:
English, Spanish
Bottom Line: Another entertaining season from the Girls Next Door!
Rating: NR
Running Time: 379 mins
Extras Rating:
Overall Rating: