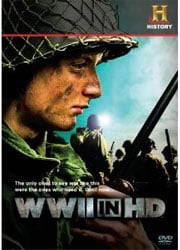 Starring: Gary Sinise, Rob Lowe, Justin Bartha, Josh Lucas, Rob Corddry, Ron Livingston, LL Cool J, Jason Ritter, Amy Smart, Steve Zahn, Tim Dekay
Written By: Matthew Ginsburg, Bruce Kennedy, Ben Kaplan, Liz Reph, Alec Michod
Directed By: Frederic Lumiere, Matthew Ginsburg
Studio: A&E
Buy On Amazon.com
WWII in HD is the latest History Channel special, where it takes unseen footage and makes a compelling mini-series out of it. It's the first documentary that has used real color footage of WWII in HD! It's something that should be shown in classrooms and it's a must-see for war buffs like myself.

The mini-series aired on History Channel back in November (I believe) and it features rare footage and never before seen footage that has been cleaned up and remastered for the series. It took a few years to gather all the footage together; I'm surprised it didn't take longer! Over the footage, actor Gary Sinise narrates the series perfectly. It's Lt. Dan from Forrest Gump after all! WWII in HD closely follows 11 soldiers and 1 nurse that took part in the war. One is an Austrian Jewish immigrant who enlists and sees combat in the Pacific, another is Time correspondent, and other is a Captain who saw action in Africa and Europe. It features some current interviews with the surviving soldiers, as well as feature actual journal entries read over the footage. It certainly helps to here real accounts of things that you are seeing. The journals are read by various actors like Rob Lowe, Justin Bartha, Josh Lucas, Rob Corddry and Ron Livingston. There are 10 episodes in all, and follow the start of the war to the very end.
World War II is something I've been interesting in learning more about it for awhile now. I don't think a day goes by that I'm not reading Wikipedia or something on WWII. I wasn't always interested in wars and American History as much as I am now. I guess it's just something you appreciate and respect over the years. I saw the trailer for WWII in HD in the movie theaters and it looked like something I would love to see. I just forgot when it aired. But now it's available on DVD and Blu-Ray and it definitely lived up to my expectations.
The first episode was really tough to watch at times. Showing real footage of executions and hangings, and bombings. This show is definitely not for the squeamish. The first episode also shows footage of the attack on Pearl Harbor. In a way, this was history lesson for me because for some reason I didn't think the war started out in the Pacific and Africa. I actually completely forgot we fought in Africa. In movies, we only ever see the Europe Theater of Operations. WWII in HD mainly focuses on the Pacific side of things, which I was okay but I actually wanted to see a lot more footage from ETO. But I'm guessing it just came off that way, that the Pacific was more of a focus?
I particularly liked when they showed footage of FDR or had him or Churchill speaking. Hearing those 2 speak just gives me goosebumps. While I liked the narration of Gary Sinise, I had a problem with some of the voice-overs from some of the actors. I just couldn't stand when Justin Bartha would do this Austrian accent to sound like Jack Werner. I almost wished they just had Jack Werner speak instead. I liked hearing the stories of all the soldiers, but particularly liked the stories of Jack Werner, Charles Scheffel and Jack Yusen. When Scheffel returned to the US, and saw his wife. It was just a sweet ending to a brutual campaign that he went through. Jack Yusen was on the USS Samuel B. Roberts and that ship went down in the Pacific. He was stuck out in sea with the rest of his surviving shipmates, in shark infested waters no less. One guy lost his mind and ventured out in the water, and another guy's arm was completely eaten off by a shark. Then they had to push him off the raft so the rest of them wouldn't get eaten. It was nothing they could do for him. Just a terrifying thought to imagine sitting in those waters, not knowing what's going to happen. But Yusen later on was saved along with the rest of his shipmates. But not all of the featured soldiers had a happy ending. But with their journals, we at least get a sense of what they went through.
The DVD extras include character profiles, and behind the scenes featurettes. I liked the character profiles because it was extended interviews with the surviving soldiers who the series followed. The two featurettes: Finding the Footage and Preserving the Footage were interesting but were only under 2 minutes each. They got the footage from Army, Marines, Air Forces, etc. etc. and archived it, shot it in HD and then shipped it back to them. I would have liked to have seen more extras but these will be sufficient to the casual DVD viewer.
WWII in HD is something I highly recommend! It's 10 episodes and gives you new stories about the war. I'm not sure if this is something I'd watch over and over like I do with Band of Brothers, but this is an excellent documentary. Check it out!
Features:
Character Profiles
Behind-The-Scenes Featurettes: Finding The Footage; Preserving The Footage
Video:
Standard 1.33:1 Color
Audio:
ENGLISH: Dolby Digital 5.1
ENGLISH: Dolby Digital Stereo
Bottom Line: Excellent documentary mini-series about WWII!
Running Time: 455 mins
Rating: NR
Extras Rating:
Overall Rating: