Great Big Sea @ The Town Hall, NYC
Live Reviews | Apr 21st, 2013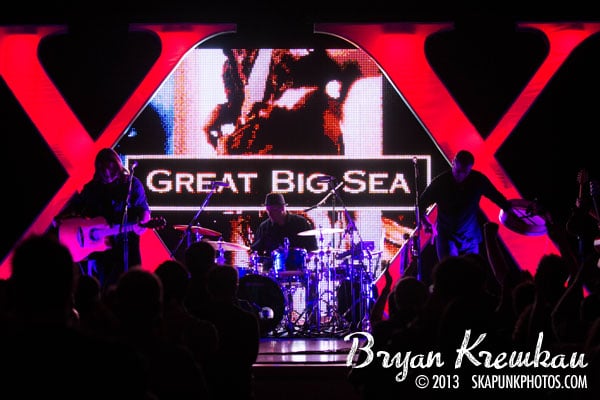 Date: April 19th 2013
Band Link: http://www.greatbigsea.com
Canadian folk group Great Big Sea is currently celebrating 20 years and stopped by a sold out Town Hall in New York City on April 19th. The band were their usual selves: highly entertaining, cracking jokes, singing their asses off and just making everyone feel good after a long, dramatic week.

Before the concert started, I was checking Twitter and saw that the Boston bomber was pinned down at a boat [insert Lonely Island jokes here]. So besides having to worry about a New York Rangers game, I now wanted to stay up to date about that whole situation as well. It's kind of hard to check your phone during a GBS show but did once or twice just to see what happened.
Great Big Sea took the stage around 8:15pm and played two sets. Both sets were filled with old classics and new hits. In the beginning, the band played songs like "Captain Kidd," the newish "Heart of Hearts," "England," "Concerning Charlie Horse" and "River Driver." The first half of the set reminded of the first time I saw GBS live, at Town Hall believe it or not in 2005-2006(?). It was very The Hard and The Easy centric. I still get goosebumps hearing them sing "River Driver." I'm not sure if its Murray's or Bob's voice, but I love how deep they sing and how it sounds live. It's a nice balance. During the first part of the set, Sean said he tries to sing a NYC song and played John Lennon's "Imagine." It was beautifully done if I say so myself. You can watch that here. The band finished up with the ever popular "Lukey" for the first half of the set. It's always fun hearing that one, and not one person was sitting down for that!
During the intermission, everyone was checking their phones and kind of sighed with relief/or excitement as news broke out that the bomber was caught. After that, it seemed like everyone was even more jovial.
Great Big Sea came back and played a cover of Pete Townsend's "Let My Love Open The Door." I like how I was hearing some new songs at this show, or songs I haven't heard GBS do before. "The Night That Pat Murphy Died" was clearly the crowd favorite by a large margin (based on applause). "When I Was King" which is still one of my favorites to hear live because it's one of the more rockier tunes the bands does. "Scolding Wife" always cracks me up and it's an amusing song. What's even more amusing is the band's interaction with the children in the front row when they play that song. Friday night was no different.
The stage at the concert had a big XX on it, and in between that was a screen that played videos and images. Throughout the night, the screen played music video clips the band was playing, or the band's first commercial for calling cards (remember those?!). During the song "Good People," the band has been asking for fans to send in their photos to show during that song. It was a nice touch to celebrate the band and the fans as well.
"Consequence Free," "Mari-Mac," and "Run Runaway" finished off the second set in fine fashion. The band returned to the stage to play the new song "Live For Life" and then "The Old Black Rum." They returned once more after that to play "Wave over Wave."
It's been almost 3 years since my last GBS show believe it or not. The last time they were in NYC, they played Webster Hall but I didn't attend that one. After that, the band took a hiatus and worked on their on own stuff. I'm glad the band is back and entertaining fans across the country (and obviously Canada). The world is a better place when Great Big Sea is performing for us!
Some photos from the show, check out all my photos at SkaPunkPhotos.com.