Mad Caddies @ Santos Party House, NYC
Live Reviews | May 17th, 2014
Date: May 16th, 2014
Opening Bands: Across The Aisle, Mrs Skannotto
The Mad Caddies have finally returned to New York City after taking several years off with playing here. The band just released an awesome new album Dirty Rice via Fat Wreck Chords and its worth picking up! If the sold out crowd is any indicator, the band should be playing NYC a lot more frequently.

Believe it or not, this was the first time seeing the band in over 16 or 17 years! I only saw Mad Caddies twice and both times they were on the Warped Tour so it was around 1998/1999 I saw them last. I just never got a chance to see them play one or two times they played the NY area. My twin brother Matt saw them in London in 2012 but I missed that show by a day or two when I visited London the same time. But anyway, it's been a really freakin' long time.
Across The Aisle opened up the show and it was only the second time I've seen them live. I've seen some of the members (Megg, Jesse and Jackie) in Rude Boy George a few times but only ATA twice. I thought they were a lot of fun and got the crowd moving. Lots of circle skankin', wait that sounds dirty. Lots of skankin' in a circle pit, there that's better. Megg was very energetic as always and Jesse's guitar playing was excellent. At one point, they broke out Matthew Wilder's "Break My Stride" a little bit. 80s songs work so well with ska. Definitely a fun set to watch and dance to.
Mrs Skannotto from Rochester were up next and I've heard lots from them lately but haven't actually seen them perform yet. They were good as well and I liked a majority of their songs. Their style is a mixture of ska, rock, and punk rock. The songs are kind of ska-ish but I think they are starting to break away from that a little. There's a bit more to their songs than a guitar upstroke. I'm not really familiar with the songs of Mrs Skannotto but do know they played "The Outlier," which is the title track off their brand new album. All in all, they warmed up the crowd very well and everybody was ready to dance and sing along to the Mad Caddies.
Like I said before, haven't seen these guys in over 15 years and it was definitely due to see them again. They don't really tour the East coast a whole lot and seem to tour Europe more. Maybe they will tour here more since Santos sold out. Their new album Dirty Rice was only represented a few times in this show but that's okay, they played a lot of awesome tunes as well. The last three albums they released have been my favorites and I also think it's their best. I just love how mature their sound has gotten over the years. The dixieland style in some of the songs is still awesome and glad they stuck with it over the years.
They started things off with the new one "Shot in the Dark" and that got the crowd skankin' and dancin' in their spots. At this point everybody was stuffed in and I was right in the front, shooting what I could and dancing. After that, they played "Backyard" and "Without You." The later is definitely one of my favorites off their previous album.
The whiff of marijuana caught the attention to the band and Chuck was asking if New York passed the legislation law yet but the crowd was mixed on the answer. So basically, NYers just do whatever they want to do anyway. Chuck then mentioned his great-grandmother died in Weed, California and that took things in an unexpected way (though she was 99 as Chuck defended). But back to the music, the band then played songs like "Lay Your Head Down," "State of Mind," and the always popular "Monkeys." I couldn't help but dance like an idiot during "Monkeys."
"Weird Beard" was a fun one to hear live, as well as the new songs like "Brand New Scar" and "Down and Out." I was hoping they would play "Dangerous" or "Little Town" but it wasn't meant to be for this show. If there was one song that was a crowd favorite, it had to be "Drinking for 11," which isn't surprising. Towards the end of the set, they played "Contraband," the newer version of "Distress," "Villains" and ended things up with "All American Badass." Eduardo their trombone player went into the crowd to play during the last song,and ended up crowd surfing back to the stage. That was a cool moment and glad I was there in the right spot to capture it.
There was no encore because there was dance party club crap afterwards so the band didn't play anything after "All American Badass." It was great to see the band again and I'm really hoping they come back sooner than 7 years, or whatever it was the last time they played NY.
Here's some photos from the show, be sure to visit SkaPunkPhotos.com for all the photos:
Across The Aisle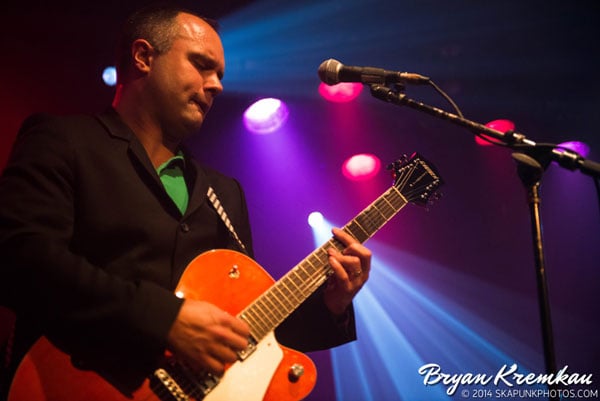 Mrs Skannotto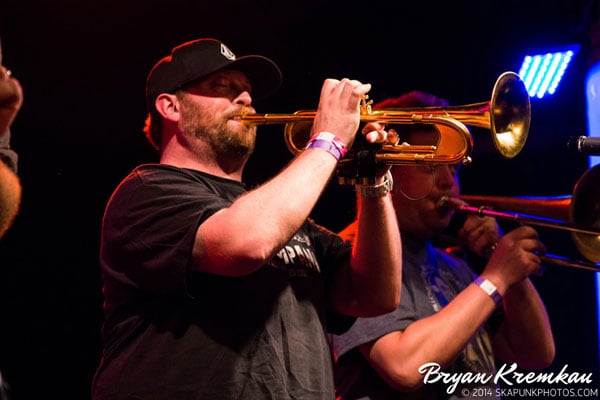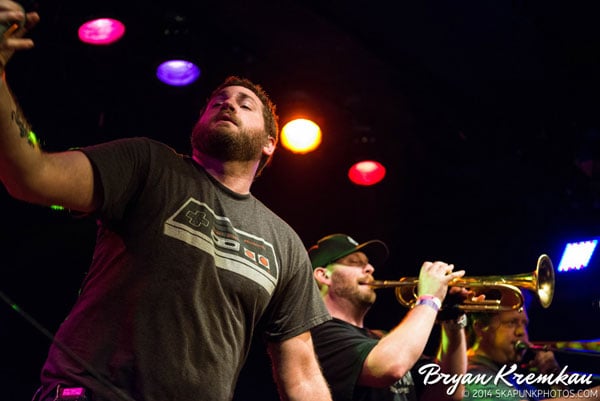 Mad Caddies