The Pogues @ Roseland Ballroom, NYC
Live Reviews | Mar 16th, 2009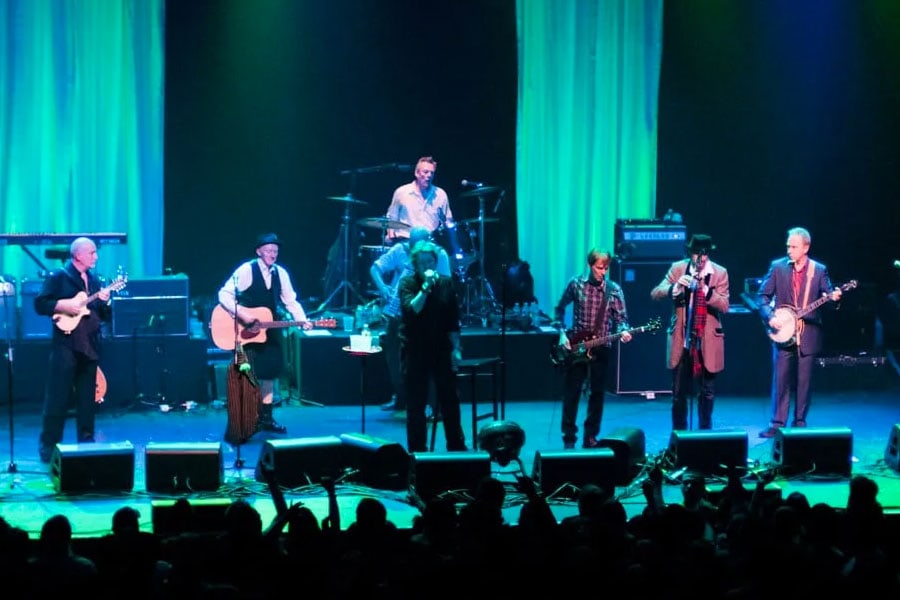 Date: March 13th 2009
Opening Band: Franz Nicolay
Band Link: link
Every March, I look forward to seeing the Pogues play in New York City. This year, the band came over to play 2 nights in NY. I saw the opening show, which was on Friday the 13th. Just like any other Pogues show, it was an excellent!

Franz Nicolay of the Hold Steady opened up the show but I missed most of his set. I had to wait for an hour for the list to show up, and then had to wait even longer when they ran out of actual passes to give me. You'd think they know how many passes were on the list and then have the passes up front at the box office? Nope. Roseland seems to have issues with passes just about every show I go to. But it worked out in the end because I got to see Pogues, which was the band I was there to see obviously. The last few songs I saw of Franz Nicolay, I didn't really care for him. Maybe I got too spoiled from last year's William Elliott Whitmore, Billy Bragg and Pogues show?
As soon as The Clash's "Straight to Hell" came on, the crowd went nuts and waited for Shane and the boys to hit the stage. The Pogues came on at 9:15, which is actually on time for them. "Streams of Whiskey" was the opening song like it almost always is for their sets. I waited anxiously on the side, ready to be allowed into the photo pit to take some pictures. During "Streams of Whiskey," Shane accidentally knocked over the microphone but other than that funny mishap; there wasn't anything out of the ordinary with Shane. It seems people go to Pogues shows just to see if Shane is going to mess up, which is sad really. He looked fairly healthy and thinner too, plus he sang really well!
While I was in the photo pit, the band played "If I Should Fall From Grace with God," "Broad Majestic Shannon" and "Turkish Song of the Damned." The lighting was ten times better than last year, and some much needed white light was added to the mix. It made my life easier as a photographer. After Turkish, security gave photographers the option to either leave the concert or check our camera bags. I checked my bag, and didn't really raise a stink because they do this sort of crap over in Europe. I don't understand why though? Why should a professional photographer check their bags when every person has a cell phone or point & shoot camera that they are allowed to bring in. It doesn't make any sense at all.
For the most part, the setlist was similar to their UK tour back in December. "Cotton Fields" and "Metropolis" were added to the mix and "Lullaby of London" was brought back in. I think I remember them playing that over in London but not sure if they ever played that in NYC. Either way, I love that song and glad they played it. Next year I'd love to hear "Misty Morning Albert Bridge," "Lorelei," "Lorca's Novena," and "Summer in Siam." Hell's Ditch doesn't get much respect besides "Sunny Side of the Street." Philip Chevron was back with the band again after taking time off for the Xmas shows. He sang his heart out with "Thousands are Sailing" and it's still one of my favorites to hear live. Other crowd favorites included "Dirty Old Town" and "Rainy Night in Soho." It was nice to sway with my girlfriend to those songs. I think I loved hearing the slower songs this time just for that reason. I keep trying to convince her to make "Rainy Night in Soho" our wedding song when we get hitched. To finish the set, the Pogues played "Bottle of Smoke" and "Sick Bed." They came back with "Sally MacLennane," "Rainy Night," and then "Irish Rover." The final encore they played "Poor Paddy" and finished the night off with "Fiesta." It was nice to see that the Pogues had a horn section for a lot of songs besides "Fiesta." The horns were provided by the band Marseille Figs, who open up for the Pogues a lot of the time as well.
The band played great, and Shane was in top form. Most of the show, my girlfriend and I were trying to find a good spot to see the show. In the back, everyone doesn't give a shit about the concert and it just drinking and talking. In the crowd, people are too wasted and worrying about spilling their beer to care about the band on the stage. From my point of view, the NY crowd sucks because they end up paying 60 bucks to see the Pogues, yet don't pay attention to them and want to socialize for the most part. If this concert was over in London, about 85 percent of the concert audience would be watching the band play. I guess that's how things go though. All in all, The Pogues put on one of the craziest, most entertaining live shows you'll ever see.