Stick Figure @ Brooklyn Bowl, Brooklyn, NY
Live Reviews | Nov 18th, 2016
Opener: The Movement
Date: November 16, 2016
Band Website: https://www.stickfiguremusic.com/
On Wednesday, Stick Figure were back in New York City after a few months away. My third show of theirs in a year, second headliner performance and as always the band brings great energy and a fun atmosphere for all. Brooklyn Bowl, a upscale type of bowling alley that features a wide range of music acts throughout the year, hosted the sold out show.

Opening the show was reggae rockers, The Movement in support of their new record "Golden" that was released in April. The crowd were into it early and crowded the stage. The loud bass reverberated throughout the venue as more fans started to filter in and fill in the club. The bowlers, well, were still bowling. I wonder how much a game costs while an act is performing? I would imagine it's ticket based only and those who arrived early got their games in. The Movement got the crowd warmed up nicely playing some of their more reggae rock tunes like "Blindsided," "Fair Warning" and my favorite "Rescue."
Before Stick Figure hit the stage, fans are first greeted by the best dog ever, Cocoa The Tour Dog. Fans get a chance to say hello to Cocoa while the stage is set up, pet her and give gifts and then she will just hang out the entire show. Cocoa even has her own Instagram page! Maybe next gig, I will just follow around Cocoa and photograph her journey before, during and after the show. I would imagine, it's a lot of laying around though.
Stick Figure came on to a roaring crowd and the place was packed. Dark lights, strobes and light effects always make this show a bit tricky to shoot. Luckily, there's no restriction on how long you can shoot for so you can pick and choose your moments to capture the best light.
Still out there, promoting their latest record "Set In Stone" which is fantastic by the way, the band came out to "Fire on the Horizon." The band covers a lot of ground mainly playing songs from the last 3 albums. Quite a few songs from "Set In Stone," that I would love to hear live and haven't yet like "In This Love," and "Sentenced" but definitely some fun, exciting tunes are played as well. My favorites live are "Smiles on Faces," "Choice is Yours," "Coming Home" "Shelter," and "Shadow."
Sound wise for the show I was not thrilled with however. I think it's the venue set up really. Other clubs you have that sound for the bass and vocals to bounce off the walls more tightly and in the Brooklyn Bowl, the sound escapes to the bowling lanes and makes for more bass up front. Sitting in the back would have actually been better as you get a more balanced sound. The show was a good time though, out to express positive vibes, good energy and happiness. We all could use a bit more of that these days.
Here are some of my favorites from the show:
The Movement
For a look at the full photo album, please click here
Stick Figure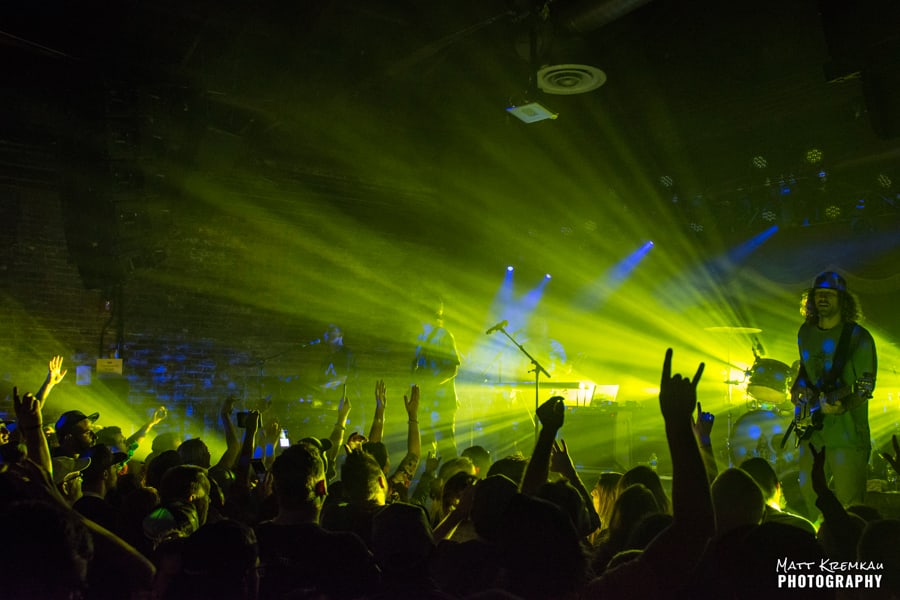 For a look at the full photo album, please click here