The Slacktasters @ Asbestos Records NYC Ska Festival, Cake Shop, NYC – Day 1
Live Reviews | Jun 3rd, 2014
Date: May 30th 2014
Bands: Mayweather, Rebuilder, Survay Says!, High School Football Heroes
The Apple Stomp 2 was suppose to happen last weekend, but it got postponed for later in the year. So to make the best of the situation, Asbestos Records and others involved with the Apple Stomp decided to throw on some smaller shows at the Cake Shop on the Lower East Side. If people and bands were still coming to New York City, might as well put on some fun ska shows! I was calling these Cake Stomp shows, others were calling it Not Apple Stomp. Salvaging The Stomp sounds good to me too. I guess in the end they it was called Asbestos Records NYC Ska Festival.

This show was originally supposed to be happening anyway before the AS, except it was just a secret show. The show still had some secrecy leading up to the show but more and more hints were being dropped that the Pietasters and some of the guys in The Slackers were going to play together…and that's what happened.
I've never been to the Cake Shop before but it reminded me of my early music-going career with small clubs with barely a stage. I sat up front for the duration of the show, without a piss break or drink. Lesson learned. I brought water with me for the next two shows. The first band to play was Mayweather from Maryland and they were interesting. I liked their sound and they were fun.
After them was punk band Rebuilder from Boston. Another band I never heard of but they looked familiar to me so maybe I've seen them before playing or just at a show and didn't know it. They were joking that their horn section got lost in the sink hole by Katz Deli. Not sure if the crowd appreciated the punk sound (ska crowd after all) but I dug most of their songs.
Survay Says! are a touring a machine and ended up playing both Friday and Sunday's shows. I saw them play for the first time in November at Starland Ballroom and they were a lot of fun. Their new album was released on Asbestos Records and it's a great ska punk album. Their bass player was missing on Friday so DJ filled in for a few songs before they realized they didn't want to use a bass player anymore. So they said screw it and played without a bass player. It actually sounded fine without the bass believe it or not. Some of the songs they played were "I Aim To Misbehave" and "This Is Why We Can't Have Nice Things" off their new album. Support these guys because they deserve it.
High School Football Heroes were up next and clearly one of the bands everyone was there to see that night. This one was one of the many reunions happening this weekend. Believe it or not, never saw these guys but I enjoyed their enthusiastic set a lot and were a blast to photograph. The crowd was going ape shit for them and singing along and pushing to get up front to sing along. I have no idea what they played but I'm going to check out their albums after seeing them play though. Sorry if this review is half-ass but I since most of these bands I don't know, I don't know what they played.
The last band of the evening was a secret band and they went on after midnight. It was a combination of The Pietasters with Vic and Marcus of the Slackers, plus Sammy Kay (who plays with the Pietasters from time to time). The set started off with Vic playing solo for a few songs and then was joined by the Pietasters drummer where they played a few more. People were shouting out songs for Vic to play, and he would smile, think for a second if he could play it. Then he would tell a story about the song and then play the song. After that, Steve Jackson popped on stage to sing with Vic. One hand was a beer, another was lyrics for the songs they were going to sing. They played pretty much covers most of the night, and Steve was singing along and having the crowd help out.
They sang versions of "Cupid" by Sam Cooke, Van Halen's "Jump" mixed in with The Rolling Stones' "Under My Thumb." It was a bit silly but an absolute blast of a time! I didn't stay for the whole set since it was getting close to 2am so I cut out early (haha). I found out the next morning that they played until almost 4am it seemed. Holy crap! I wasn't going to stay 'til that, especially the way shitty mass transit is in the late hours. I wish they played more of their songs instead of the covers but I think they played those later on in the set…figures. Either way, this show was a great time, got to hear some new bands and make some new friends.
Here's just a taste of some of the photos from the show. More will be posted on SkaPunkPhotos.com
Mayweather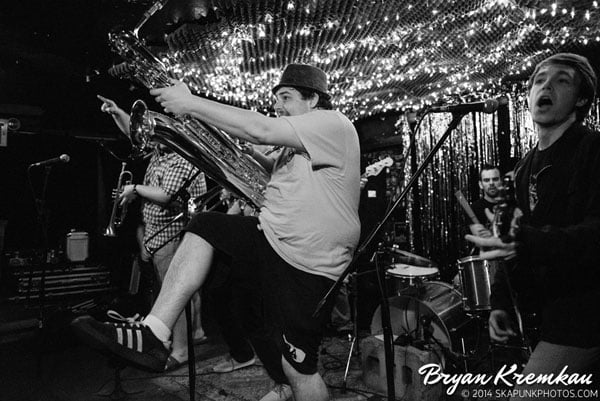 Rebuilder
Survay Says!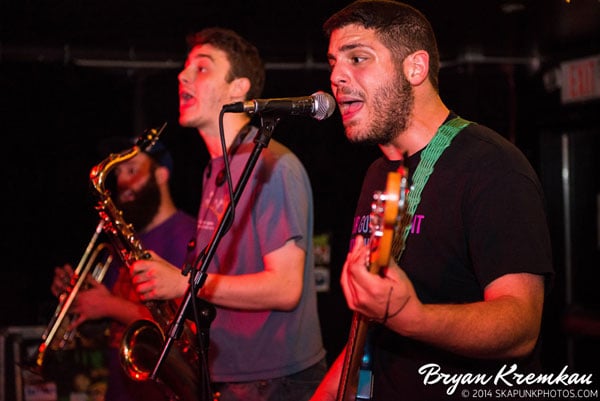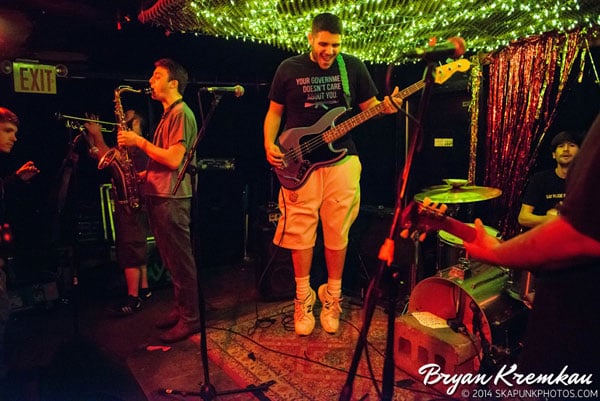 High School Football Heroes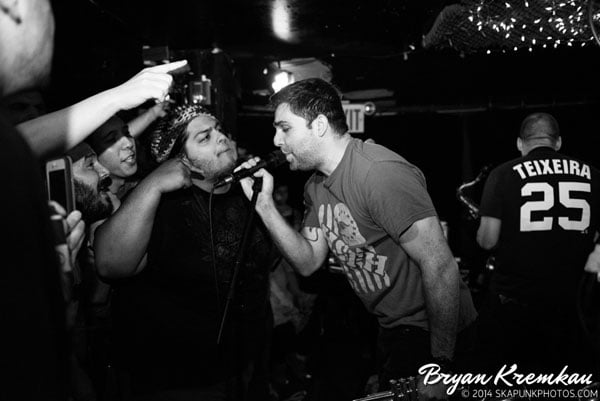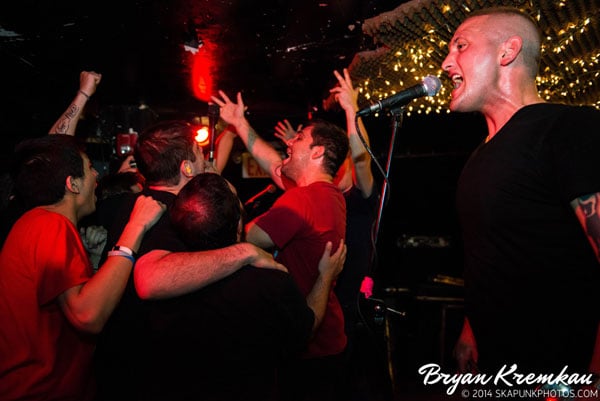 "The Slacktasters"