ReadJunk Playlist – New Music (June 2023)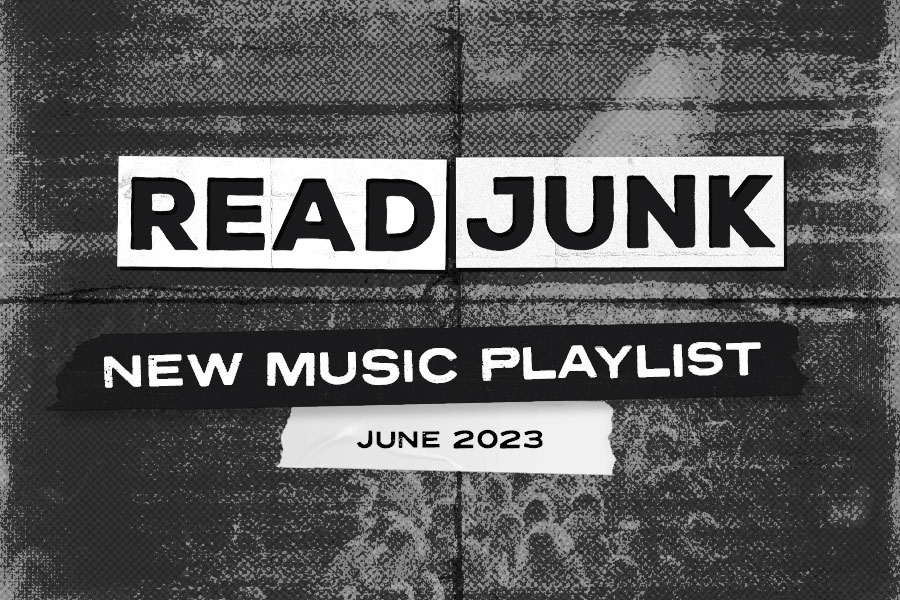 The ReadJunk New Music Playlist for June 2023 playlist is out now and features new, unreleased, remastered songs from Iration, Ballyhoo!, Catebite, The Phensic, Ryan Bingham, Beach Fossils, Logan Ledger, JAWS, Hot Water Music, Eastern Standard Time, The Elovaters and more! Lots of different genres! I'm sure there's some duplicated bands but too lazy to check.

Listen to a sample of the playlist below or go on Spotify to listen to the entire thing.
1. Iration – Daytrippin
2. Ballyhoo! – Clip My Wings
3. Catbite, Brian Fallon – Yes It's True
4. The Phensic – Number 1 (Again)
5. Popes Of Chillitown – Take A Picture
6. The Abruptors – Dave and Mary
7. Pepper – Get Me Ready
8. Kash'd Out – Make a Little Love
9. Long Beach Dub Allstars, Philieano – Preacha
10. Gentleman's Dub Club, Sara Lugo – Long Time (feat. Sara Lugo)
11. The Elovaters – Come And Get It
12. The Hooters – Connection
13. Thirsty Guys – Bow and Arrow
14. Ryan Bingham – Where My Wild Things Are
15. Skinny Lister – Down On The Barrier
16. Gerry Cinnamon – Diamonds in the Mud – Live at Hampden Park
17. AJJ – Moon Valley High
18. Levellers – Battle Of The Beanfield
19. Jordan Joyes, The Walker Roaders – Passing Ships
20. Far From Saints – The Ride
21. James – We're Gonna Miss You – Orchestral Version
22. JAWS – Are My Friends Alright?
23. Beach Fossils – Sleeping On My Own
24. Vistas – Is This All We Are?
25. The Pigeon Detectives – Summer Girl
26. Ocean Flaws – Touching Down – Live In London
27. Hot Water Music – Drawn
28. Diesel Boy – Dirty Dishes
29. Lektron – Dirty Jacks
30. Rancid – New American
31. We Are Radio Noi$e – Womanthem
32. Fishbone – Wake Up My Child
33. Random Hand – Lifejackets
34. Dukes Of Roots, Darius Rucker – John Punch
35. The Prizefighters – What Are You Going to Do
36. The Rocksteady Conspiracy, Boss Capone – Trouble and Danger
37. The Expendables – Sippin On Something
38. Seth Lakeman – Days Ago – Edit
39. Logan Ledger – Where Will I Go
40. Cory Branan – Honey Come Home
41. James Maddock – Runaway
42. Josh Ritter, Aoife O'Donovan – Strong Swimmer – Duet
43. Old Crow Medicine Show, Willie Watson – Miles Away
44. The Vegabonds, Sam Burchfield – Interstate Cowboy
45. Jesse Ahern – Back Against the Wall
46. The Beaches – Blame Brett
47. Ivan & Alyosha – Can't Fight the Feeling
48. Noel Gallagher's High Flying Birds – Open The Door, See What You Find
49. The Mysterines – Begin Again
50. The Revivalists – Good Old Days
51. Foo Fighters – The Glass
52. The California Honeydrops – I Wanna Love
53. Vic Ruggiero, Jory Kinjo – Every nowhere
54. Matisyahu – One Day – Live
55. Bob Andy – Ska Music
56. Eastern Standard Time – Miles and Miles
57. Half Past Two – Heart of Gold
58. The Eclectics – Siddhartha (Live)
59. Out Of Control Army, Lollypop Lorry – LOVE
60. Dope Times – I Did It Anyway
61. Bite Me Bambi – Girls of Summer
62. Rhoda Dakar – Love Hurts
63. Jesse Malin – TKO (DTK)
64. Pete Droge – Rooftop
65. Dallas Burrow – River Town
66. Gareth Dunlop – Fool's Desire
67. Paddy And The Rats – This is our Life
68. The Feelgood McLouds, The O'Reillys and the Paddyhats – 101 Drinks
69. Nathaniel Rateliff & The Night Sweats – That's Your Opinion
70. Langhorne Slim – The Way We Move – Romero Thrasher Version
71. Molly Tuttle, Molly Tuttle & Golden Highway – Next Rodeo
72. Austin Lucas – Black Me Out
73. Sharon Shannon, The Scratch – The Diddley Doo
74. Jeff Hulett – The Text Song (Don't Go Calling Me) – Live
75. The Aquadolls – Spotlight
76. Rebuilder – Hold On
77. Bowling For Soup – 1985 – BFS version
78. The Dead Milkmen – Musical Chairs
79. Doghouse Rose – It Is What It Is
80. The Dead Krazukies – Darth Walnut
81. The Queers – You Shook Me All Night Long
82. Aphids! – Ring Ring
83. The Offspring – You're Gonna Go Far, Kid – Live At Hellfest 2022
84. Micky James – Loner Of The Year
85. Busy Signal, Collie Buddz – A Thousand Times
86. Junior Kelly – Searching
87. Michael Franti & Spearhead – Big Big Love
88. Dante Bowe, Anthony B – Wind Me Up
89. Luciano, Poorman Dub Sound, Bamboo Kallum – Good Old Vibes
90. Dr. Ring Ding, Bongoroll – Besuch bei Ganjaman
91. Lee Fields – You Can Count On Me
92. The Harlem Gospel Travelers – God's Been Good to Me
93. Jr Thomas & Cutlass Cream – Reflections
94. Joey Dosik – Making Up Making Love
95. Cole Williams – A Change Is Gonna Come – In-Studio
96. The California Honeydrops – A Boy Can Dream
97. Holy Hive, The Shacks – Love It Is Not Love
98. Bobby Oroza, El Michels Affair – Whatcha Know
99. Jalen Ngonda – Come Around and Love Me
100. The Vintage Explosion – Don't Knock Upon My Door
101. Pale Jay – Dreaming In Slow Motion
102. Alex Cherney, The Brothers Nylon – i found a diamond
103. Say She She – C'est Si Bon
104. The Ready-Mades – Shout It Out
105. Eric Hutchinson, Allen Stone, Clyde Lawrence, Huntertones – Sad Songs (feat. Allen Stone, Clyde Lawrence, Huntertones)
106. Eastern Standard Time – Una y otra vez
107. Alborosie – Viral
108. Matt Berry – Food Chain Blues
109. Peter Gabriel – Road to Joy – Bright-Side Mix
110. The Expendables, Little Stranger – Homewrecker (with Little Stranger)
111. Hopeton Lindo, Lady Saw – Mr Politician
112. Dirty Heads, Monsieur Periné – Island Glow (feat. Monsieur Periné)
113. Jah Defender, Irie Ites – Happy Inside
114. Tony Rebel – Enough Is Enough
115. J Boog, The Green, Collie Buddz – Never Give Up
116. Cydeways, Sugarshack Sessions – Gold – Live at Sugarshack Sessions
117. Chris Cresswell – Behind The Crow
118. Yellowcard – Childhood Eyes
119. Vacations – Midwest
120. The Midnight Callers – New York Tramp
121. Christian Lopez – Harpers Ferry
122. Maren Morris, Marcus Mumford, Daisy Jones & The Six – Look At Us Now (Honeycomb)
123. Jimmy Eat World – Telepath
124. The Penske File – Chorus Girl
125. Portugal. The Man – Plastic Island
126. The Hives – Countdown To Shutdown
127. LURK – Pedestrian
128. Fitz and The Tantrums – Feeling Good
129. Sigur Rós – Gold
130. Roosevelt – Luna
131. Kasabian – Algorithms
132. The Breeders – Go Man Go
133. Small Crush – 5
134. Blur – The Narcissist
135. Jeff Rosenstock – DOUBT
136. The Drums – Obvious
137. Rum Ragged – Lazy Afternoon
138. Gwar – Falling
139. Alice Cooper – I'm Alice
140. Stephen Kellogg, Counting Crows – Almost Woke
141. H.R., Nick Hexum – Everything You Do
142. BAD OPERATION – Grandma's Car
143. Frankie Paul – Serious Time
144. Devon Kay & The Solutions – Millennial Homesick Blues
145. Passafire – Offer
146. Bumpin Uglies – Underdog – Acoustic
147. Dubmatix – Soul Ska
148. Black Am I, Jemere Morgan, Answele – All You Can Do Is Try
149. Daman, Joe Yorke – Fighting for Justice
150. D' Original Reverence, One Culture – Jah Will Be There
151. Freddie McGregor, Astyle Alive – Fighting For Our Rights
152. Jimmy Rivas, Nick Sefakis, Bobby Hustle – Pasión y Corazón
153. Hollie Cook, Josh Skints, Jah9 – Kush Dub
154. Mr. Vegas, Everton Blender – Kouchie Overload
155. DISPATCH, Collie Buddz – Upside Down
156. Common Kings – Celebration (One Shot)
157. Freddie McGregor, Ellisha Kan, Black Prophet – Walla Walla Weng
158. The Budos Band – Crescent Blade
159. Pannonia Allstars Ska Orchestra, Victor Rice – Here we come
160. Jump the Shark! – Post-Factual Blues
161. The Hempsteadys – Russian Kola
162. The Nine Ton Peanut Smugglers – Skaramanga
163. Mike Love, Collie Buddz – The Butterfly Remains
164. Ska Beat City, King Django – Solomon Gundie
165. Certainly So – Tired For a Living
166. Rebuilder – Another Round
167. Beauty Queen, Henry Nowhere – Light On
168. Skids – Here We Go Again
169. The Jesus and Mary Chain, Isobel Campbell – Sometimes Always (feat. Isobel Campbell) [Live at Hollywood Palladium]
170. Maya Hawke – Coming Around Again
171. Galactic Empire – Indiana Jones Theme