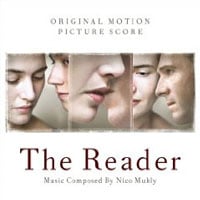 Record Label: Lakeshore Records
Genre: Film Score
Buy on Amazon.com
The Reader stars Kate Winslet, Ralph Fiennes and David Kross. The adaptation for Bernhard Schlink's novel was written by David Hare and directed by Stephen Daldry. The film was nominated for a few awards and won a few here and there. The most notable win was Kate Winslet winning for Academy Award for Best Actress. The Reader tells the story of Michael Berg, who ended up having an affair when he was younger with an older lady. She ended up being a guard at a concentration camp towards the end of the war and goes on trial for war crimes. I haven't seen the film yet but I heard it's a great film but a sad one too.

The score was composed by newcomer Nico Muhly, who I'm not familiar with. When I was listening to the score of The Reader, I felt Nico's score reminded me of music from Philip Glass. The Illusionist came to mind for certain songs. Then I read that he worked for Philip Glass as a conductor, editor and keyboardist and everything started to make sense to me. You can tell just by the first track "The Egg" that Glass was a big influence on him. The music for this score was really nice, and pleasant to listen to. I particularly liked the tracks "Tram at Dawn" and "Go Back to Your Friends." I'm sure once I see the movie I'll be able to fit the songs into context better. The score can be a tad moody at times, but overall it was an excellent score! I'm looking forward to hearing more scores from Nico Muhly.
Bottom Line: Excellent film score from Nico Muhly
Notable Tracks: Tram at Dawn, Go Back to Your Friends
Overall Rating: