Bad Times at the El Royale (Blu-Ray + DVD + Digital HD)
Blu-Ray Reviews | Jan 14th, 2019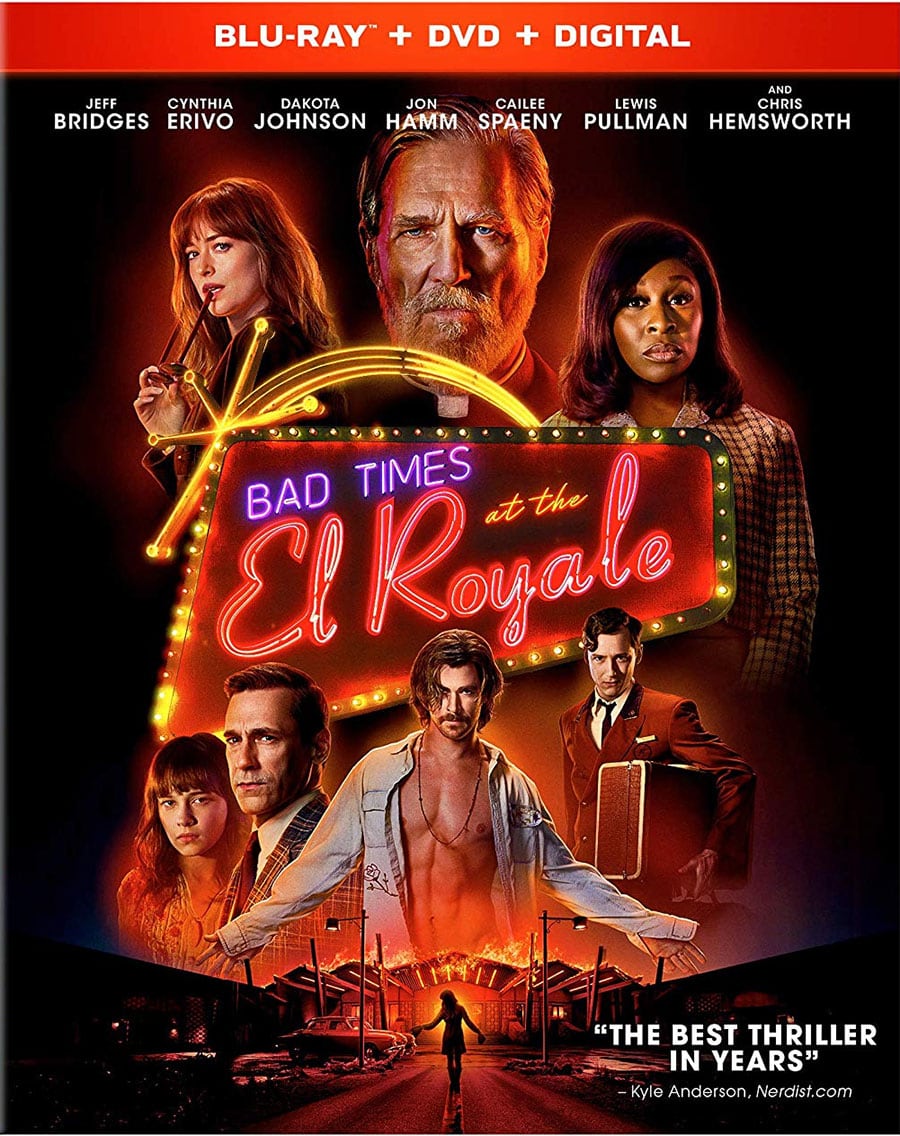 Starring: Jeff Bridges, Cynthia Erivo, Dakota Johnson, Jon Hamm, Cailee Spaeny, Lewis Pullman, Chris Hemsworth, Nick Offerman
Written By: Drew Goddard
Directed By: Drew Goddard
Studio: 20th Century Fox
Buy On Amazon.com
Bad Times at the El Royale is a movie that wasn't on my radar but probably should have since it's one of my favorites from 2018.

The film is set in 1969 and is set at a Lake Tahoe hotel on the California / Nevada border. Things get a bit interesting when a priest Daniel Flynn (Jeff Bridges), singer Darlene Sweet (Cynthia Erivo), vacuum salesman Laramie Seymour Sullivan (Jon Hamm), Emily Summerspring (Dakota Johnson) all wanting a room. The only person working is Miles Miller (Lewis Pullman) who explains that certain rooms aren't available and there's certain rules about the hotel since parts of it are on California side and the other side is Nevada. You find out that each person has an interesting backstory, and one room has a buttload of money in it. Things take an ugly turn when cult leader Billy Lee (Chris Hemsworth) shows up and takes command of the current situation at the hotel.
For not knowing a thing about this movie, I ended up really enjoying it! So much so, I would have included it on my favorites list from 2018 if I watched it in time. I guess I could still do that. What I liked about the movie is the cast, the story was fun, the fact that there was several viewpoints (or rooms) and how it all blended together; plus the soundtrack was killer! Cinematography was cool too. About the only things I had issues with the film was the pacing and it could have been a half hour shorter. While an amazing singer Cynthia Erivo was, I didn't need to see her sing 7 different times. Some of the scenes worked, others didn't. The pacing was a bit weird or rush (believe it or not) when Chris Hemsworth character finally shows up. I feel like the movie would have been even better if his character was in the first hour more. Once he shows up, he steals the show as the crazy cult leader.
Some could argue some of these characters were worth exploring more than others. I actually think Chris Hemsworth's Charles Manson-ish character could have been a movie about him just by itself, and then have Dakota Johnson's character and her sister in it. I liked Jon Hamm's character but the writing was on the wall what was going to turn out with him. The same can be said for Jeff Bridges character, but this was definitely an interesting movie for him and one of the better ones of late. I wasn't aware of Cynthia Erivo but she did a great job with the character. Plus, I didn't realized Lewis Pullman was Bill Pullman's son until the featurettes. I was wondering why I thought I recognized him and his mannerisms, which are very much like his Dad's. Dakota Johnson did okay, she wasn't in the movie all that much either or didn't have that much to do.
The Blu-Ray features include a making of, gallery and some trailers. The making of is obviously the selling point of the extras and has some interviews, some discussions on the soundtrack, the singing of Cynthia Erivo who sang everything live on the set, the story, the cinematography and some other things.
If you like Pulp Fiction and interesting film noir types of movies, you'll like Bad Times at the El Royale. Despite some pacing issues and it being about a half hour too long, the movie works really well and I think this will be something people talk about for awhile. I almost think it will become a cult movie because it didn't do well at the box office and word of mouth will be better once a lot of people sees this. Regardless of what others think, Bad Times at the El Royale was a good flick!
Features:
Making Bad Times at the El Royale
Gallery
Teaser Trailer
Theatrical Trailer
Video:
Resolution: 1080p
Aspect ratio: 2.39:1
Original aspect ratio: 2.39:1
Audio:
English: DTS-HD Master Audio 7.1
Spanish: Dolby Digital 5.1
French: Dolby Digital 5.1
Subtitles:
English SDH, French, Spanish
Bottom Line: Fun movie although it's a little long
Running Time: 140 mins
Rating: R
Extras Rating:
Overall Rating: