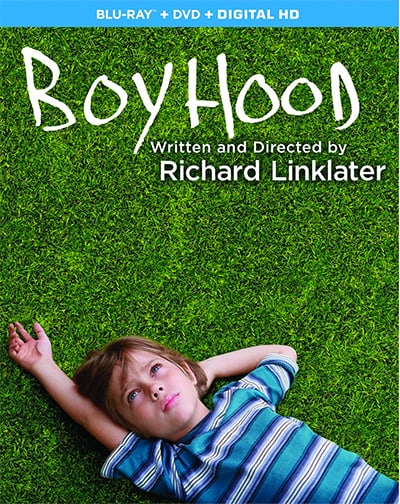 Starring: Ellar Coltrane, Patricia Arquette, Lorelei Linklater, Ethan Hawke
Written By: Richard Linklater
Directed By: Richard Linklater
Studio: IFC Films
Buy On Amazon.com
Boyhood is an impressive film in that spans over 12 years with the same actors but unfortunately, that's how long I felt like I was watching this for. The movie isn't bad it's just not something I'd want to watch again.

The film starts in 2002 when Mason (Ellar Coltrane) is 6 years old. Mason, his older sister Samantha (Lorelei Linklater) and his Mother Olivia (Patricia Arquette) move near University of Houston so she can finish her degree and get a job. A year later, Mason's Father, Mason Sr (Ethan Hawke), shows up and promises to stick around more. Over the years, the kids grow up, the parents find new relationships and those end pretty quickly as well. After that, Mason discovers girls, photography and bonds more with his Father.
Besides knowing that filming took place over 12 years, I didn't know anything about Boyhood. The movie centers around a boy and his family and that's about it. There's really no plot to this movie at all. Basically, it's like watching home footage every year of someone growing up and like other people's home footage…it's not interesting unless you're involved in their life in some way.
It's remarkable no one died or didn't want to continue during this 12 year period because I don't know what would have happened to the project then. I believe Ethan Hawke said he would have directed the film if Linklater passed away. I don't think the film would have gotten much attention if it wasn't filmed over the years though. It's just a basic story of a kid growing up, trying shit out, getting into trouble, being a slacker, trying drugs, graduating, and going to college. Basically this movie should have been called 12 Years of After School Specials because that's what it felt like to me. I tried to like this movie but the length of the movie pissed me off right from the start, and then it just wasn't that interesting to me. Some parts of the movie I liked or didn't mind but it just dragged and dragged. The ending didn't even feel like an ending either; at least to me it didn't.
The Blu-Ray has an almost 20 minute featurette that has mostly footage from 2002 and other years of the progress of the project. The cast talk about the project a little and then in more detail in another hour long featurette presented by Cinefamily. That's pretty good if you want to know all the gritty details and fun stories that took place over the 12 years. Quality wise, the movie looked great despite being filmed in different years. When I started the movie, I was curious if the movie's quality would progressively get better as the years went on but it was great from the start.
I know I'm in the minority here but I just didn't like Boyhood all that much. While it's amazing Linklater was able to film this every year with the same cast, I think the story ends up boring and just went on and on. I give praise to Richard Linklater for taking on this ambitious project and pulling this off, I just didn't like the story and some of the acting. I'm sure others will think differently than I do though.
Features
The 12 Year Project
Q&A with Richard Linklater and the Cast
Audio/Video
Video
Widescreen 1.78:1 Color
Audio
English DTS-HD MA 5.1
Spanish DTS-HD MA 5.1
Bottom Line: Unique filming concept but lacks in story
Running Time: 165 minutes
Rating: R
Extras Rating:
Overall Rating: