The Fabelmans (4k UHD + Blu-Ray + Digital HD)
Blu-Ray Reviews | Feb 14th, 2023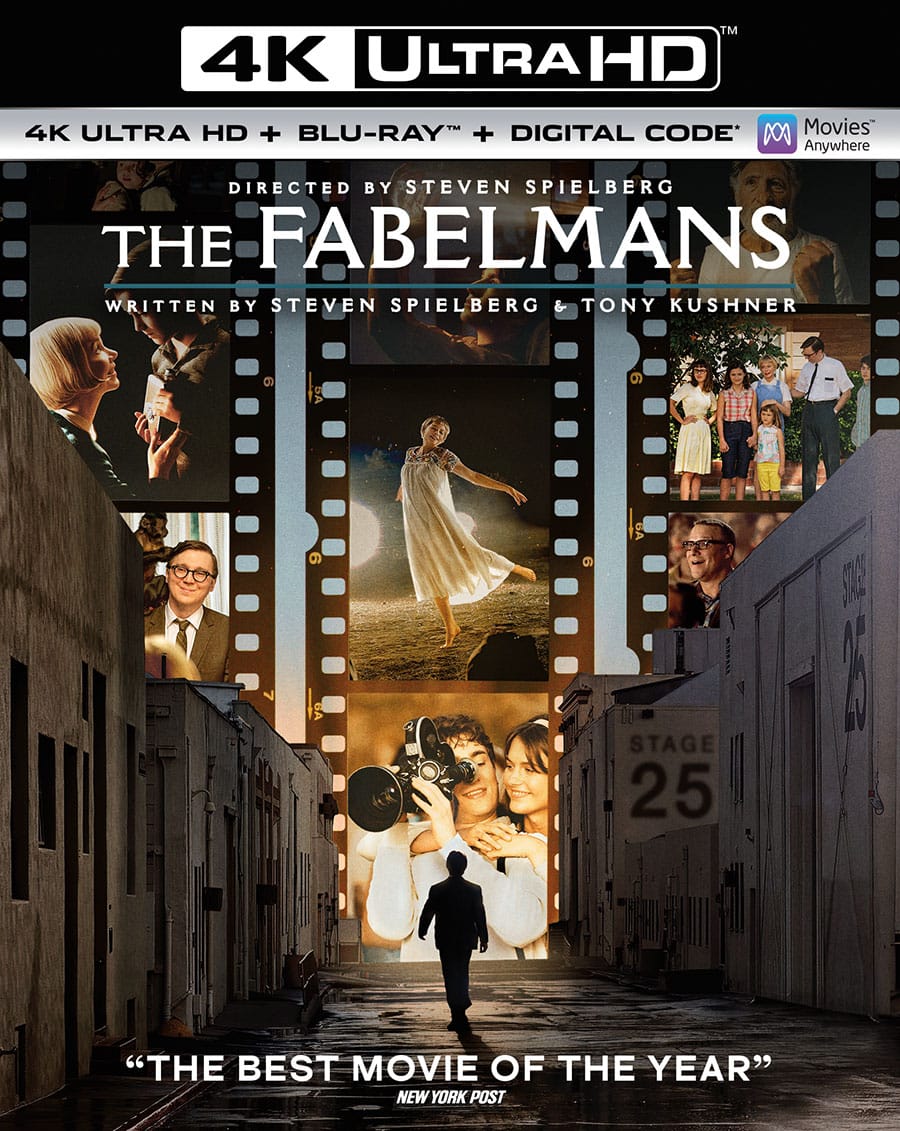 Universal Pictures Home Entertainment. Image used with permission for review purposes.
Starring: Gabriel LaBelle, Michelle Williams, Paul Dano, Seth Rogen, Judd Hirsch
Written By: Steven Spielberg, Tony Kushner
Directed By: Steven Spielberg
Studio: Universal Studios
Buy On Amazon.com
The Fabelmans is an excellent coming-of-age drama from Steven Spielberg, about Steven Spielberg and his family. I can see why he and Tony Kushner went with the name The Fabelmans but I still would have just called the movie The Spielbergs. I don't know about you, but I want to re-watch every one of Spielberg's movies after seeing this.

The movie is a semi-autobiographical story loosely based on Spielberg's life growing up, moving from New Jersey to Phoenix to California over the years, while discovering his love for filmmaking along the way. On top of that, Samuel "Sammy" Fabelman (Gabriel LaBelle) has to deal with his dysfunctional family, antisemitism, bullying, and other things one encounters during their younger years.
The Fabelmans was a great film and it wasn't really on my radar at the time. I usually do watch just about every Spielberg movie he releases though. I honestly didn't even know it was about his life until recently. Once his parents passed, you felt like this was a project he wanted to do for some sense of closure and tell his story of what went on growing up. Granted, it's through the name of the Fabelmans but as soon as you see this, you know this is about Steven. Even if you didn't know anything about his life. Even in his other films, you can sense he always put little tidbits of his childhood in his movies. What I loved about this movie was Steven's (Sam's) eagerness to film everything, make little movies and just knowing how to direct people at a very early age. I'm not sure if it unfolded this way in real life but I like the twist that with filming his own life, he discovers his Mom's secret.
The direction and writing are excellent, and the acting performances, especially by Michelle Williams and Paul Dano, are impressive. Gabriel LaBelle played Sam/Steve quite well and I'm looking forward to seeing him in more films. I also enjoyed seeing Seth Rogen in a dramatic role. Judd Hirsch's role felt underutilized, but his scenes were memorable. The classic scene at the end with David Lynch as director John Ford is hilarious, and it's based on reality, which makes it even funnier.
There's 3 featurettes for the movie, that equal about 45 minutes. The Fabelmans: A Personal Journey is a good one about the story. He talks about growing up in a Jewish household, his relationship with his Mom, Dad and sisters and his "uncle," getting bullied in school and other things that happened in the movie. Family Dynamics featurette is mainly about the cast and what each one brought to the movie. Crafting the World of The Fabelmans was a hodge podge of other making-of stuff that included the filming, editing, production design, a quick glimpse of John Williams and Steven working together for 50 years.
Overall, "The Fabelmans" is an outstanding movie that I thoroughly enjoyed despite some difficult themes. The cast was outstanding and you can tell the love that was put into this from Steven Spielberg. Go see this if you haven't already.
Features:
The Fabelmans: A Personal Journey
Family Dynamics
Crafting the World of The Fabelmans
Video:
Codec: HEVC / H.265
Resolution: Native 4K (2160p)
HDR: Dolby Vision, HDR10
Aspect ratio: 1.85:1
Original aspect ratio: 1.85:1
Audio:
English: Dolby TrueHD 7.1 (48kHz, 24-bit)
French (Canada): Dolby Digital 5.1
Spanish: Dolby Digital Plus 7.1
Subtitles:
English SDH, French, Spanish
Bottom Line: An excellent coming of age story about Steven…err I mean Sam Fabelman
Running Time: 151 mins
Rating: PG-13
Extras Rating:
Overall Rating: