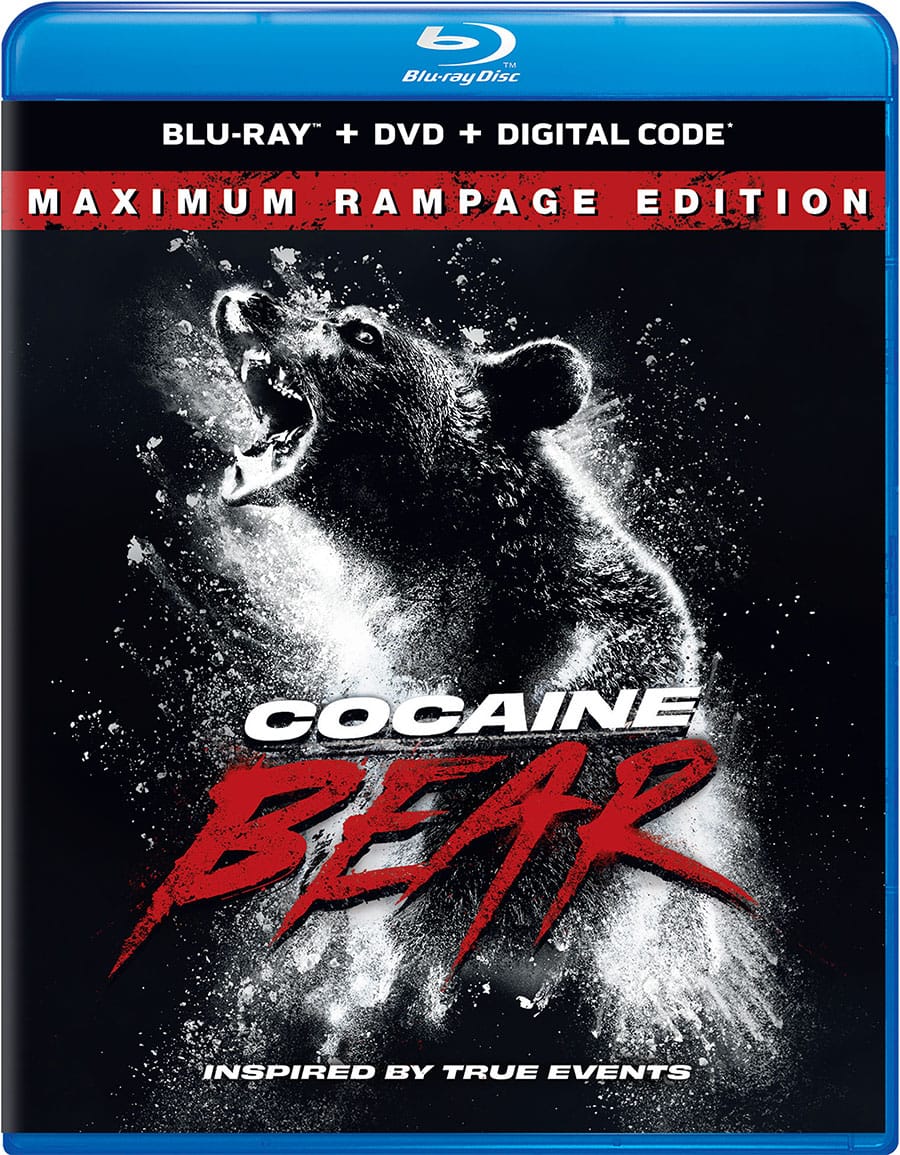 Universal Pictures. Image used with permission for news/ review purposes.
Starring: Keri Russell, O'Shea Jackson Jr., Christian Convery, Alden Ehrenreich, Brooklynn Prince, Isiah Whitlock Jr., Margo Martindale, Kristofer Hivju, Ray Liotta
Written By: Jimmy Warden
Directed By: Elizabeth Banks
Studio: Universal Pictures
Buy On Amazon.com
The 2023 movie that everybody was talking about, mainly because of the title and the poster is Cocaine Bear. It's the Snakes On The Plane of 2023. Both movies are silly, over the top, a bit gruesome. It's not the greatest movie but there's a few amusing scenes in it.

Cocaine Bear is inspired by true events that happened in 1985, where an American Black Bear sniffed, snorted and ate a buttload of cocaine in the woods of Georgia. The cocaine came from a drug smuggler who dropped a shipment from a plane. A bear goes on a rampage after ingesting a bunch of it. Meanwhile, a mom (Keri Russell) goes to search for her daughter and her friend lost in the woods, a St. Louis drug lord Syd (Ray Liotta) sends his fixer Daveed (O'Shea Jackson Jr) and his son Eddie to recover the coke and a cop goes searching for the coke in the woods as well. From there, everybody meets up with Yogi, the snorting bear.
Like others, I heard a lot of people talking about the movie or at least the name of it before it came out. After it was released in theaters, the talk went out like a whimper. Cocaine Bear is one of those movies that would probably be better seen in a movie theater with a bunch of idiots screaming at the theater. Seeing it at home on Blu-Ray doesn't have the same effect I suppose. I was mainly shaking my head with how stupid the movie was, and how gruesome it got at times. The special effects were very low budget. Sharknado was definitely in the back of my mind.
Elizabeth Banks directed this one so she mixed some comedy with horror. The acting was hit or miss for me. Alden Ehrenreich and O'Shea Jackson Jr. were fine, as was Isiah Whitlock Jr. The kids were kind of meh. I recognized the one mustache TikTok actor guy in the cabin/ambulance sequence, so that was amusing with what happens to him and others. That was probably the "best" scene of the movie. Some of the deaths that happen on and off the screen were a bit horrific, even if it's CGI guts and stuff. Don't eat while watching this. I guess Banks wanted to go for some horror campiness.
This is the type of movie to either sit in a theater and laugh/scream with the audience or have a movie night party with friends. Some say it's so bad it's good but I just think it's bad. I enjoyed parts of it but it was a little gruesome for my liking. The whole subplot that Eddie's wife died and his kid is with his drug lord Dad felt forced. We were supposed to care for these characters? Think this type of movie is better to just let all the "red shirt" characters get eaten alive and not have any backstory for them. I like my slasher/thriller/horror movies where the characters are obnoxious. This one, it was like, ah that person was just in the wrong spot at the wrong time.
The Blu-Ray features an alternate ending, gag reel, audio commentary, deleted/extended scenes, and some other featurettes. The alternate ending wasn't anything special, the gag reel had some funny things in it but mostly just the actors goofing off. The making of is decent too, with Banks talking about coming on board, telling us the real story on what happened and other things you normally see in making-ofs.
You're not going to get an Oscar-worthy performances from this movie. It's dumb fun, but mostly just dumb. This could have been a lot better like the acting, trimming the fat of the subplots and especially the special effects. For me, special effects make or break a movie and for this one, it kind of broke it for me. While I thought the premise was funny, and certain sequences were fine, I was just waiting for this one to be over.
Features:
Alternate Ending
Gag Reel
Deleted & Extended Scenes
All Roads Lead to Cokey: The Making of Cocaine Bear
Unbearable Bloodbath: Dissecting the Kills
Doing Lines
Audio Commentary
Video:
Codec: MPEG-4 AVC (30.94 Mbps)
Resolution: 1080p
Aspect ratio: 2.39:1
Original aspect ratio: 2.39:1
Audio:
English: DTS-HD Master Audio 7.1
Spanish: DTS-HD Master Audio 7.1
French (Canada): DTS 5.1
Subtitles:
English SDH, French, Spanish
Bottom Line: The title and poster are the most amusing things about this movie.
Running Time: 95 minutes
Rating: R
Extras Rating:
Overall Rating: