Deadpool 2: Once Upon a Deadpool (Blu-Ray + Digital HD)
Blu-Ray Reviews | Jan 17th, 2019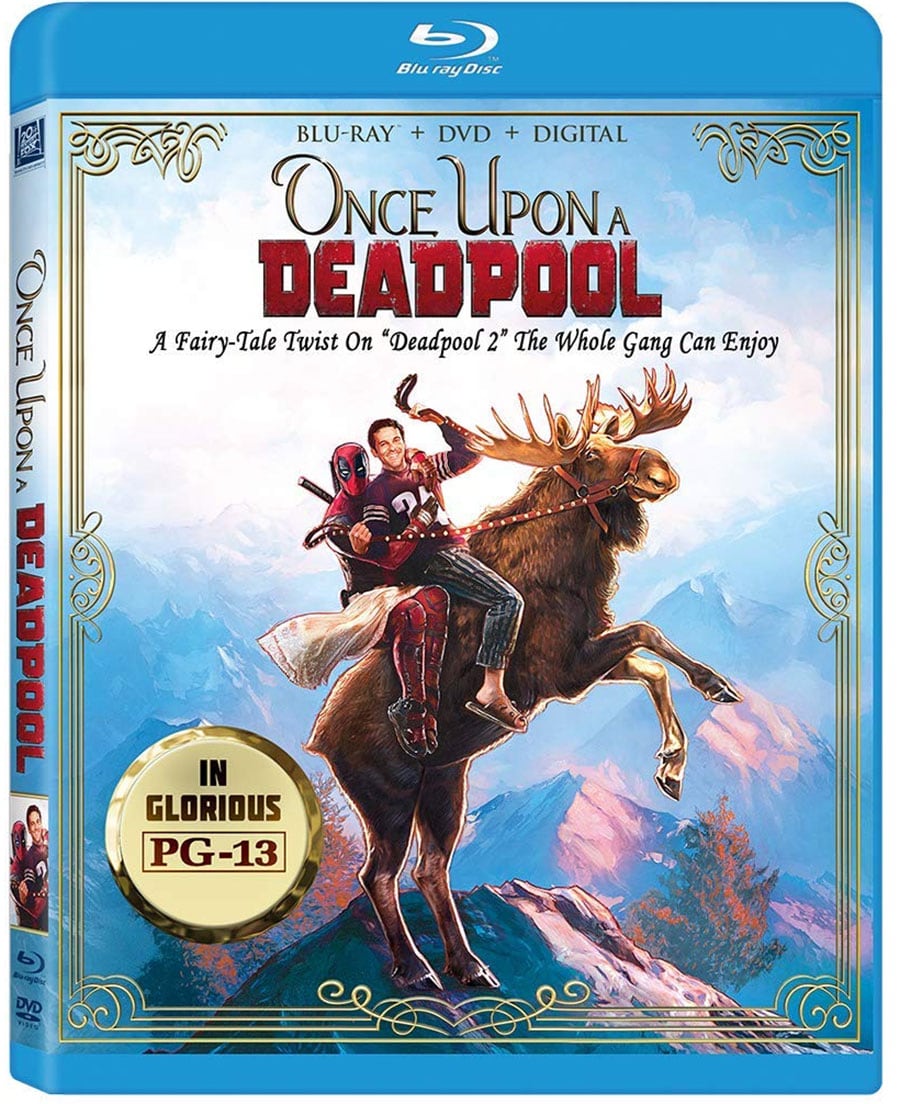 Starring: Ryan Reynolds, Fred Savage, Josh Brolin, Morena Baccarin, Julian Dennison, Stefan Kapičić, Zazie Beetz, T.J. Miller, Brianna Hildebrand
Written By: Rhett Reese, Paul Wernick, Ryan Reynolds
Directed By: David Leitch
Studio: 20th Century Fox
Buy On Amazon.com
Once Upon A Deadpool is a movie for people that don't like so many F words and blood splatters. It's also for hardcore Deadpool fans that just want to watch extra scenes with Deadpool and Fred Savage.

This is a reworking of Deadpool 2 to be PG-13, and also portions of the theater/Blu-Ray release gross went towards Fuck/Fudge Cancer, which was great. The movie opens with Deadpool waking up a tied up Fred Savage to a bed, in a set that makes it look like he's still in The Princess Bride. He wants to read Fred the story of Deadpool 2, whether he likes it or not.
I already reviewed Deadpool 2 so I'll just give you my feelings about the re-cut and what's different than the Super Duper Cut. I almost wished they had a skip function just to watch all the Fred Savage scenes because they were the best thing about this. Sadly, we saw a lot of footage in the trailers (and there were a lot). As much as I like the marketing behind Deadpool, in this case it was too much and revealed too many of the jokes. Still, if you're willing to pay the price, it's great to see Deadpool interacting with a tied-up Fred Savage. Fred really held his own. Plus, the big obvious is if you recently saw Deadpool 2, it probably don't want to go back and re-watched a censored version of it.
The movie is cut up like The Princess Bride in that they cut back and forth to Deadpool/Fred and then Deadpool 2. Sometimes it's just a quick cut back to them and then back to the movie. You don't get the Celine Dion theme music intro this time and they just go into it. There's some blurred out shots, like when Deadpool has tiny legs or an end credit scene involving Fred Savage. Some "fucks" and other curse words are dubbed for something tamer as well. It's still a violent movie but the blood spatter you see in the R rating version is gone in this. You still see Deadpool stab or get stabbed.
This Blu-Ray didn't have any extras on it, just a digital HD code. I was hoping for some Fred Savage outtakes and deleted scenes, but nope. Nothing.
Once Upon a Deadpool is a funny reboot, in a way, of a movie you just saw a several months earlier. Not sure everyone will want to watch this re-worked to not be as a vulgar or violent. The best part of this is the Fred Savage stuff and you can just watch the majority of the bits in the trailers or online. Otherwise, stick with the true version unless you feel the need to have this and perhaps support a cancer charity.
Features:
None
Video:
Codec: MPEG-4 AVC
Resolution: 1080p
Aspect ratio: 2.39:1
Original aspect ratio: 2.39:1
Audio:
English: DTS-HD Master Audio 7.1
Spanish: Dolby Digital 5.1
Subtitles:
English SDH, Spanish
Bottom Line: Stick with the Super Duper cut and watch the Fred Savage scenes online somewhere
Running Time: 119 mins
Rating: PG-13
Extras Rating:
Overall Rating: