Phantom Thread (Blu+Ray + DVD + Digital HD)
Blu-Ray Reviews | Apr 13th, 2018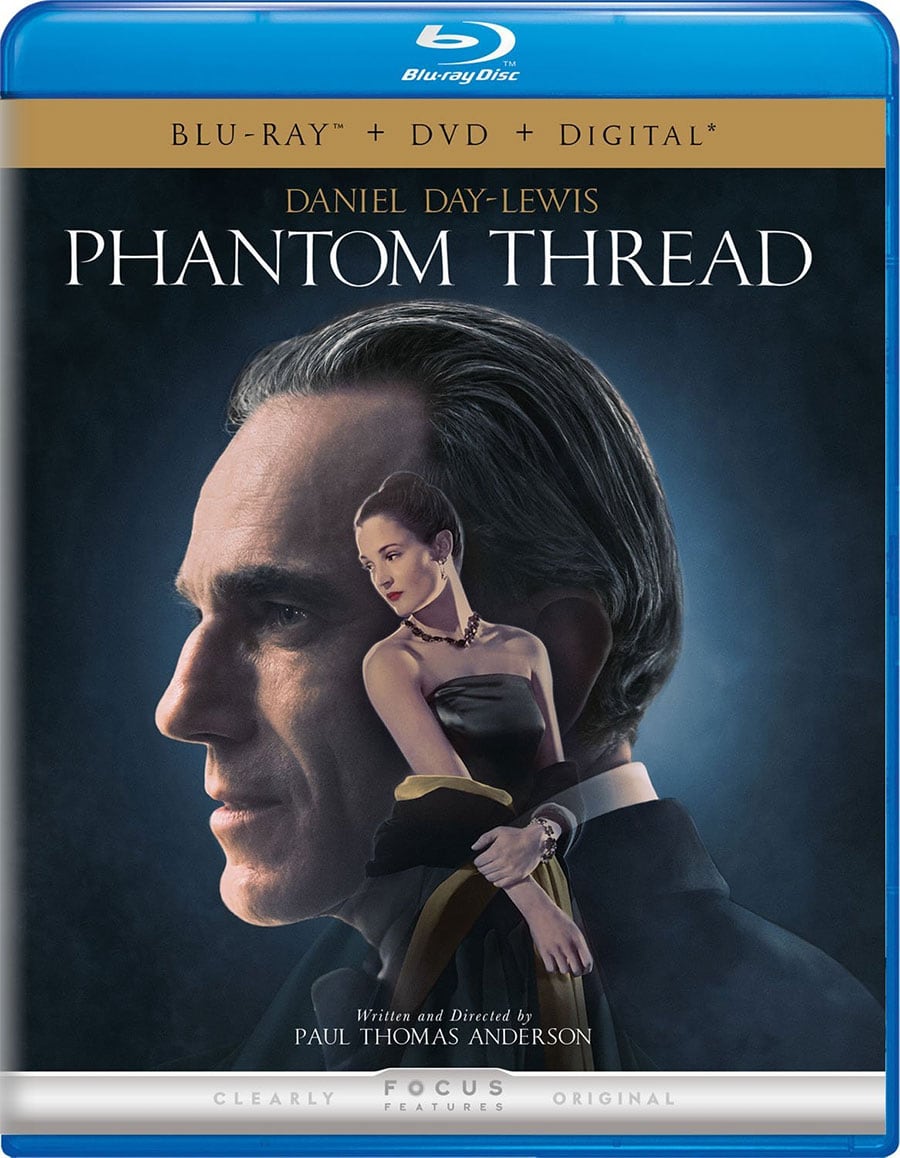 Image used with permission for review purposes.
Starring: Daniel Day-Lewis, Vicky Krieps, Lesley Manville
Written By: Paul Thomas Anderson
Directed By: Paul Thomas Anderson
Studio: Universal
Buy On Amazon.com
The latest Paul Thomas Anderson movie and supposedly last movie that Daniel Day-Lewis will star in is Phantom Thread. It's an interesting movie with a great performance from DDL.

The movie is about renowned and eccentric dressmaker, Reynolds Woodcock (Daniel Day-Lewis), who makes the dresses for the rich and famous. His life is routine and definitely has OCD; most people, including his sister Cyril (Lesley Manville) put up with it. Woodcock is still dealing with his Mother's death and thinks about her everyday, which seems like some form of PTSD and probably acts the way he does because of her death. While eating at a restaurant, he meets a waitress Alma (Vicky Krieps) who he becomes smitten with. They eventually move in together, and she becomes his assistant as well. Things go smoothly for awhile…until they don't.
I liked some of Paul Thomas Anderson movies like Boogie Nights, There Will Be Blood and this one. I saw The Master but it was a bit too weird for me. Phantom Thread was beautifully shot and Jonny Greenwood's score went with movie quite well. His scores for all of PTA's work has been remarkable and something different in the film score world. Obviously, the biggest reason to watch this film is because of Daniel Day-Lewis. This could very well be his last performance, even though I don't believe it. If it is, he did an excellent job like he always does. Every character he plays has something about them that makes them intriguing, or different, and Day-Lewis brings that out in fine form.
The relationship between Reynolds and Alma threw some twists in there that I wasn't full expecting. I didn't know much about the story except he was a dressmaker and fashion designer in the 50s. I really liked her character, with her fighting back at Reynolds's crazy quirks like no talking or making noise at breakfast time. If there was anything throw off from his daily routine, he would let you know and she would tell him back. What she did to Reynolds to keep him in line and how he reacted to it was a surprised. It made the movie different than your average drama about a dressmaker. The movie itself can be a little too artsy fartsy and slow in parts, but if you think about the overall story, it's a good one.
The Blu-Ray has a few different extras on it. There's some camera tests, deleted scenes, there's the full fashion show that was scene in the movie and a photograph montage. Majority of the extra feature music from Jonny Greenwood and some demos of the tracks as well. I thought that was an interesting way to present the extras. The deleted scenes is just a montage of some scenes that didn't make the cut, in an artsy way. The photographs were cool to see, and nice to hear the score demos as well.
Phantom Thread is an interesting movie with a brilliant performance from Daniel Day-Lewis. This role is probably the one that is most like Daniel Day-Lewis in that he's a bit of obsessive, method actor willing to try anything to get the role down. The story is simple and only really focuses on a few characters. The relationship between Reynolds and Alma is an intriguing and dark one, which makes the movie better.
Features:
Camera Tests
For the Hungry Boy
House of Woodcock Fashion Show
Behind the Scenes Photographs
Video:
Resolution: 1080p
Aspect ratio: 1.85:1
Original aspect ratio: 1.85:1
Audio:
English: DTS:X
English: DTS-HD Master Audio 7.1 (48kHz, 24-bit)
Spanish: DTS 5.1
French (Canada): DTS 5.1
Subtitles:
English SDH, French, Spanish
Bottom Line: Another great performance from Daniel Day-Lewis, and could very well be his last(?)
Running Time: 130 mins
Rating: R
Extras Rating:
Overall Rating: