Star Wars: The Force Awakens (Blu-ray + DVD + Digital HD)
Blu-Ray Reviews | Apr 1st, 2016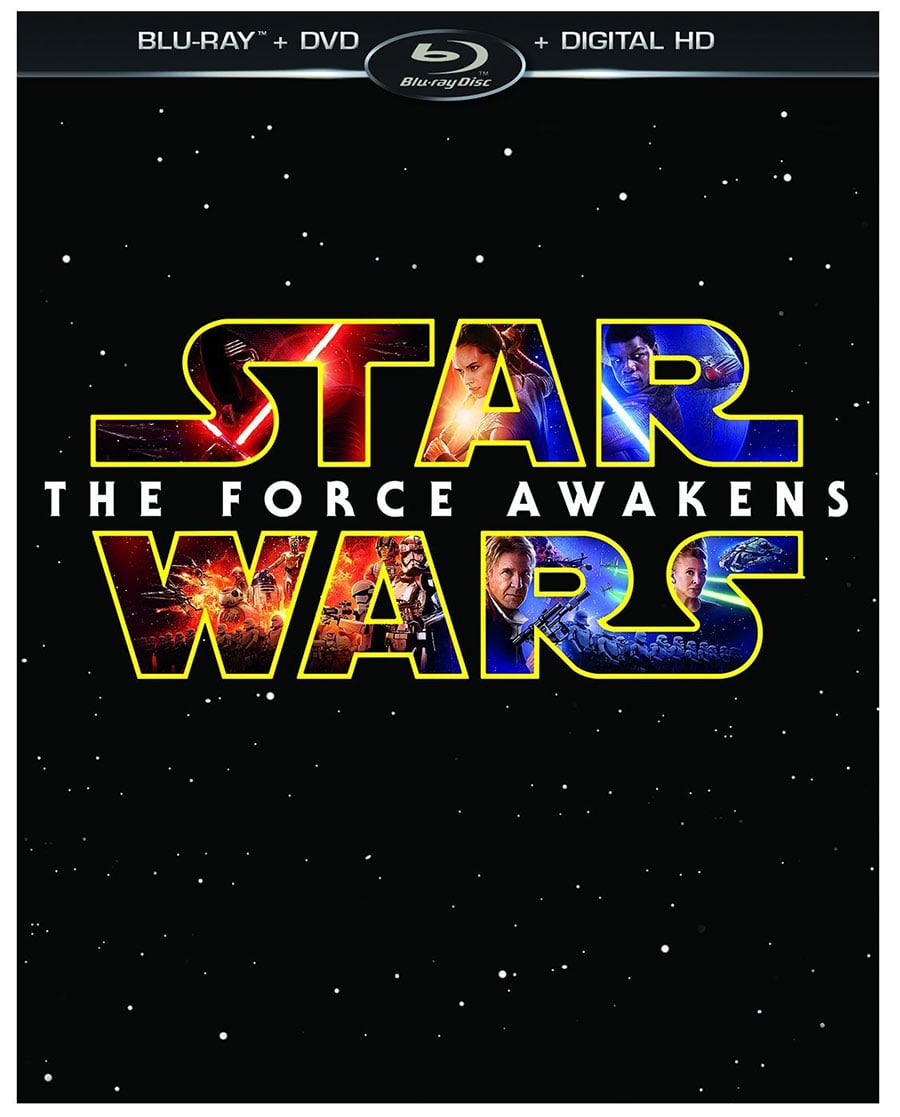 Image used with permission for review purposes.
Starring: Daisy Ridley, John Boyega, Adam Driver, Harrison Ford, Carrie Fisher, Gwendoline Christie, Peter Mayhew, Mark Hamill, Oscar Isaac, Domhnall Gleeson, Lupita Nyong'o, Anthony Daniels, Andy Serkis
Written By: Lawrence Kasdan, J. J. Abrams, Michael Arndt
Directed By: J.J. Abrams
Studio: Lucasfilm
Buy On Amazon.com
Star Wars: The Force Awakens is everything I hoped it could be and more! After the lackluster prequels were released, I was skeptical that these sequels would ever see the light of day…or be any good. Thankfully, George Lucas stepped aside and let others steer the ship in the right direction.

The opening crawl of the movie hits you like a brick: Luke Skywalker is missing. If that doesn't suck you right into the movie, I don't know what does. The Force Awakens centers around a desert scavenger Rey (Daisy Ridley) who encounters robot BB-8. BB-8's owner Poe Dameron (Oscar Isaac) is a Resistance fighter pilot who was captured by The First Order. The First Order have risen from the ashes of The Empire, and the rebels are now called The Resistance. Once Rey meets up with BB-8, she soons meets up with a defected stormtrooper Finn (John Boyega). The evil Kylo Ren (Adam Driver) and The First Order are after BB-8 because it contains a map to whereabouts to Luke Skywalker. Rey and Finn, along with Han Solo and Chewbecca race to find Luke who could restore peace to the galaxy.
As soon as these movies were announced, that giddy kid in me got excited for the movies all over again. Star Wars: Return of the Jedi was one of the first movies (if not the first movie) I saw in theaters back in '83. It's the series that made me a movie geek and despite the mediocre prequels, I still love the franchise. I was a bit reserved in thinking these would be just as good as the originals but I really think J.J. and company hit one out of the park with this one. J.J. did everything I think he could in terms of matching what made the originals so special and great. Practical effects, shot on film, actually went to locations to film (what a concept), and picked interesting actors to play the new characters. Not sure it's his fault but do think they showed too much in the trailers though.
Daisy Ridley was outstanding as Rey, and really happy she's the lead actor in the series. After watching John Boyega play Finn, I have to watch Attack The Block. He had a lot of funny lines and acted so damn well alongside Harrison Ford. Oscar Isaac did Poe pretty straight forward and hopefully they keep him around for the entire trilogy. I thought he might be in the movie more than he was. I guess it's more than they planned since they were going to kill him off originally. I was really skeptical about Adam Driver playing the villain in the series. I was so used to him on HBO's Girls that couldn't think of him any other way. That changed when I saw the movie. He was intense at times and played Kylo Ren like a brat throwing a tantrum. A brat with a badass lightsaber. I just loved when he was pounding his wound during the snow fight at the end. Then of course there's BB-8, who's so lovable and cute. For awhile, BB-8 made me forget R2D2 and C3PO. It will be great to see them in the next movie, in scenes together hopefully.
It was awesome to see the original cast back as well, which I don't think this wouldn't have worked as well if they weren't involved. It wasn't a surprise what happened to Han Solo in the movie, but glad it was then and not in Jedi like Ford originally wanted. There wasn't enough of Carrie Fisher/General Leia in the movie. Obviously the same goes for Luke as well, since he just had one scene. It was also cool to see characters like Admiral Akbar and Nien Nunb return as well. The movie was filled with hidden easter eggs and nods to the original films and I loved it. I hope some more original cast members return for Episodes 8 and 9.
Acting aside, the story was similar to A New Hope but not so much that it's a direct copy of it. In a way, it's like history is repeating itself and it's time for the new people to create their own history in the galaxy. Of course, people will compare this to the original trilogy. I felt the movie was great overall but if I had minor nitpicks, it would be the ending. After the death of what's his face and the snow fight, the movie seemed like it sped up to ludicrous speed. The Resistance's win over the First Order felt underwhelming and it didn't have that 'let's cheer in the theater feeling' like we did for original movies. Maybe the death scene was still hanging over everybody but the ending could have been spiced up a little bit. People have bitched that Rey discovered her powers to quickly and defeated someone powerful on the dark side. I think it's obvious why it was left out, because it has to do with the story for the next two movies. Plus, Kylo Ren was a loose cannon and still a learner himself. People will bitch just about anything these days. If there was a "cheer in the theater" moment in the movie, it had to be when Rey took away the lightsaber from Kylo Ren. Talk about goosebumps!
This movie put a big freakin' smile on my face the entire time watching it. Not a lot of movies make me want to watch it all over again, immediately after finishing it. The special effects were top notch, believable and CGI was used sporadically. It wasn't used as a showcase, it was used when it was needed. The acting was good, J.J. Abrams did a superb job and the movie was just exciting to watch.
The Blu-Ray contains about 2 hours of bonus material. There's an hour documentary, broken up into parts that was fantastic. You get to see the pre-production, production and all that fun stuff in the different locations. It was an hour and I wanted it to be even longer. Maybe I'm spoiled from watching all the LOTR and Hobbit extras on those extended editions? After that excellent documentary, there's smaller featurettes ranging from 8-10 minutes long. You see some of the table read (from that now classic photo that was taken of the cast). You see how BB-8 was made, but not voiced which was disappointing. I wanted to see a sound featurette because that always plays such a big part in Star Wars. There is a featurette on the legendary John Williams though. J.J. is such a fanboy like the rest of us, it's hilarious to see him gush over him so much. There's also featurettes on the snow fight, creating the creatures, ILM, and a few deleted scenes. The deleted scenes were okay but could see why they were cut. There's some speeder chase with Rey and Finn, and it's not completely. Let's just say Syfy movies look better when the graphics aren't completed in a Star Wars movie. If you loved the movie, be sure to watch all the extras after you're done!
At this point, you either love or hate Star Wars. Fans of the franchise will love this movie, at least I think so. I know I did and I've been a fan of the franchise since I was 5 years old when I saw Return of the Jedi in theaters. Now this is on Blu-Ray and Digital HD, I'll be able to watch this over and over until Episode 8 comes out.
Features
Secrets of ""The Awakens""
The Story Awakens: The Table Read
Building BB-8
Crafting Creatures
Blueprint Of A Battle: The Snow Fight
John Williams: The Seventh Symphony
ILM" The Visual Magic Of The
Deleted Scenes
Audio
English Dolby Digital 5.1
French Dolby Digital 5.1
Spanish Dolby Digital 5.1
English DTS-HD MA 7.1
Video
Widescreen 2.40:1 Color
Bottom Line: Couldn't have asked for a better movie to start a new trilogy!
Running Time: 135 minutes
Rating: PG-13
Extras Rating:
Overall Rating: