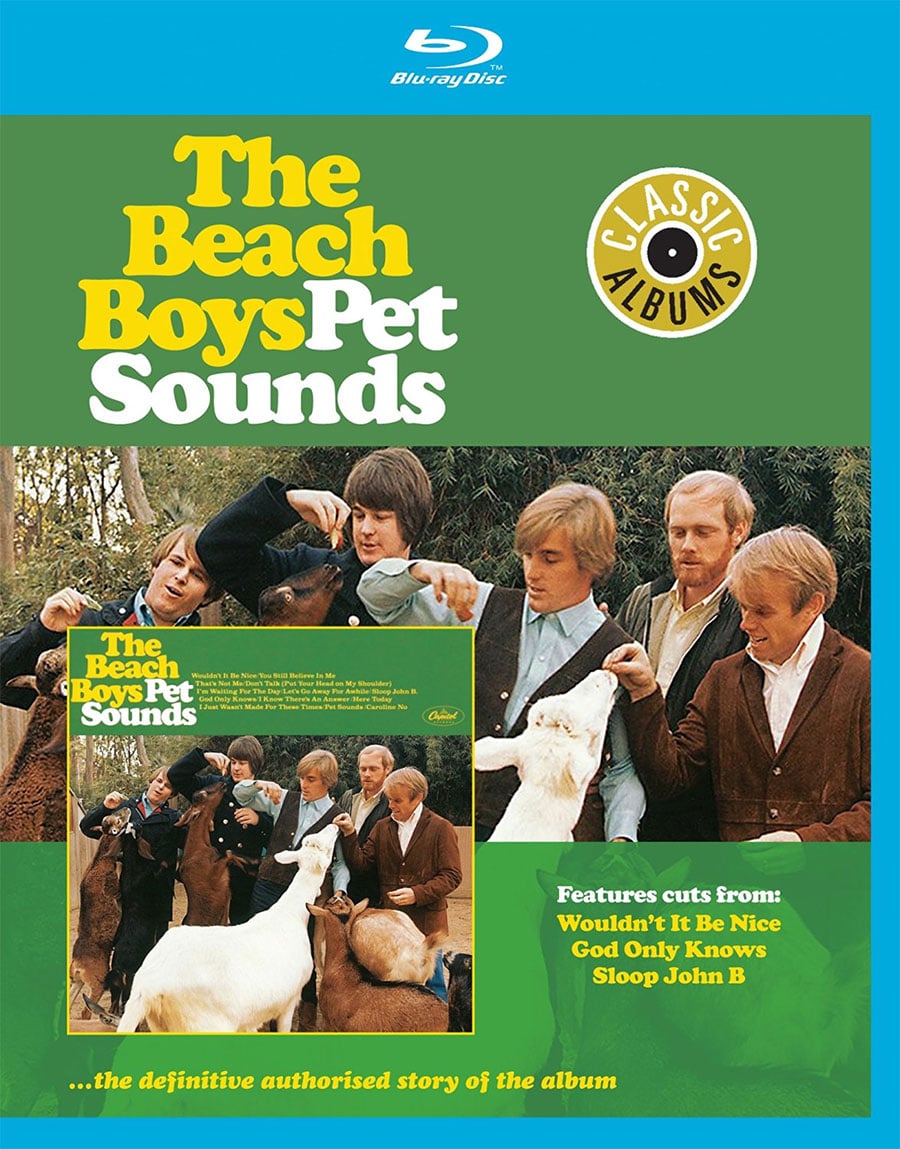 Image used with permission for review purposes.
Starring: The Beach Boys
Directed By: Martin R. Smith
Studio: Eagle Vision / Universal
Buy On Amazon.com
The Beach Boys' Pet Sounds was recorded in late 1965/early 1966, about a year after Brian Wilson had stopped playing live with the band so he could concentrate on composing and studio work. What happened was the band created something that is now considered to be one of the most influential albums ever made. "God Only Knows" is considered one of the best songs ever written and that's also on Pet Sounds. This documentary is not only for Beach Boys fans but music fans in general.

The documentary briefly goes into the history of the Beach Boys and then it's all about Pet Sounds. The film is mainly told or driven by new interviews, but there is some footage and old photos of the recording process. There's interviews with Brian Wilson, Mike Love, Al Jardine, Bruce Johnston, David Marks, as well lyricist Tony Asher. Music Journalists (hey remember those?) also comment about the Beach Boys and Pet Sounds. There's archive footage of Dennis Wilson talking about how much "God Only Knows" affected him. Basically everybody talked about how & why Brian Wilson is such a genius as a songwriter & musician. The album pretty much changed rock and roll because it wasn't just about that next big hit/singles. The concept of doing an artful rock album was born.
For some reason, I've been in a big Beach Boys mood this year and probably listened to "God Only Knows" everyday. When I was in high school and listened to oldies music, I just never listened to the song. No idea why that was, probably thought it was too slow or something for my punk brain to handle. I don't think I even knew of the song's genius until the movie Love Actually put the song at the end of it. I'm sort of a late bloomer. I was a Beach Boys fan but a fan of the other hits they had.
The documentary is only an hour long but there is 32 minutes of bonus footage. They talked more in-depth about each songs. This is an interesting documentary and it will make you want to put on some Beach Boys after hearing it. I actually would have liked to have a documentary that is just about the band in general. I'm sure there are docs on the Beach Boys, I guess I should find out huh? Anyway, if you love Pet Sounds, this is a must watch hour long film.
Features:
30 minutes of additional interviews
Video:
1080i High Definition
16:9
Audio:
DTS HD Master Audio
Language: English
Subtitles:
English, Deutsch, Francais, Espanol, Italiano, Portuguese,
Bottom Line: Great documentary about the making of Pet Sounds
Running Time: 94 mins
Rating: NR
Extras Rating:
Overall Rating: