Megamind (Two-Disc Blu-ray/DVD Combo)
DVD Reviews | Mar 7th, 2011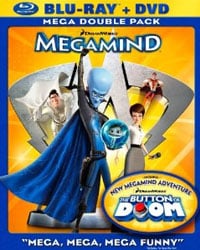 Starring: Will Ferrell, Tina Fey, Brad Pitt, David Cross, Jonah Hill, Ben Stiller
Written By: David Lindsay-Abaire, Jeanine Tesori
Directed By: Tom McGrath
Studio: Dreamworks Home Entertainment
Buy On Amazon.com
Megamind is the latest Dreamworks animated movie I wanted to see in the movie theater, but like with most movies, I just didn't get there. I'm happy to have finally seen Megamind though because I liked it because it's somewhat similar to The Incredibles in a way.

The story begins with a bit of a narration from Megamind (Will Ferrell) himself, explaining the story of himself and his arch nemesis, good guy Superhero Metro Man (Brad Pitt). Both came from an alien planet that was destroyed, and were sent to Earth. Metro Man become the city's protector, and Megamind became the villain. The two grew up living different lives, but they always battled each other. Helping Megamind try to destroy the city, is his talking piranha fish Minion (David Cross); who has a robotic body as well. The day Metro Man Museum opens, Megamind kidnaps reporter Roxanne Ritchi (Tina Fey) and also defeats his long-time nemesis as well. Megamind soon realizes the battle to defeat someone was half the fun and gets bored with getting everything he wants. He decides to create a new superhero in Roxanne's nerdy cameraman, Hal (Jonah Hill). The thing is Hal doesn't turn out to be such a great superhero and ends up being more villainous than Megamind.
The animated movie works on a few levels. It's good for kids and adults, it's got loads of funny things in it, has it's fair share of action, and it's nicely animated. Plus, can't beat the cast with Will Ferrell and David Cross working so well together. I'd like to see those two guys starring in a real comedy, maybe like an adventure Indiana Jones style comedy. I just cracked when I heard Megamind pronounce the word "spider" wrong. It's little things like that joke that make the movie enjoyable for me. It reminds me of Pixar's The Incredibles but only because it's got superheros in it and both movies are great. But back to the casting, I kind of felt Tina Fey and Brad Pitt were underused a bit; especially Pitt. Jonah Hill's character felt like a few creepy characters he's played before, plus Jason Lee's villain in The Incredibles. I didn't even know Ben Stiller was in this movie until I looked it up, so his talent was a bit underused as well.
The Blu-Ray special features include a new animated short The Button of Doom was pretty funny, meet the cast, lost scene featurette, galleries, previews, learn to draw Megamind and more. I liked watching the animated short and Learn How to Draw Megamind. I'm always fascinated with animation and love to see how animators draw characters. I just can't believe how difficult and long it takes just to draw one frame. Guess you have to really love your job to do that. As much as I love to draw, one I'm not that good and two, I don't think I could put up with drawing maybe 5 to 10 pictures a day (if that's how many you draw). I felt the rest of the features were okay but wish there was more on the cast and behind the scenes stuff.
Megamind will be loved by families, at least I think so. People who don't like Will Ferrell might not like this movie but you never know. I thought the animated movie was funny, entertaining and something I'd like to watch again.
Features:
Disc 1 (Blu-ray):
Megamind: The Button Of Doom – Megamind and Minion return to battle an even bigger foe in this all-new Mega comedy adventure!
Enhance the movie-viewing experience with the animators' corner featuring picture-in-picture storyboards, behind-the-scenes footage and interviews
Uncover more Megamind facts with the trivia track
Put your own hilarious twist on scenes from the film with the Interactive Comic Creator
Meet the Cast
Discover the Lost Scene
Visit Megamind's Lair
Experience AnimatorMan
Learn to Draw Megamind
Unleash The Reign of Megamind Video Comic Book
Filmmakers' Commentary
Fun High-flying Games
Disc 2 (DVD):
Filmmakers' Commentary
Meet the Cast
Discover the Lost Scene
Video:
Widescreen 1.78:1 Color
Screen Resolution:
1080p
Audio:
ENGLISH: Dolby TrueHD 7.1 [CC]
SPANISH: Dolby Digital 5.1
FRENCH: Dolby Digital 5.1
PORTUGUESE: Dolby Digital 5.1
Subtitles:
English, Spanish, French, Portuguese
Bottom Line: Entertaining superhero animated movie that features laughs, action and a great cast!
Running Time: 95 mins
Rating: PG
Extras Rating:
Overall Rating: