Primal Fear: Hard Evidence Edition- Blu-Ray
DVD Reviews | Mar 12th, 2009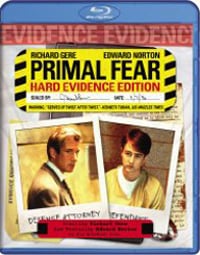 Image used with permission for review purposes.
Starring: Richard Gere, Laura Linney, Alfre Woodard, Frances McDormand, Edward Norton, John Mahoney
Written By: Ann Biderman, Steve Shagan
Directed By: Gregory Hoblit
Studio: Paramount Pictures
Martin Vail (Gere) is an all star defense attorney, who is always in the lime light and out for that next big case. Enter Aaron Stampler (Norton,) who is an altar boy accused of brutally murdering his Archbishop in Chicago. Vail believes Aaron is innocent while no one else does, and he's going to do anything in his power to prove that. Edward Norton shines in his Oscar nominated breakout role, as does Richard Gere in this great court room drama/thriller with lots of twist and turns.
Trying to outrun the cops from the scene of the crime, Aaron Stampler tried in all his might to get away, but was he innocent? Everyone in the press and in the city of Chicago did not think so except one man, Martin Vail. Vail was always someone that gravitated toward all the media hype and attention with high profile cases, and this case was no different. Out to find the truth, Vail is surrounded by an excellent staff that supports his decision to defend Aaron, even though they may their doubts, played wonderfully by Maura Tierney and Andre Braugher. The prosecution is well aware of Vail and associates intentions during this trial, including Martin Vail's ex girlfriend Janet (Linney) who is the associate prosecutor and you can tell there are some open feelings still for Martin. This makes going head to head with Martin even harder. Molly (McDormand), is the doctor Martin Vail brings in to examine Aaron and get an in depth psycho-analysis of the defendant. In her studies, she uncovers something very interesting behaviors about Aaron, but what does she do? In court, once a plea is entered, it's nearly impossible to take that back.
With this edition of the film, there are some interesting extras. The one I enjoyed the most was "Primal Fear: Star Witness" which was a look back at the casting process for Edward Norton's character Aaron. Over 2,000 people auditioned across 3 continents, and finally they stumbled upon Norton. In a brand new interview for the release, Norton explains his excitement at his first big film and the whole process of audition after audition and then rehearsals before even getting the nod. The other extras on the set included a look back at the entire film "Primal Fear: The Final Verdict," with cast and crew discussing the film and how special it was to be working on Ed Norton's first big movie. Little did they know, that film would change his life, and also led him to be nominated for an Oscar, losing out to "Show Me Da Money" Cuba Gooding Jr. Besides those two featurettes, there was commentary with Director, Producer, Writer, Executive Producer and Casting Director. The final featurette was called "Psychology of Guilt," and was very insightful. It discussed certain disorders I won't care to spoil for you if you have not seen the film, and also how many times the insanity plea has actually come up in court and its success rate.
In the end, this wasn't just a court room drama. It had some excellent twists and shockers. The performance of Ed Norton is worth tuning in if you have yet to see this film. This is the first time, I'm checking out the movie and I'm glad I watched. The story is excellent, fast paced and not slow like some other court films and the cast is vast and impressive. You can tune in and see "John Locke from Lost," with hair too! I thought the music sounded a bit dated, and felt like some music stuck in the 80's but other than that, I had no problems with the film. The transfer on Blu-Ray was better than I thought it would be. It's tough to take films that are well over ten years old and make them look amazing in high definition. There were some things in the video that were noticeably but nothing to ruin the film.
Features:
-Commentary by Director Gregory Hoblit, Writer Ann Biderman, Producer Gary Lucchesi, Executive Producer Hawk Koch, and Casting Director Deborah Aquila
-Primal Fear: The Final Verdict
-Primal Fear: Star Witness
-Psychology of Guilt
-Theatrical Trailer
Video:
Widescreen 1.85:1 Color
Screen Resolution:
1080p
Audio:
ENGLISH: Dolby TrueHD 5.1
SPANISH: Dolby Digital 5.1
FRENCH: Dolby Digital 5.1
Subtitles:
English, Spanish, French, Portuguese

Favorite Scenes: Foot race to interrogate witness, Hail confronts Aaron, Aaron on the stand, Finale
Rating: R
Running Time: 130
Extras Rating:
Overall Rating:
Reviewer: Matt Kremkau