Edna's Goldfish @ Skater's World, Wayne, NJ
Live Reviews | Jul 29th, 1999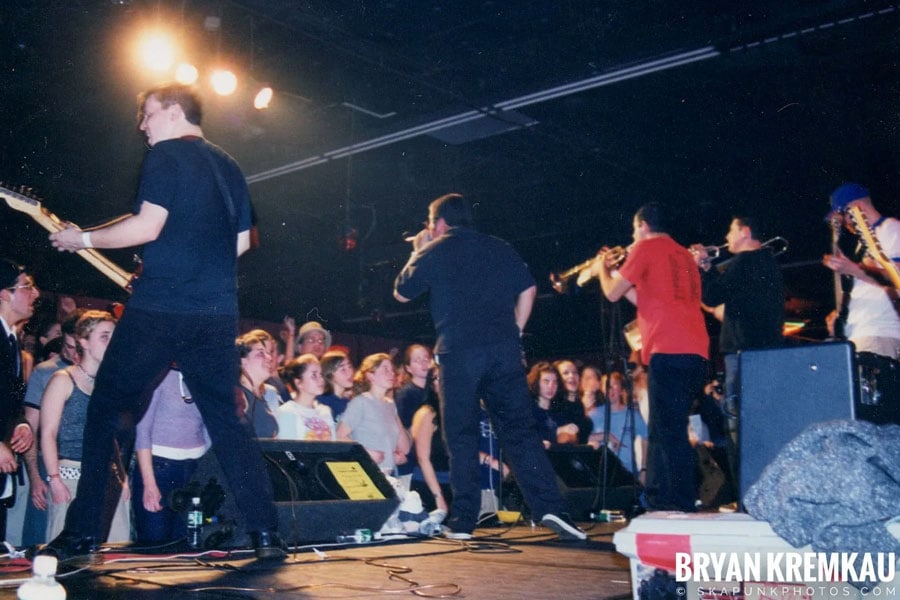 Photo by Bryan Kremkau
Opening Bands: Slow Gherkin, The Stereo, Day 19
Date: July 29th 1999
Venue: Skater's World, Wayne, NJ
Another Ednas Goldfish show. Another great time. Skaters World has been on hiatus for the summer with shows, so this was kind of nice to be going there since there weren't any shows there this summer. We got there early, late..whatever, we were hungry since it was dinner time and got some pizza. Geez, I don't eat pizza that often. I only work in a pizza place. Mmmm pizza! Anyways, we finally got in, and I think Ultimate Fakebook were playing. They were OK, but I was playing arcade games so I wasn't paying attention.

The Stereo were up next. Man, can they rock. They were loud and fucking excellent. Out of my little group, I was the only one watching them because everyone was still playing video games. Oh well, there lost. The Stereo played lots off there new album on Fueled By Ramen Records. Im not familiar with the song titles but they played the songs I liked. After I went deaf from them rocking out, Day 19 were up. I didnt pay much attention really. I was hanging out by the little food area. Some wacko guy comes up to us while we were sitting around talking, and he asked us Hey, guys lets rave. I was like No, go away. He continued to bother the fuck out of me, with his rave crap. He must have smoked a pile of shit before the show or something. Paul was stupid for continuing a conversation with him, and I was still like Go Away! Eventually, we ignored the pain in the ass.
By this time Day 19 were closing out there set, and Slow Gherkin were up. Paul and our friend Christian decided to play this shitty wanna-be Terminator 2 arcade game with Aerosmith as the stars I guess. They spent the entire set playing that shitty game. Thats a waste of money. Anywho. Slow Gherkin came up and they were awesome as well. They played lots of good stuff from both albums Shed Some Skin and Double Happiness. Songs that they played were Get Some More, Slaughterhouse, Shed Some Skin, Another in Your Life and many more. They were very good.
Finally, Ednas Goldfish came on. They were great as usual. They played all the crowd favorites including brand new ones like Everyone I know is from Lindenhurst. and Instant Message. I cant wait to get their new album. Its gonna rock. Well, they were excellent and since I see them a zillion times, THE END