Mighty Mighty Bosstones @ Irving Plaza, NYC
Live Reviews | Aug 26th, 2010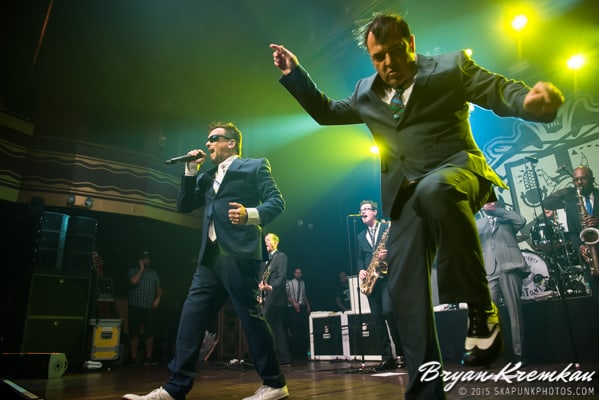 Date: August 24th 2010
Opening Bands: Teenage Bottlerocket, The Flatliners
Band Links: www.bosstonesmusic.com, www.teenagebottlerocket.com, www.theflatliners.com
The Mighty Mighty Bosstones finally played New York City, after all these years of avoiding it. Yes Yes we know the Yankees suck but that doesn't mean you have to ignore New York guys haha! They have played New Jersey the last 2 years but haven't played NYC in years. Last night they played a sold out (and quite packed) show at Irving Plaza. The boys from Boston (and all over now) played great and so did the openers (The Flatliners and Teenage Bottlerocket)!

After getting into the club, my group headed to our spot in the club where I found has been the best area to watch the stage besides the balcony (not going to tell). I knew it was gonna be a rowdy one so I knew I didn't want to be in the crowd. The opening band was The Flatliners from Canada, and who are on Fat Wreck Chords. I saw them perform with NOFX at Irving Plaza in 2008. I honestly don't really know their music, even after seeing them once before. That doesn't mean they weren't bad or anything. I dug their music but just didn't know any songs.
Teenage Bottlerocket were up next and I was looking forward to seeing them play. I've been a fan of the band for few years now but never had the chance to see them live yet. They play pop punk like The Queers, Screeching Weasel and of course The Ramones. The songs are short, fast and just punk rock! They played many songs from all their albums including songs from their 2005 album Total ("Radio," "Lost in Space," "Stupid Games," and "Blood Bath in Burger King"). Was "So Cool" played? I honestly can't remember and that's always been a favorite of mine. That album wasn't the main focus though, and they did play a lot from their newest album, which is on Fat Wreck Chords. Towards the end of the set, they sang a song about "Burritos" that had me laughing because of how over the top it was, and it was meant to be. The band were fun to see live and certainly got the sold out crowd ready for the Bosstones.
The Mighty Mighty Bosstones took the stage right at 10pm and came out after the intro music. They were wearing different suits that night and Dicky and Ben were positioned up front. Everyone else was positioned in the back of them. I was curious how they were going to utilize the space they were given with Irving Plaza's stage. The band started things off with "Dr D." You gotta start off with a good song that the crowd will go crazy for and that was it! After that, they played the opening track "Graffiti Worth Reading" from their new album Pin Points and Gin Joints. "Rascal King" was up after that and that has always been one of my favorites, and one I think that's a lot better than "The Impression That I Get." Both songs got heavy airplay back in the 90s but still feel "Rascal King" is underrated.
Every time I see the Mighty Mighty Bosstones, it feels like they never left the music scene a few years ago. The band is just consistently great every time I see them. Dicky was in fine form, Ben was dancing his ass off like usual. The horn section sounded tight, and everyone else were doing their thing. With that many people in the band, you'd think there would someone messing up but that's never the case with the Bosstones. Other songs that they played early on in the set included: "You Gotta Go," "Pictures To Prove It," "Don't Worry Desmond Dekker," and one of my all-time favorites "Someday I Suppose." I was hoping to hear "The Route I Took" from their new album but they didn't play it. It's something about that track that I just love. The setlist was interesting, and they mixed in the old with the new. You gotta play songs off the new album, especially when you have a new album. Each show on their tour has been something different, with the standards mixed in with songs they switch out every night. So you if you get the chance, see them in multiple dates!
To continue, they play a slower version of "Another Drinkin' Song" which was cool, they played some oldies like "Patricia" and the classic "I Hope I Never Lose My Wallet." That had to be the song of the night for me! I liked hearing the new songs "I Wrote It" and "Too Many Stars" as well. My night had to end earlier than others because I had an hour and half drive home and had to wake up at 5:30am the next day so I left after I heard "Where'd You Go" and "Hell of a Hat." According to Setlist.fm, they played about 6 more songs after that which included a cameo from old-time Bosstone guitarist Nate Albert! Would have been cool to see but I cherish my sleep (which I didn't get much of by the way). All in all, it was great to see the Mighty Mighty Bosstones again and I'll certainly see them again the next time they are in town. I just hope it's on a weekend.