Morgan Heritage @ Highline Ballroom, NYC
Live Reviews | Apr 11th, 2015
Date: April 9th 2015
Opening Act: Jemere Morgan
Dubbed the "Royal Family of Reggae," Morgan Heritage are back touring in support of their newest record out this April in "Strictly Roots." The first and only time I saw Morgan Heritage was on the Warped Tour in 2001 and have been a fan ever since. I remember for that show, they got what was a mostly punk and wanna be scream-o bands to get up and groove out to the unexpected, a reggae band on a mostly punk rock festival. With a vibrant and exciting stage show that the band has been known for, we were all in for a treat at the Highline Ballroom.

Opening the show was Gramps Morgan son, Jemere Morgan. Backed by the band with Morgan Heritage, Jereme came out and did a very nice job with his blend of Roots Rock Reggae with a dab of Dancehall. The crowd was lively and ready for a good time and Jemere Morgan certainly warmed up the crowd well. Kicking through song after song in a fast paced 20-25 minute set, it was just what the crowd needed. The beauty of this all, Morgan Heritage segued right into playing their set after Jemere performed.
Morgan Heritage came out quickly and kicked it right off with the title track of their new record "Strictly Roots" and then switch to a mostly greatest hits collection of their popular songs including "Don't Haffi Dread," "Reggae Bring Back Love," and "Liberation," which was part of a popular Morgan Heritage and Friends compilation. One of my favorite tracks on that record too! While promoting the record, the band only performed 3 songs. I'd say a "teaser" as it's still almost 10 days to the release and most crowds don't want to hear a set of just new tunes. Since I've heard the record I did because it's amazing! Speaking of which,"So Amazing" is a great single for them and they didn't play it. Bummer! I suspect this will be quite the Summer Reggae Anthem for 2015!
During the set, Morgan Heritage paid tribute and shout outs to several reggae greats including Peter Tosh, Dennis Brown, and Gregory Isaacs. Incarcerated Buju Banton who also appeared on several records together, was given a shout out and Gramps Morgan did a lovely rendition of 23rd Psalm which was heard on Buju's record "Unchained Spirit." Morgan Heritage really impressed me with their stamina during the set. Most bands will stop 3 or 4 songs in to chat but the band kept cruising on and on for almost 35-40 minutes. High intensity and plenty of crowd interaction during the songs as well and you can see why they are so well known for their awesome live shows.
Personally, shooting the show was fun. Highline Ballroom is a good room for a gig. It wasn't overly packed but it wasn't empty. It was just under a sell out. I was able to move around and get a little dance in here and there as well. The crowd was in a great mood and enjoying the night with drinks and excellent music. I was moving around the venue to snap pictures from far away with the 70-200mm lens so I wasn't interfering with the fans trying to enjoy the show. The lighting was great too by the way. The venue doesn't have a pit so you have to either camp out front or wander around. I opted for drinks with a friend and shooting in the back. Drinking while Shooting. A sometimes safe and preferably okay concept.. when the shots work out well ha!
Photos of Jemere Morgan:
Photos of Morgan Heritage: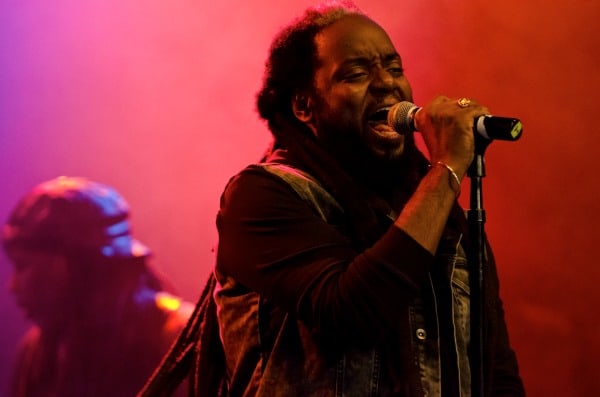 To see more of the photo album, please click here:
https://www.flickr.com/photos/mattkremkau/sets/72157651467289799/