Pilfers @ Gramercy Theatre, NYC
Live Reviews | Jan 20th, 2014
Date: January 19th, 2014
Opening Bands: Mark U, The Big Takeover, Metro Stylee
Whenever the Pilfers play Manhattan, I'm there. The original lineup is back together after Vinny and Anna took a break from the band in 2013. The show was a lot fun and the fire department even made a special appearance!

I arrived at the venue extremely early for Pilfers' soundcheck and filmed that for an upcoming episode of Before The Concert. I killed some time afterwards watching some football at the venue and grabbed a hot chocolate in Starbucks. The show started with Mark U, who happens to be Coolie Ranx's son. Mark and his band have a reggae/hip-hop style and he did a great job. The proud Dad was dancing in the crowd and watching the entire time.
The Big Takeover from Upstate NY were up next and I enjoyed their set a lot. Their sound a mixture of ska, reggae, soca, and a bit of soul. For whatever reason, there wasn't as many people there for their set. I think a lot of Mark U's family and friends showed up for his set, and some people just didn't arrive yet. Once Metro Stylee hit the stage, the club was a decent size crowd. I thought Metro Stylee was awesome and played a very energetic set. The band seemed to be having a great time and the crowd was skankin. Coolie came out towards the end of the set and help sing "Back Again". They finished with "Corner Boy," which is my favorite Metro Stylee song.
Now here's where things get interesting. One of the Gramercy Theatre employees gets on stage and says there's a gas smell or something, and that the FDNY are on the way to check it out. So everybody had to leave the building immediately. Or well, get your coat first from coat check and then leave. Good thing this wasn't a fire or something serious. I can't really judge since I was one of those people at the coat check line getting my coat. I wasn't going to sit out in the cold without a jacket. Maybe if I saw a fire I would have bolted. On my way out, Coolie and the band were telling me to document this and so I did. I was curious what was going to happen and if the show was going to continue. Thankfully we didn't have to wait out there for too long but some people were outside with no jacket or in Vinny Nobile's case, in shorts.
I believe the Pilfers had to cut their set a little short but they did get to play past the 11pm curfew so they were happy about that. They started off with "Introduction" and went into "Dr. K" like they have done in their earlier days. This show had the band play some songs they haven't played in awhile but also play some new ones as well. Coolie vowed they will be playing a few more shows and then going to finish their new album this year. Let's hope they stick with it!
One song I was happy that they played was "Kawaii," which I don't remember the last time they played it. In fact, I honestly don't remember when I heard that song last because I haven't had NY Beat: Breaking and Entering compilation on my iPod. I need to track that down and put some songs on it because that tune is a good one. Other songs Pilfers ended up playing include: "What's New," "Roller Coaster," "Hypnotized," "Show No Fear," "Why," and a new song called "Done Nothing Wrong." Another new-ish one they played was "Easy Man," and they got help from Coolie's son Mark U. It was fun to see Father and Son duel-singing and was also funny to see Mark take the reins a little and showboat. Towards the end of the set, the band played "Yakuza," "Aqua," "Climbing" and ended with "Shits Up in the Air." It was a long day for me but still had a blast hanging out with the band and friends. If you're in the Northeast, you'll probably want to follow Pilfers on their Facebook page because they will be announcing some more shows shortly.
Here's some of my favorites from the show. Be sure to check out SkaPunkPhotos.com tomorrow for all the photos!
Mark U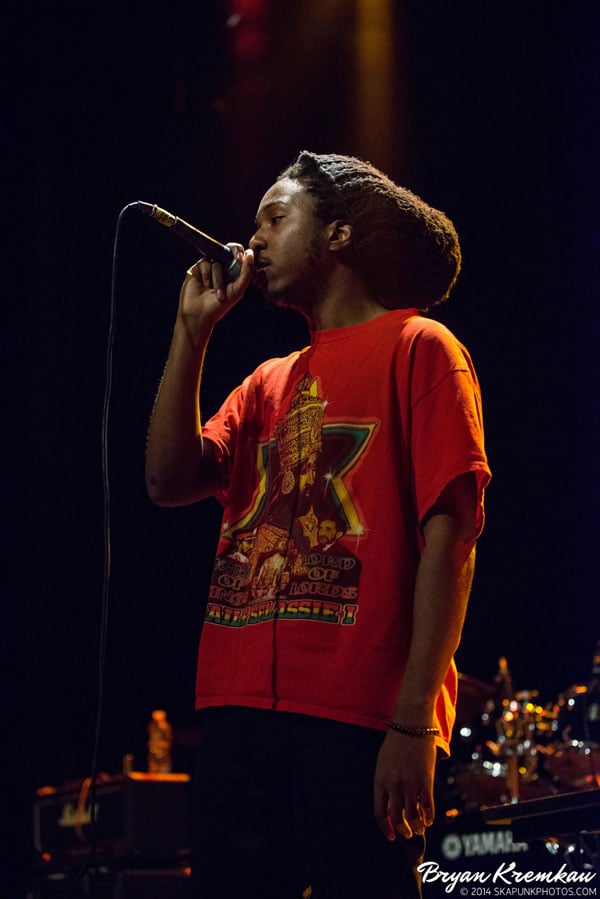 The Big Takeover
Metro Stylee
Pilfers