The Rifles @ Mercury Lounge, NYC
Live Reviews | Sep 25th, 2009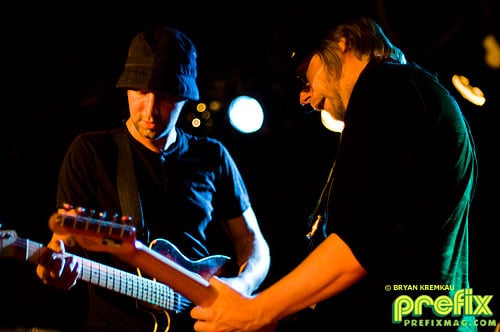 (Photos by Bryan Kremkau. View the full gallery of the show at PrefixMag.com)
Date: September 24th 2009
Opening Band: Useless Keys
Band Link: www.therifles.net
The UK rock band The Rifles were finally in town to support their new release "Great Escape" that was just released over in North America on Nettwerk. I've been a fan of the band for over a year now but never had the chance to see them perform live. I finally got the chance last night to see them at the Mercury Lounge in New York City and glad I made the trek down.

The Rifles scheduled 3 dates in NYC (1 show last night, one tonight at Mercury Lounge and tomorrow night in Brooklyn) and the first one was an early show. I decided to pick that because who wouldn't want to get home early? Well I don't know if you can consider 11:30pm early but for me it is since it takes an hour and half to get home sometimes. The opening band Useless Keys went on at 7pm and the club wasn't really filled up. Either people were drinking it up by the bar in the other room or people still were getting to the club. I was sitting down and listening to the band, taking pictures from my seat since the club wasn't that filled yet. I walked around and took some shots of the band as well. From what I can remember, Useless Keys played alternative rock that was slow and experimental. They had a few upbeat tracks and only played for half hour I believe. They were okay but not something I would listen to on a normal basis.
When I first got to the club, I went right to the stage since it was open. But then I moved around a bit and lost my spot. I was kicking myself for doing that the rest of the evening. I tried to make the best of it with shooting the Rifles but wasn't happy in the end with what I got. Plus the lighting sucks at the Mercury Lounge, which is probably why they don't care if you bring cameras in or not. Anywho…
The Rifles came on around 8pm which is nice considering I'll be back at the Mercury Lounge next week for New Model Army. NMA are going on 10pm for that show. The club was mostly filled up which was nice to see, but sucked for me because I couldn't move to take pictures. The band started off with the opening track "Science in Violence" off their newest album "Great Escape." The lads from London play some of their tunes differently than on CD. Some songs had a ska influence to them. Hearing "Great Escape" live was amazing, and I just love the intro from Lucas (the guitarist) on that song. Sounds just as good live as it does on CD!
The audio wasn't the greatest at Mercury Lounge, but the Rifles made do with it. It was tough to hear the band in between songs, especially being up close. Maybe things sounded better in the back? During the hour set, the band played songs from both their 2 studio full-length albums, plus their Great Escape EP. Some of the songs played were: "She's Got Standards," "Out in the Past," "Darling Girl," "Hometown Blues," "Toe Rag" and one of my favorites "Peace & Quiet." There wasn't much banter between the band members, besides them claiming they messed up the songs. Other than that, it was hard to hear them talking with the shoddy sound system. The last 2 songs of the evening were "Local Boy" and "Romeo and Julie."
At one point, the crowd was helping them sing along for "Local Boy" until Joel gave them the chance to sing…of course we couldn't remember past the first chorus verse. That was a funny moment. So once the band played "Romeo and Julie," everyone thought the band was going to continue playing or at least come back for an encore. Since there was another show after that one, they had to cut out early. I was disappointed in that I didn't hear the band play long enough, and that I didn't hear a few more songs like "Spend A Lifetime" or "The General." I honestly think they simply ran out of time because I believe they had an encore written out on the setlist.
Either way, the Rifles were a blast to see live. I'm glad I finally got the chance to see them perform their songs that I've been playing nonstop since I found out about them. I wish I got to see them perform again tonight or in Brooklyn on Saturday. Hopefully they don't take too long to come back to perform in NY again.
View the full gallery at PrefixMag.com here.