Titans Episode 9: Hank and Dawn
TV Reviews | Dec 12th, 2018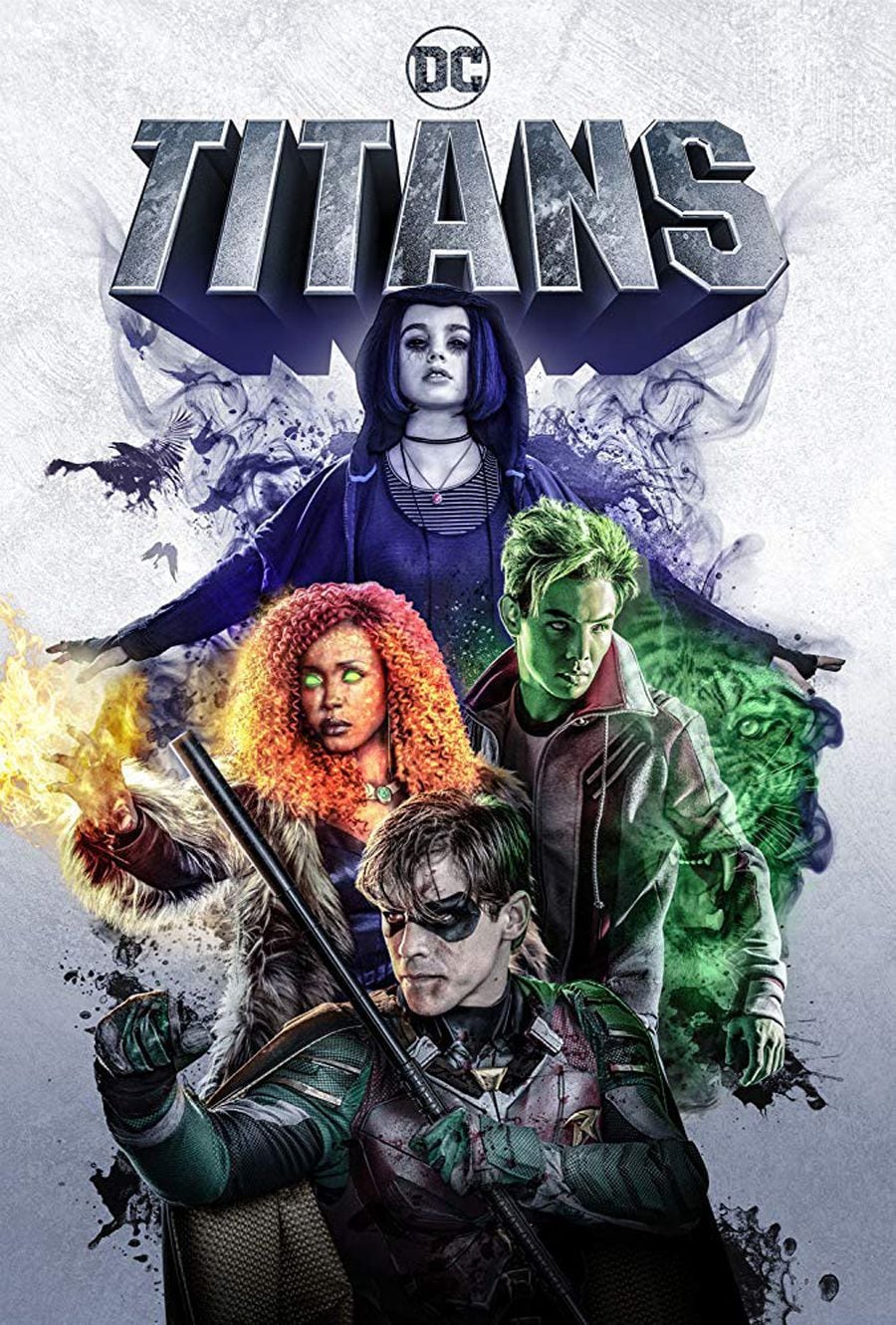 Image used with permission for review purposes.
Starring: Brenton Thwaites, Anna Diop, Teagan Croft, Ryan Potter, Alan Ritchson, Minka Kelly
Created By: Greg Berlanti, Akiva Goldsman, Geoff Johns
Studio: Berlanti Productions, DC Entertainment, Warner Bros. Television
It was tragedy that brought Hank Hall and Dawn Granger together and it's the prevention of an even greater one that will only make them stronger.

Earlier on in episode 2 titled "Hawk and Dove", we were introduced to the current pairing of Hank Hall and Dawn Granger as street-level crime fighters of the same name. In that episode, The Organization had the Nuclear Family seek out Rachel where Dick had introduced her to Hank and Dawn in order to hide her with them while he figured out exactly what was going on. The episode ending with the Nuclear Family dismantling Dick and his friends, capturing Rachel and leaving Hank and Dick beat up and Dawn on the brink of death after getting knocked off of the rooftop of a building, landing on the concrete below. She remains into a coma where this origin story episode begins.
Before I start into the play-by-play of this episode, I want to say that, while this origin is vastly different from any of the variations in the comics but in doing so, they put forth one of the most tragic, powerful and important episodes in not only the superhero television world but in entertainment in general.
With episode 9, which is told mostly through flashbacks as Dawn remains in a coma and Hank loyally stays by her side at every moment. Through these flashbacks we learn of the tragedy of Hank Hall and his little brother Don. Hank, a budding football superstar of maybe 11 or 12 years old whose brother is always supportive and at his side, learns that his football coach has taken a liking to his little brother and wants to give him a "tour" of the new weight room. With his brother being too young and naïve to realize exactly what that means, Hank makes sure that the coach will let his brother leave peacefully and he will take the walk to the weight room with the coach in his brother's place. In other words, Hank's coach is a pedophile. In order to protect his brother, Hank takes the abuse for him. Hank never speaks of the tragedy and moves on with life the best he can, usually escaping through alcohol and partying.
We are then introduced to Dawn Granger as she takes the lead in a terrific ballet performance followed by a standing ovation. She is having dinner with her mother as Dawn realizes that her mother is going back to her abusive husband, who not only physically and mentally abuses her but has abused Dawn and her sister physically as well. Dawn got out of the situation and has become a talented ballerina, gymnast and Ju-Jitsu master. Dawn doesn't understand why her mother can't do the same and get out of the situation. The reality of that situation is something that you never seem to be able to understand and surely hits home with a lot of people, the same as with Hank's situation.
Hank and Don are older now and in college. While the two of them are total opposites…the one being an academic scholar and the other your atypical athlete/jock, they are always looking out for each other and the two actors have great chemistry and do well in showing that brotherly bond. A situation leads to Hank passing out due to his multiple concussions, receiving and not following the doctor's advice and the two brothers getting into a fight causing them to both be expelled from school. Wondering what to do next, Don begins to show Hank how many sexual predators there are in their area and that someone needs to do something about it. Even though Hank never once mentioned what had happened to him at the hands of his coach, this leads to the reveal that Don had always known about it and that he wouldn't be the person that he is without his brother always looking out for him and protecting him. Now, they have the opportunity to finally do something about it. Thus the original Hawk and Dove are born as the two don primitive versions of their costumes made from random football gear among other things. They take to the streets aiming to send the pedophiles to prison for their actions and to give them their just deserts. In a way it's a retribution for Hank but he never once decides to go after his coach and make him admit his crimes.
With Hawk and Dove making the local headlines in the newspaper, a chance encounter occurs between Hank and Don and Dawn and her mother (played by Star Trek: TNGs Marina Sirtis). It is here at this moment, this brief pause between strangers going about their everyday motions, that tragedy strikes both pairs as an out of control van swerves off of the road and hits and instantly kills Don and Dawn's mother.
Due to the tragedy affecting dozens of people in the city (possibly an event caused by some superhero situation that has yet to be revealed?), Hank and Dawn attend the same grief counseling group. Neither of them speaks of the tragedy as they listen to the stories of other survivors of next of kin. Hank and Dawn meet up randomly at a bar and, after some barriers brought down, have somewhat of a heart to heart. The next day Dawn attends the counseling session but Hank isn't in attendance. Dawn speaks up about the fairness of life and is having trouble accepting that things happen like this without reason. When Dawn leaves after the meeting is over, Hank is outside waiting for her and tells her that he wants to hear more about her mom. At this moment the two bond and their unique relationship begins.
As the two struggle to maintain a normal relationship, realizing that they are both more than likely just damaged goods, Dawn discovers that Hank and his brother had a stint as crime-fighters and eventually, in a tearful and heartwarming moment, Hank finally talks to Dawn about what happened to him as a child. Dawn asks why, when they were targeting pedophiles he didn't go after his former coach. For Hank, that would have meant that it was real. He couldn't just compartmentalize it and hide it away. One would think that Dawn would accept this and help Hank deal with his issue in a civilized manner, but this is what really makes the relationship of Hank and Dawn special. During that night, Dawn finds out who Hank's coach was, finds his address and takes it upon herself to make the disgusting man pay.
Arriving at the coach's house, Dawn immediately begins to kick his ass. As the fight escalates, the coach draws a gun and is ready to take aim and call the police. It is her that Hank intervenes as both he and Dawn dole out one hell of a beating to the piece of shit coach. As the two arrive back home and with Hank dealing with the reality of what just happened, "Titans" goes to another level that no superhero show has yet to reach…as a very tense and emotional pair of grief-stricken trauma victims come together as one an intense sex scene…nudity and all.
Throughout the flashbacks in both Hank and Dawn's minds, a reoccurring event happened that neither person noticed until the very end. Flashing in a mirror or in reflections was Rachel/Raven yelling Hank or Dawn's name in urgency. In the final flashback, Dawn noticed and this message is what brings her out of her coma. She awakens, crawls over to Hank who is passed out in a chair by her side and wakes him. She tells him that they have to find Jason Todd immediately.
What I love about "Titans" is that there is a great mix of emotions throughout the first season. You are introduced to the painfully optimistic Garfield/Beast Boy, a Dick Grayson that revels in violence, the strangely goofy antics of the X-Men-esque Doom Patrol, the horror of what lies beneath Rachel's skin and you get to see the Titans function as a semi-dysfunctional superhero family. The show isn't afraid to shy away from dark humor as much as it refuses to back down from heart-wrenching tragedy. "Hank and Dawn" flipped the coin from Hawk and Dove's introduction in episode 2 which showed Hank as an angry brute that was comical but loving and Dawn who seemed like someone with a past that made the wrong choice. With this episode we learn that Dawn is the glue that holds the couple together but Hank is healing from an inexcusable tragedy and is learning to trust people again.
With the couple reliving their darkest memories, they must come together once again and save their friends who somehow keep dragging them into their messes. I think overall that this will make Hank and Dawn stronger and that this will lead to them gaining a wider purpose in life such as stopping The Organization from brining about the end of all humanity. I see them hopefully joining the Titans as fulltime members by seasons end. The character dynamics of them in the mix would be absolutely endless!!!
Rating: NR
Overall Rating: