Backyard Superheroes – "Let's Get Dangerous"
Album Reviews | Aug 10th, 2015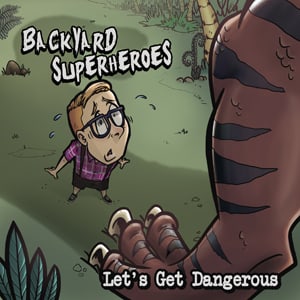 Record Label: Self-Released
Genre: Ska/Punk/Pop
Buy On Amazon
With their infectious sound, fun lyrics and love for the ska punk genre, the Backyard Superheroes have quickly become one of my new favorite bands.

As I mentioned before with my review of their self-titled full length, these guys remind me of the plethora of 90s ska punk bands that got me into this type of music in the first place and are a prime example of why I still love this music. One second the music is fast and furious, the next second you find yourself skankin' in place. Top that off with some nerd culture references as well as sneaky Spider-Man theme song horn lines and Super Mario Bros. bass lines and you got yourself a damn good time. Being a nerd myself, it is much appreciated especially on an amazingly catchy song like "Arcade Girl".
Speaking of catchy songs, "Let's Get Dangerous"…which isn't quite a full album but longer than your average EP…is chock full of them. Like seriously, every damn one of them. I've found myself playing this album on repeat for five or six times in a row with "Average Guy" and "Arcade Girl" getting multiple listens in between.
I would like to point out that the Backyard Superheroes have released all of their music for download on their Bandcamp page for a "Name Your Own Price" option. The music is totally free to download if you wish, but please support this band and their future musical endeavors. Fans of ska and ska punk will enjoy their sound and most certainly have a good time listening to them. Now excuse me now, my mandatory 8 listens of this album are only halfway done.
Bottom Line: Super catchy pop punk-influenced ska punk that will have you on your feet in no time flat. Think early Mustard Plug/Buck-O-Nine sounds.
Notable Tracks: Face It, My Fault, What Could Go Wrong?, Average Guy, Running In Place, Arcade Girl
Overall Rating: