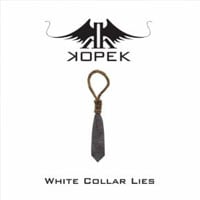 Record Label: Religion Music Group
Genre: Rock
Band Link: www.kopekofficial.com
Buy on Amazon.com
Kopek hail from Dublin, Ireland and have that modern day rock sound. Don't worry rock fans, there's nothing typical Irish about this album at all. You won't hear any Dubliners covers or fiddles, I don't think anyway (unless I missed it). It's actually quite a hard rock album that puts some American rock bands to shame!

The first reaction I had while listening to their opening track "Cocaine Chest Pains" is they sounded like Stereophonics. The singer has a similar singing style to Kelly Jones. Their debut album White Collar Lies came out last week and it should put these guys on the map. It's impressive to think that this is their first album. The vocals are rough, rock & roll and aren't annoying at all, which is important for bands like this. So much depends on the vocals but they manage to pull everything together nicely. Although, I couldn't really tolerate the band's first single "Love is Dead." It was irritating to listen to. But thankfully they managed to have a better, yet slower song right after that called "Floridian." For the most part, this album is pretty damn good and I wasn't expecting it at all. Check out their music at their MySpace page here.
Bottom Line: An album that surprised me, and in a good way!
Notable Tracks: Cocaine Chest Pains, Fever, Floridian, Bring It On Home
Overall Rating: