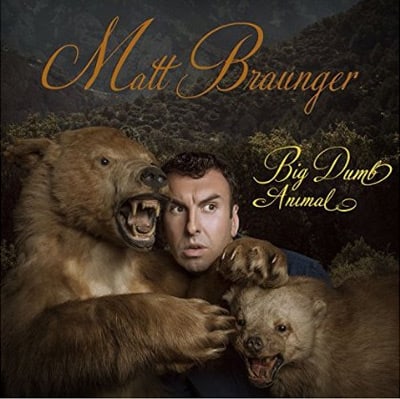 Record Label: Comedy Dynamics
Genre: Comedy
Buy on Amazon.com
Matt Braunger's latest album & special is Big Dumb Animal and fans of his will certainly enjoy it. I haven't heard any of his material besides him being on @Midnight so I was definitely looking forward to hearing this comedy album.

Big Dumb Animal was recorded at the Bell House in Brooklyn and Matt covers a lot of topics, mainly how guys are basically…big dumb animals. A highlight of the act is in the beginning, he talks about some guy trying to hit on a woman on a crowded bus at 10 in the morning. The guy is trying this from shouting from across the back of the bus and the rest of the bus has to witness all of it. The bus bonds over how bizarre the situation was.
Other stories I liked was Matt playing college cities and how they were getting carded at a frat bar, playing bingo drunk, and hearing about shows that happened at 5am from his friends. His reaction to that 5am show is the same one I would have; thankfully I didn't go to that one! Even if I was younger, I wouldn't want to go to a show that was at 5am.
I found a lot of his jokes weren't necessarily laugh out loud funny to me but the stories and jokes were entertaining at least. I think If I was there in person or watched the special, I'd probably would have laughed a little more.
Bottom Line: Decent stand-up with some funny parts
Notable Tracks: That's Not The Point, Stupid Indestructible Maniacs, Big Dumb Animal, Peaches, Wildcattin'
Overall Rating: