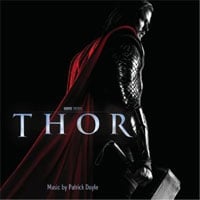 Record Label: Walt Disney Records
Genre: Film Score
Buy on Amazon.com
Thor was first blockbuster of the season, and one I didn't really feel like rushing out to see anytime soon. Apparently it's a good movie, but I'll have to wait & see when it comes out on Blu-Ray.

Scottish composer Patrick Doyle did the score for Thor, which isn't a surprise since he's a longtime collaborator with director/actor Kenneth Branagh. Doyle is known for his scores to Henry V, Mary Shelley's Frankenstein, Sense and Sensibility, Harry Potter and The Goblet of Fire, and many more.
The beginning of the score and the ending is the strongest. Somewhere in the middle, the music tends to get boring for me. Tracks like "Prologue" and "Sons of Odin" really stand out. There are a lot of action cues, but again, the music isn't really memorable. I think Thor really needed to have some John Williams-type of theme. Something that you would remember and hum after the film. There's a few repetitive notes in a few tracks, but it's not entirely noticeable. I guess this wasn't the route Branagh and Doyle wanted to go with the score.
Thor's score isn't bad, it's just not memorable at all. It's the type of film score you just leave on and go about your day. I think once I see the movie I will enjoy it more. For now, the tracks all blend in together and leaves me in haze. Listen for yourself and see what you think.
Bottom Line: A good score but not very memorable
Notable Tracks: Prologue, Sons of Odin, The Compound
Overall Rating: