The Frightnrs – "Nothing More To Say"
Album Reviews | Aug 27th, 2016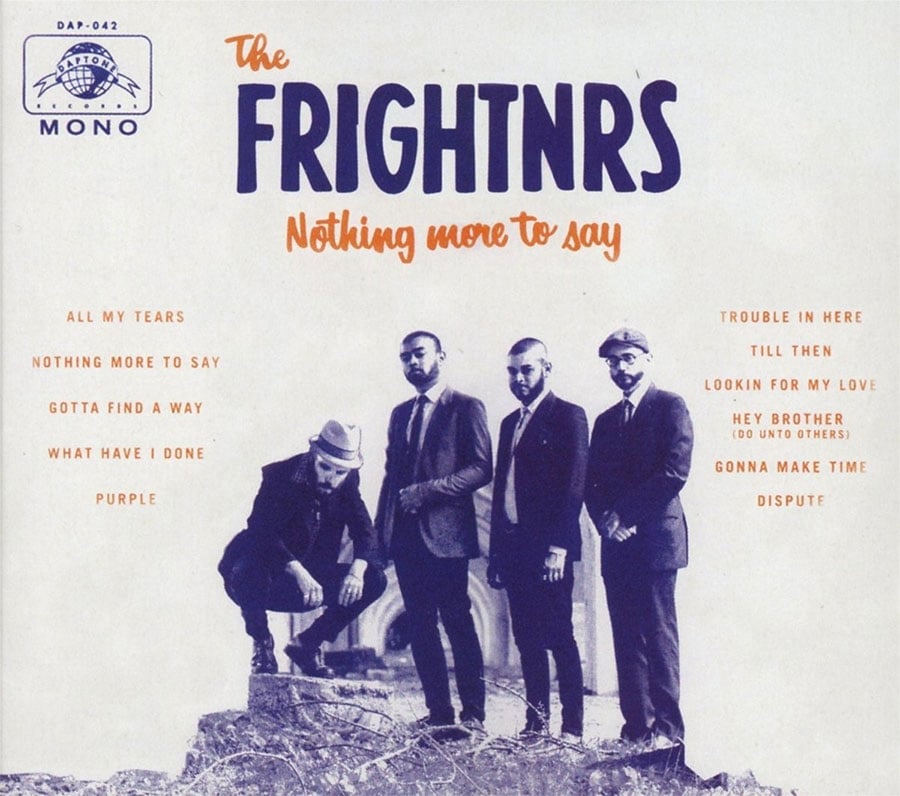 Image used with permission for review purposes.
Record Label: Daptone Records
Genre: Rocksteady
Band Link: http://www.thefrightnrs.com
Buy on Amazon.com
One of the best reggae & rocksteady albums I've heard in a long time comes from The Frightnrs of Queens, NY. The band's debut full-length will make people smile and cry at the same time. Unfortunately, it's the last piece of music sung by frontman Dan "Brukky" Klein, who tragically passed away from ALS earlier this Summer. Let's celebrate Dan's life & music by listening to this masterpiece over and over, because it's certainly deserves everyone's ears.

I'm bummed I never got the chance to see Dan and The Frightnrs play at Otto's Shrunken Head, Characters or one of the many shows in Brooklyn & Manhattan. I'm a late listener of only last year, when the band's EP Inna Lovers Quarrel made me realize what I was missing. Although I knew they existed and have seen them featured in the documentary Brooklyn Rocksteady, I just never got a chance to see them perform. I swear their music could be from the 60s or 70s and I wouldn't know the difference. If you like 60's, 70's rocksteady, reggae and soul, you're going to fall in love with The Frightnrs' sound (if you haven't already). When people mention bands like The Maytals, Alton Ellis, The Techniques, The Tennors, The Paragons, etc..I have no problem throwing The Frightnrs in that batch as well.
Their debut is on Daptone Records, I believe the first reggae album on the soul/funk label. After Dan was diagnosed with ALS back in November, that's when recording took place for this album. It's remarkable they were able to get this kind of vocal range out of him. While the rest of the band sound flawless, it's Dan's distinctive, Smokey Robinson-esque vocals that really stand out. The opening track "All My Tears" pulls at the heartstrings a little and the title track "Nothing More To Say" is probably my favorite track on the album. The title track is the first song I heard off the new album, after only a few weeks after Dan passed. I must have listened
The album is mostly original tunes, except covers of Bob & Gene's "Gotta Find a Way" and Saun and Starr's "Gonna Make Time." I don't know what it is about the song "Hey Brother (Do Unto Others)," but the song really stands out. It's a song I find myself singing to myself after I hear it. The deep backing vocals singing "do unto others / do unto others/ as you never knew / right back to you" is catchy and gets implanted in your brain. "Looking For My Love" feels like the song most reminiscent of the classic rocksteady sound: falsetto singing, harmonized backing vocals and chorus, and the excellent album production. I could go through each song but this review is already way too long.
I hope the Frightnrs continue as a band and have guest vocals on each album and live shows. It would be a shame to disband, and I'm sure Dan would have wanted to band to continue. Obviously, having Dan not around will be something the band and fans will me thinking about all the time. Comparisons of different singers will be made, but I guess that's something the band has to decide.
Nothing More To Say is brilliant and bittersweet rocksteady album. After it's over, you want more and more. Sadly, not sure that will happen or not. I have a feeling this album will get plenty of listens from me, particularly tracks "Nothing More To Say" and "Hey Brother (Do Unto Others)." I also have a feeling this album will put The Frightnrs on a bigger stage, so to speak. Whatever the rest of the band decides to do in the future, I'll be there listening.
Bottom Line: A bittersweet rocksteady masterpiece
Notable Tracks: Nothing More To Say, Gotta Find A Way, What Have I Done, Purple, Looking For My Love, Hey Brother (Do Unto Others), Dispute
Overall Rating: