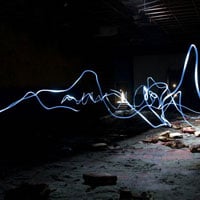 Record Label: S/R
Genre: Indie
Band Link: www.thehitback.com
Chicago duo The Hit Back fleshes out lackluster folk-indie with spiffy Postal Service-esque electronica. The opening track "Me and the Kid" is the best – warm and rich with lively programming at the forefront. The rest of the album falls short –even with the bleepy gimmicks and occasional effort at interesting percussion, most of the tunes are DOA.

The electro bells n' whistles do their best to pick up some very middling folk music. The vocals are decent when the duo harmonizes but are overall unexceptional and the guitarwork is an afterthought of dull strumming. When a song doesn't have programming, like on "Down the Hall," it's clear the music is bland and ballady to the point of maudlin. Ending with a piano ballad wasn't surprising and I couldn't click the stop button quick enough. Disappointing given the strong opener.
Bottom Line: Mix of Paul Simon, The Shins, and Postal Service, only not very good.
Notable Tracks: Me and the Kid, Tagalong
Overall Rating: