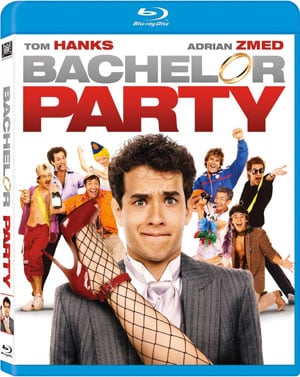 Starring: Tom Hanks, Tawny Kitaen, Adrian Zmed, William Tepper, Robert Prescott, George Grizzard, Barry Diamond, Michael Dudikoff
Written By: Neal Israel, Pat Proft
Directed By: Neal Israel
Studio: 20th Century Fox
Buy On Amazon.com
Before Tom Hanks was starring in Oscar winning movies, he was in a lot of goofball and sometimes raunchy comedies like Bachelor Party.

Bachelor Party came out in 1984 and starred a young Tom Hanks as Rick, who gets engaged to Debbie (Tawny Kitaen). Her rich parents don't want her marrying Rick, and neither does her ex-boyfriend Cole (Robert Prescott). Debbie's Dad enlists the help of Cole of fighting for Debbie and winning her back. Meanwhile, Rick's buddies decide to throw him the ultimate bachelor party in a hotel suite. The party has it's fair share of girls, hookers, drugs, bands and even a drugged up donkey.
I like what Tom Hanks is doing in his older years but I also still love his early films like this one, Splash, The Money Pit, Dragnet, and Turner & Hooch. I think it was around early 90s when he started to do more serious roles like in Philadelphia. Honestly, he hasn't made a straight up comedy in a really long time and kind of wished he do something crazy like one of these movies again.
Bachelor Party is a movie I used to watch all the time. Not just because I was a perverted kid but also because the movie was really funny. After all these years, I still laugh at a lot of the scenes. The movie is kind of dated in a lot of aspects but before there was a movie like The Hangover, there was Bachelor Party.
While re-watching this, I just had to think: do bachelor parties still have hookers at them? I know strippers is still a thing, not my own bachelor party thank you very much, but seems kind of dickish to have the groom get laid with a hooker before his wedding. What's even odder, is having a belly dancer perform beastility acts in front of everybody…and everybody enjoying it! That's where the movie always lost me. The whole chase scene at the end with Rick, Cole and Debbie was a bit too 80s as well. For the most part, this movie still holds up well and is still very funny!
This Blu-Ray looked great, although grainy in some spots, but for the most part it looked great. Sure beats having to watch this on DVD again. The Blu-Ray special features include some OLD special features that will make you laugh at how bad they are. It's kind of cringey. It would have been nice getting back the original cast and interviewing them about the movie. I guess they can do that for the 40th anniversary instead.
Features
Behind The Scenes
An American Tradition
While The Men Play
Tom Hanks Interviews
Original Theatrical Trailer
Audio/Video
Video
Widescreen 1.85:1 Color
Audio
French Dolby Digital Mono
Spanish Dolby Digital Mono
English DTS-HD MA Mono
Bottom Line: Still a funny 80s comedy after 30 years
Running Time: 105 mins
Rating: R
Extras Rating:
Overall Rating: