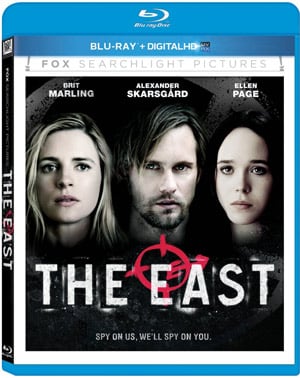 Starring: Brit Marling, Alexander Skarsgård, Ellen Page, Patricia Clarkson, Toby Kebbell, Shiloh Fernandez, Julia Ormond, Jason Ritter
Written By: Brit Marling, Zal Batmanglij
Directed By: Zal Batmanglij
Studio: Fox Searchlight
Buy On Amazon.com
The East has an interesting story, decent cast and kind of makes you root for the "bad guys."

The movie is about a new recruit, Sarah Moss (Brit Marling) at a PI agency who is tasked with going undercover at an activist "freeganism" group that targets high level executives and terrorizes them. The executives are known for crimes against humanity and the environment but are getting away with what they are doing. Sarah goes on the road to find the group and eventually does, and slowly gets used to the life in The East. As each day goes by, Sarah begins to fall for the leader of East, Benji (Alexander Skarsgård), and gets more wrapped up with the group.
I didn't really know much about this movie but I thought it was an interesting plot. With things like Anonymous and Occupy going after big corporations and executives, I can get behind that idea to a certain point. So I liked the idea of the movie with getting revenge on those people but felt the movie was sometimes too slow in spots. It's just not a movie about getting revenge on big corporations and executives for their wrongdoings; it's also about the character of Sarah and her responsibilities for her employer. You can see she's slowly torn on what to do, especially with getting close with the group.
I liked the eco-terrorism part of the story but was rolling my eyes about a lot of the hippie things the group was doing like spin the bottle. "Can I hug you? Can I kiss you." Yeah that went on for 10 minutes. Then the whole freeganism stuff kind of grosses me like eating things out of the trash. Maybe I'd do that if there was the apocalypse. So while the movie is good, it kind of gets bogged down a bit in spots.
The acting, writing and direction are all fine. Brit Marling is sort of new to the acting/writing thing but thought she did a great job. I bet we will be seeing a lot more of her in the future. Alexander Skarsgård was perfect for the role of Benji, and wouldn't be a movie role for Alexander if he didn't at least appear without his shirt on haha. Got to make the fanbase happy I guess. Ellen Page kind of annoys me with her characters but thought she was a good fit for this role. I don't know what it is, but ever since To Rome With Love, I can't stand her.
The Blu-Ray extras have a bunch of small featurettes. You learn from the extras that Actress/Writer Brit Marling and director Zal Batmanglij are good friends and went to live with the freeganism group for 2 months earlier on. That's how the story started and evolved. While the extras aren't that long, you still get the gist of everything.
The East has it's moments and is a well directed, written and acted movie. I would have liked to have seen more eco-terrorism type of stuff instead of focusing on the group itself. If things like Occupy, Anonymous, Wikileaks interests you, you might like The East.
Features
Examining The Moral Gray
Cause And Effect: The Movement Of The East
Two Brothers: Collaboration
The East Exposed: The Story
Off The Grid: Creating The East
Casting The East
Deleted Scenes
Video
Widescreen 2.35:1 Color
Audio
English Dolby Digital 5.1
French Dolby Digital 5.1
Spanish Dolby Digital 5.1
English DTS-HD MA 5.1
Bottom Line: A good flick about a group terrorizing corporate jerks
Running Time: 117 mins
Rating: PG-13
Extras Rating:
Overall Rating: