Bolt (Blu-Ray + DVD + Digital Copy)
DVD Reviews | Mar 28th, 2009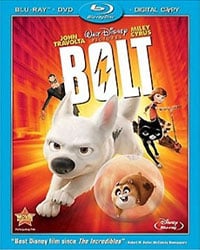 Image used with permission for review purposes.
Starring: John Travolta, Miley Cyrus, Malcolm McDowell, Susie Essman, Mark Walton
Written By: Dan Fogelman, Chris Williams
Directed By: Byron Howard, Chris Williams
Studio: Disney / Buena Vista
Buy On Amazon.com
Bolt is the latest Disney animated flick to be released on DVD and Blu-Ray. A lot of Disney's recent Blu-Ray releases have been including a DVD as well and I think that's a smart idea. I certainly like it because at least I can watch the DVD. I don't have Blu-Ray yet unfortunately but the DVD has some special features to give you a sense of what's to offer with Bolt. Bolt is a cute movie that the entire family can enjoy. And look at that, a dog movie where the dog doesn't die!

Bolt (John Travolta) is the biggest star in Hollywood, well for a dog. There's just one problem, he thinks everything is real. On the show, the dog has superpowers and protects his Master's daughter, Penny (Miley Cyrus). The producers of the TV show don't want the dog to know it's not real so that he can act realistically. After an episode, Bolt escapes his trailer in search of Penny, who he thought was kidnapped by the villain of the show. He ends up in a box filled with Styrofoam and ends up in New York City. In NY, he meets up with an alley cat called Mittens (Susie Essman). Bolt convinces Mittens to help him get back to Penny in Hollywood. Along the way, Bolt slowly realizes that his superpowers aren't working and thinks the Styrofoam is the cause of it. Joining their team, is a TV obsessed and Bolt super fan hamster in a ball called Rhino (Mark Walton).
Bolt looked like a cute film based on the trailers and I think it is. It's got humor, action, and other things that both families and kids will like. Bolt wasn't my favorite character in the movie, since he was more straight-laced. The best character of the movie was Rhino, the TV watching Hamster who stole the movie. He's in his cute little ball the entire time, and just was great! I'd be very surprised if they don't have some spinoff for his character already in motion. The worst character was Mittens, who was annoyingly voiced by Susie Essman. Couldn't they find someone else who sounded like they were from NY but wasn't so obnoxious and annoying? Her voice just irritated me. John Travolta was okay as Bolt. I thought a lot of the sub-characters were really funny, and almost better than the main characters.
The animation was done really well. The way that they animated Bolt was excellent, because he did a lot of subtle doggie things. Spinning around when lying down, begging for food, stuff like that. The way they animated the NYC pigeons was great too! Story-wise, it could have been a little bit better and not so generic. It just seems like every children's film requires an "adventure" and them going on some trip somewhere. I thought it would have been more interesting with all the behind the scenes stuff at Hollywood. Or just have the movie with what the Bolt TV series was like. That was the most interesting scenes of the whole movie. But I'm not saying the movie is a bad one, just could have been written differently so it wasn't so generic.
If you buy the Blu-Ray set, it includes a DVD copy and a digital copy as well. I don't have Blu-Ray so not sure how this movie looked on that but I'm assuming it looked awesome. The best featurette is the "Super Rhino" animated short. Honestly, that short was just as good as the movie itself! In the short, Rhino dreams about being in the Bolt TV series and he has super abilities like Bolt does. His ball is lightning speed fast, and he can shoot lasers out of his eyes. The short ends too quickly and you want to see more Rhino. Rounding out the extras is other featurettes, deleted scenes, a photo gallery and voice actors in session.
Bolt is worth owning if you enjoyed the movie. I felt it was a cute flick that I'll end up watching from time to time. Some things could have been better but overall it was a decent Disney animated movie. DVD and Blu-Ray are available or just get the combo pack if you can. Not like Blu-Ray watchers will want to go back to DVD.
Features:
Disc 1
– Super Rhino Short – New Exclusive Animated Short Film
– In Session With John Travolta And Miley Cyrus – Behind-The-Scenes Featurette
– Music Video – "I Thought I Lost You" Performed By Miley Cyrus And John Travolta
– A New Breed Of Director: The Filmmakers' Journey
– Deleted Scenes – With Optional Introductions By The Directors
– Act, Speak! The Voices Of Bolt – Join The Voice Cast In Session
– Creating The World Of Bolt – Discover How The Filmmakers Designed The Look Of The Film
– Bolt's Be-Awesome Mission Game – Help Bolt Defeat The Green-Eyes Man
– Bolt Art Gallery – A Peek At The Film's Early Concepts
Disc 2
– Digital Copy
Disc 3
– Includes DVD of Film!
Video:
Widescreen 1.78:1 Color
Screen Resolution:1080p
Audio:
ENGLISH: DTS-HD 5.1 [CC]
SPANISH: Dolby Digital 5.1
Subtitles:
English, Spanish

Bottom Line: Bolt is another fun Disney animated movie!
Rating: PG
Running Time: 97 mins
Extras Rating:
Overall Rating: